Cricketer Yuvraj Singh interacts with child cancer patients in Mumbai.
India's favourite batsman Yuvraj Singh interacted with child cancer patients at Mumbai's Tata Memorial hospital on May 30, 2014.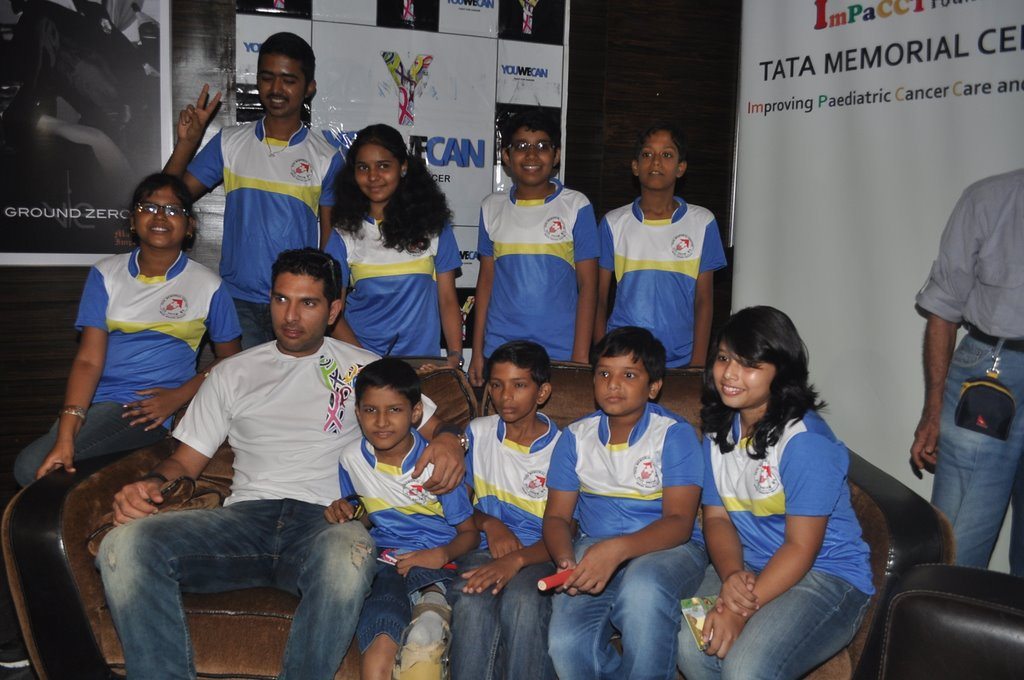 In a one of a kind initiative, Mumbai based Tata Memorial hospital will be sending 11  children to participate in the next month's World Children's Winners Games to be held in Moscow, Russia. The children will be representing India in sports such as swimming, running, table tennis and rifle shooting.
After battling a certain kind of germ cell cancer, the 32-year old cricketer has been extremely vocal and active about spreading cancer awareness. He is associated with various campaigns and initiatives across the country.
He has even authored a book of his own titled – The Test of My Life: From Cricket to Cancer and Back. The resolute sportsman has spoken about a host of issues that dog Indian society in relation to cancer. At press events Yuvraj is regularly seen urging people not be shy about cancers related to sexual activity. Infact the actor himself had posted  a picture of his shaved head on twitter, while undergoing chemotherapy for his cancer.
The children at the Tata Memorial Hospital were ecstatic to see the cricket star. The camera's caught Yuvi interacting with each and every child present.
Speaking to the media he said, "It is tough because you don't know when you are going for your treatment whether you are going to survive or not. It is hard to motivate because the body is always hurting and the mind is always breaking." The middle-order batsman, who was the man of the tournament in 2011 World Cup won by India, said it is easier for a sportsman to motivate himself during the illness compared to people from other professions."
Famous personalities like Yuraj associating themselves with social causes can help in a huge way.  A man with an unbreakable spirit like Yuvrajs' deserves a slow clap!