Now as Pakistani actress Veena Malik prepares for the upcoming season of the reality show 'Swayamwar', the trend setter of the show Rakhi Sawant is angry as Malik is the next face of the show. Rakhi has argued that the makers of the show must select an Indian face and Veena is a Pakistani resident.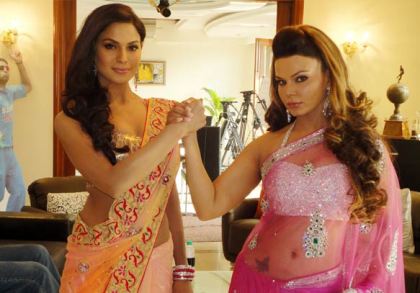 Sawant has also said that the, Indian parents will never accept a Pakistani bride as their daughter-in-law. Moreover the popular item girl has also said that she is confident as the political parties like the Shiva Sena and the Navnirman Sena will now allow the actress to get married in India.
Meanwhile, reports have said that Veena Malik has been offered Rs 3 croes to do the show and that she would also be offered an additional Rs 1.5 crores if only she gets married with a person on the show. Some of the sources from the production unit have revealed that two separate contracts have been drawn.
The first contract is just for the actress to be on the show and the next one is if she gets married on the show. When asked the actress, Malik said that she is now supposed to talk about the contract, while the Content Head Harsh Rastogi has clarified that the amount isn't that much.