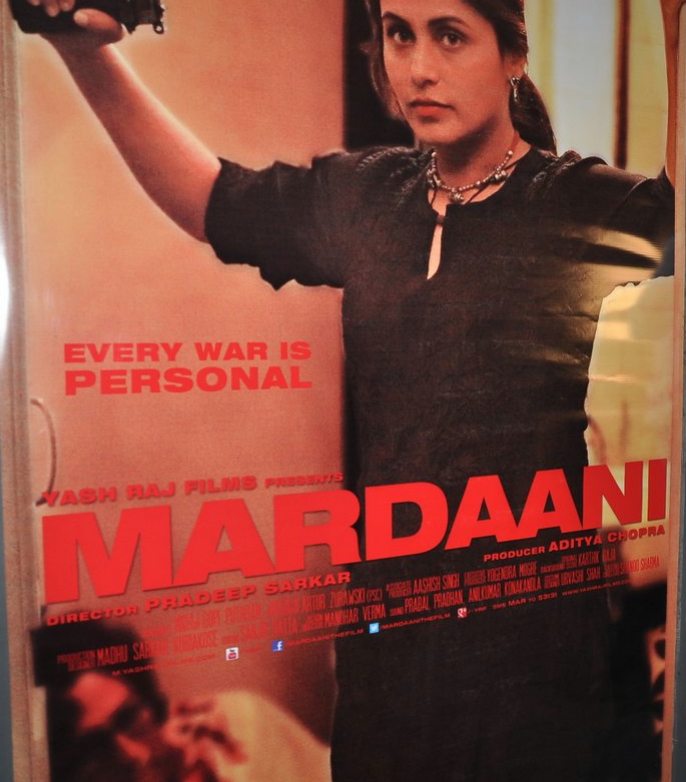 Movie Name: Mardaani
Cast: Rani Mukerji, Tahir Bhasin, Anil George
Director: Pradeep Sarkar
Genre: Thriller
Release Date: August 22, 2014
Run Time: 2 hours 33 minutes
Bollywood Garam Rating: 3.5/5 stars.
Watch Mardaani for Rani's stellar performance.
What is the first image that comes to our mind when the words 'lady cop' are uttered? – a slightly meek woman clad in a khaki sari, certainly subordinate to her male superiors when it comes to all the action. Mardaani's Shivani Shivaji Roy (Rani Mukherji) – Senior Crime Branch Inspector – shatters all such stereotypes.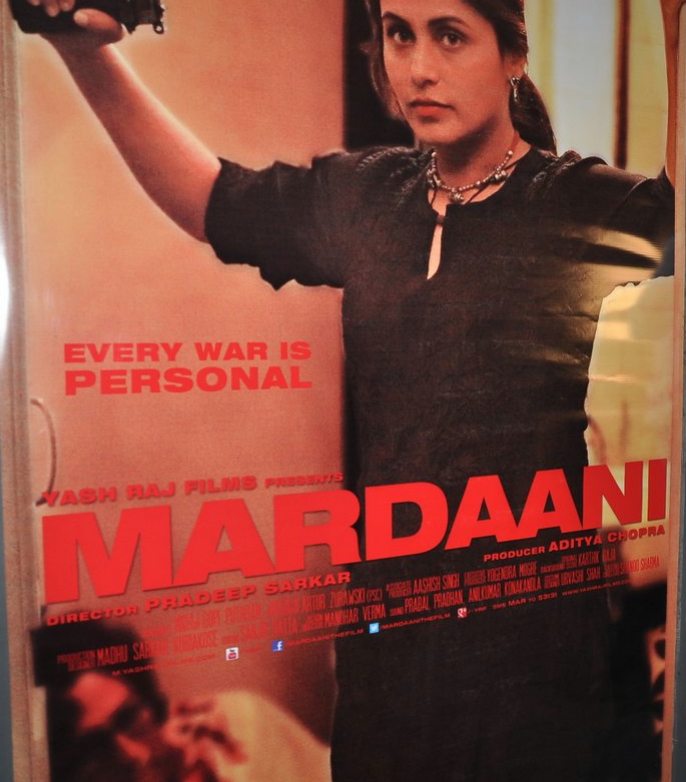 Dressed in crisp formals and neatly done up hair, Rani's character as a tough female cop on a mission is believable; every facet from her body language to her attire are all taken care of, so as to avoid slipping into a typical over-the-top Bollywood action figure – which is more laughable than serious. (though the tables do turn in the second half)
The plot of the film functions in a linear manner; protagonist Roy's (Rani Mukherji) mission kick starts as she begins looking into the disappearance of a young teenage girl – Pyaari (Priyanka Sharma) –  from a homeless shelter in Mumbai, as she probes further, the horrors of an organized sex-racket unravel.
The cat-and-mouse chase would obviously be incomplete without a menacing villain – Karan Rastogi (Tahir Raj Bhasin) – who plays his sinister part to perfection. Rastogi's character of a chief druglord-and-pimp is in stark contrast to the usual Bollywood baddies – gun-wielding goons dressed in pathani kurtas and gold chains – Rastogi is the sophisticated of the lot! Donning a black hoody, this villain spews english with finesse and addresses Mukherji as 'ma'am'.
Getting back to the plot, it is this racket-running kingpin who is at the receiving end of Rani's ire. But to get to him, she has to pass through a labyrinth of his accomplices.
Shivani's deadly warnings matched with her bold action, not to forget copious amounts of swear words, are what bring that meaty-feel to the film. Rani has her fair share of punches to blow and guns to fire, which she pulls of with great panache.
All goes well till interval time, one of the pre-interval scenes where her husband played by Bengali actor Jisshu Sengupta, is embroiled in Rani's battle, added to the believable aspect of her character.
The second half is where the film derails, Rani subtly slips into a Singham-like style, where she suddenly becomes a solo woman team and decides tackle everyone on her own.
The dim-lit dingy underbelly of Mumbai and Delhi where child tracking and prostitution are rampant add to the raw quality of the film, but the skin-show and brutality of teenage girls being pushed into the flesh trade is debatable and borders slightly on the voyeuristic side. But nonetheless, it was much needed to highlight the crude reality.
Overall, Mardaani didn't quite reach its full potential in terms of tackling a serious issue like child trafficking, the extremely deafening background score and the constant effort to mix a little bit of Bollywood style masala-drama-action is what leads to the film's downfall.
Bollywood Garam gives this Pradeep Sarkar film 3 and half stars.