Bollywood Garam: Veena Malik is now all over the news in India after her nude stint on FHM magazine's, which, she has claimed is a morphed picture. After sending a legal notice to the magazine editors, another picture of the actress has surfaced, which was actually released by the magazine.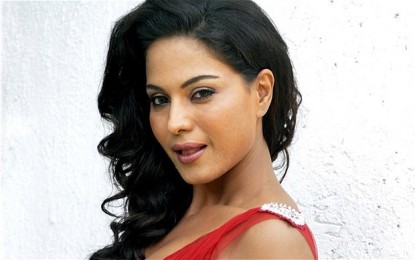 In the new picture, Veena can be seen topless while wearing a green belt like outfit with a star on it which clearly depicts the Pakistan flag. Malik in the picture is also seen wearing an ISI tattoo, which is pointed out in the cover.
The actress is seen pinning out a grenade while she covers her assets with her hand. The picture has also been given a caption which says, 'Pakistani WMD, Veena Malik shows you how to throw a grenade'.
The earlier picture that was released by the magazine had the actress completely nude with not a single outfit on her body. Veena claimed that she never posed nude for any of the pictures and that she would never do such a thing. At present the actress is preparing to go for a groom hunt on the upcoming season of 'Swayamwar', which was kick started by item girl Rakhi Sawant. Later Rahul Mahajan and Ratan Rajput too came on the show to search for a life partner.
Check out Veena Malik's FHM magzine photo here