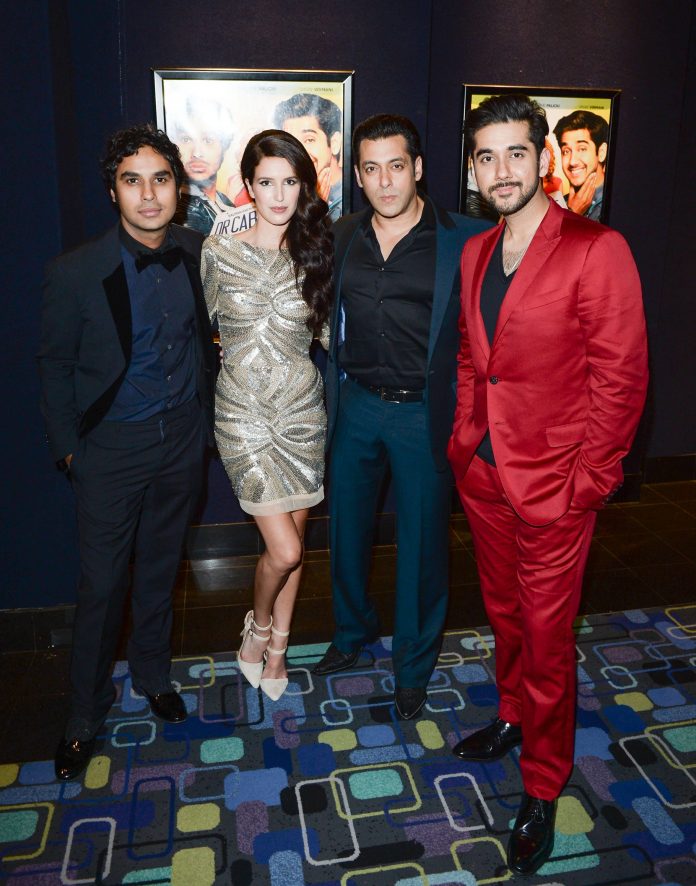 'Dr. Cabbie' world premiere was blazing with stars Salman Khan and Isabel Kaif.
Bollywood superstar Salman Khan attended the 'Dr. Cabbie' world premiere in Toronto, Canada, on August 31, 2014. The actor is trying his best to gather enough buzz around his first international project. The 'Dabangg' star had recently launched the music of the movie, which stars Katrina Kaif's sister Isabel Kaif in her debut role. The event was attended by the entire cast and crew.
Before the launch, the actor took to Twitter to inform his fans about the event. Salman wrote, "After 8 yrs I'm in Toronto come celebrate with me&my #drcabbie team @ FREE live outdoor music launch SAT Aug 30 at #SilvercityBrampton @ 230P." 'Dr. Cabbie' is an upcoming Canadian movie which also stars Kunal Nayyar, Vinay Virmani and Adrianne Palicki.
'Dhoom 3′ star Katrina's sister is sure following in her big sis' footsteps as she stunned in a bling outfit.
The movie is directed by Jean Francois Pouliot and is co-produced by Salman's production house. The story of the movie is about a newly arrived immigrant doctor in Canada who is looking for a job. The doctor is forced to become a taxi driver, but becomes a local hero when he goes creative by converting his taxi into a mobile medical clinic.
Salman, in a recent interview, said that aggressive promotions annoy him and that the promotions are getting cheaper everyday. Khan is known for moderately promoting his films, but made sure that he flew to Toronto to support 'Dr. Cabbie' and its cast and crew.