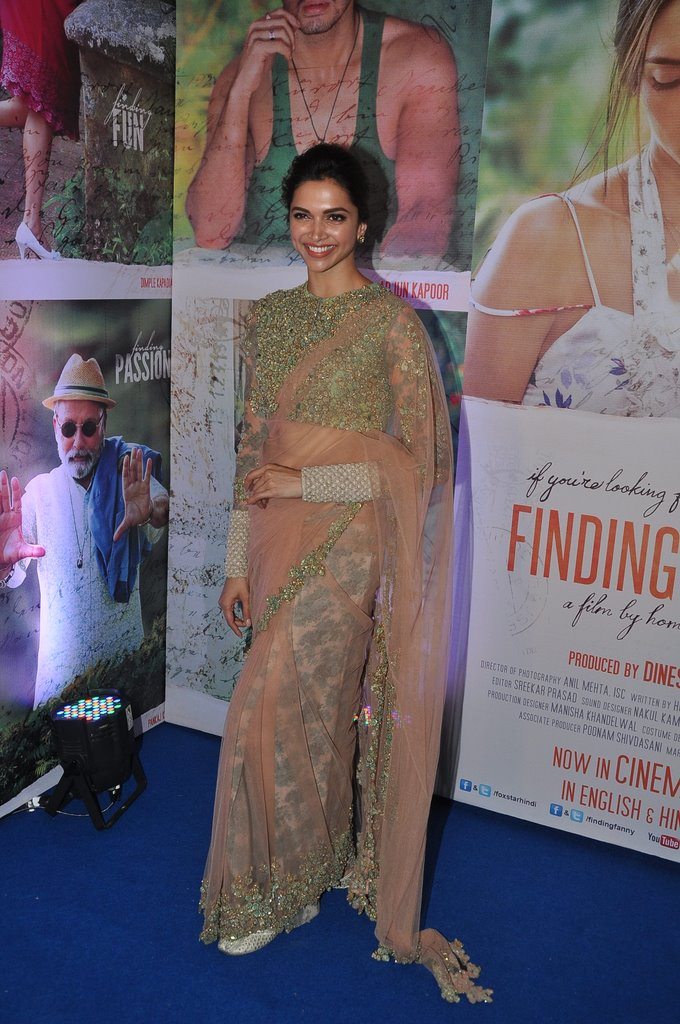 It is likable, but not lovable, the much awaited Finding Fanny movie review. 
Movie Name: Finding Fanny
Cast: Deepika Padukone, Arjun Kapoor, Pankaj Kapoor, Dimple Kapadia, Naseeruddin Shah
Director: Homi Adajania
Genre: Romance/ Comedy
Release Date: September 12, 2014
Run Time: 105 minutes
Bollywood Garam Rating: 3/5 stars.
"No one deserves an incomplete love story"
In a sleepy and quaint Goan village of Pokoli, an old postmaster – Ferdie (Naseeruddin Shah) –  miraculously receives a letter that he had posted to the "only woman he loved" – Stephanie Fernandes aka Fanny –  46 years ago. Aided by the ravishing, but lonely widow Angie (Deepika Padukone), an unlikely bunch of "5 brave adventurers" set out to find Fanny and an elusive love.
There is also Pankaj Kapoor, who plays a hot-blooded painter Don Pedro enticed by Rosie's – (Dimple Kapadia) and Deepika's mother-in-law – voluptuous assets and a young chap Savio Da Gama (Arjun Kapoor), who tags along on this road trip to find Fanny. Along the journey, the plot of film ensues. 
The film tries very hard to make a poignant note on love and life, the two undying motifs of heartfelt cinema. However, it is a little short of that extra ineffable something.
What garners laughter and smiles from the audience is the quintessential Homi Adajania quirkiness that permeates throughout the film. Whether it is the typical old Goa-like characters, or just the entire feel and charm of the film – good cinematography is quite noticeable here – you can't help but have that slight smile as the film progresses. 
The bond between Angie and her mother-in-law is quite heartfelt; strong as rock, despite the short-lived family ties between them family. The "two lonely widows" watch out for eachother through life's harsh reality.
Deepika's husband played by Ranvir Singh – who probably has a few minutes of screen time – dies after he chokes on a plastic figurine on their wedding cake and Rosie's husband is also dead. (Although, we later know the truth when Ferdie lets out the secret of him having left Rosie for another woman).
It is Naseeruddin Shah's performance as the timid old Feridand that steals the show and ultimately tugs at the heartstrings. Pankaj Kapoor shines as the vulgar, but entertaining painter who can't seem to get enough of his "full women" muses.
Arjun Kapoor suits the skin of Savio, the young and restless guy who goes out of Goa to make a fortune in Bombay, but comes back defeated, only to find nothing left behind for him at his ancestral home, unless you count dentures and a rattly old blue car as inheritance!
Deepika stuns in every frame, her relaxed Goan avatar paired with some stunning sartorial designs make for an unusual performance on her path. Although, the long winding monologues could have been slightly more peppered with emotion. 
The love angle between Arjun and Deepika is believable, but yet short of sizzling chemistry. Moments like Arjun's bewilderment caused by Deepika's want for "better" post their romance in the outdoors, make the film memorable in bits.
Dimple Kapadia does her best as the bossy village aunt wanting to fix everything in and around, her role is more meatier towards the end of the film. 
Overall, the film is definitely not for Bollywood masala flick lovers, it is for those who go in for a different experience on celluloid; a one devoid of garish sets and non-sensical humour. 
It's quirky, funny in bits and pieces, but falls short of being totally memorable and honest.
A film that aims to convey to the audience that you have to go looking for love as it might not always come seeking you, must have that extra emotional dollop to enthuse the romantics.  
Bollywood Garam gives this Homi Adajania film 3 out of 5 stars.