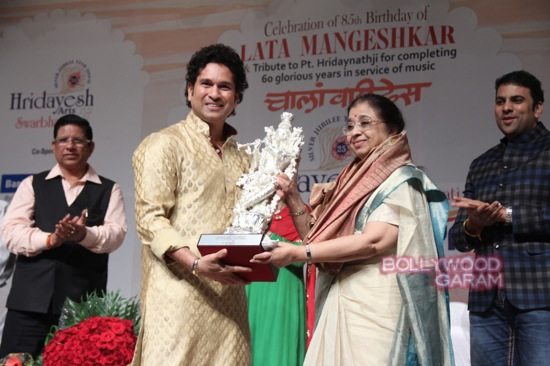 On Lata Mangeshkar's 85th birthday, Sachin Tendulkar felicitates Usha Mangeshkar – her sister.
On Sunday, September 28, 2014, it was Indian singing legend Lata Mangeshkar's 85th birthday. There was an entire celebration planned at the Shanmukhananda Auditorium in Mumbai. However the veteran singer was unable to make it to the event owing to her ill health. Indian cricket legend and Bharat Ratna awardee Sachin Tendulkar was present at the venue, where he was to felicitate the other Bharat Ratna awardee Lata Mangeshkar.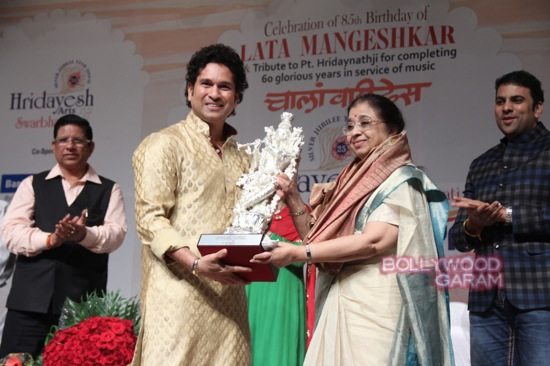 However, since she was not available, the cricketer felicitated her sister, Usha Mangeshkar on her behalf. There were several prominent individuals who were present at the ceremony which included the likes of Mrs. Anjali Tendulkar, Pankaj Udhaas and his wife, the Municipal commissioner Asif Kiran Shantaram.
Lata Mangeshkar addressed the audience through a live telephonic message where she said, "I was very keen to attend my 85h birthday felicitation, which unfortunately I am not able to attend due to my sudden ill health. I very much wanted to come as my favorite cricketer Sachin had come to felicitate me but could not make it for which I deeply regret."
Renowned Kathak dancer Shama Bhate performed a special 'Meera Ballet' to keep the audience entertained. At the event, Sachin was in full praise of 'India's nightingale' Lata Mangeshkar, who he addressed as didiji.