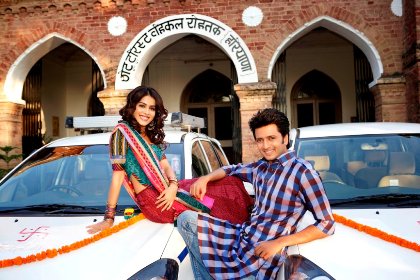 The story of the newly wedded couple Riteish Deshmukh and Genelia D'Souza, 'Tere Naal Love Hogaya' has been released on February 24, 2012. Director Mandeep Kumar has set up a simple love story and is something that the audience is always seen on screens.
Mini played by Genelia D'Souza, is a girl who does not want to marry the boy her father Bhatti has selected. The girl loves her father but is in love with her independence more than anything.
While Bhatti is upset with his daughter's attitude the other prospective grooms think of Mini as a Canadian passport. Viren played by Riteish is an employee under Bhatti and thinks that his employer exploits him.
Riteish in the movie plays the role of a poor auto-rickshaw driver, who does not believe in short cuts. There is not a single moment in the movie that cannot be predicted fails to create an excitement. Genelia is as usual at her bubby best like she always is. While Riteish also carries his own lovable boy like image. For a change, Riteish has improved at his comedy timing, while it would be hard to expect something new from Genelia in future. Overall, a good watch for the weekend but not recommended for those who want to avoid bored stuff.