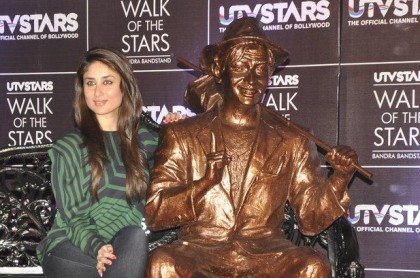 BollywodGaram.com: Bollywood has now got its own 'Walk of The Stars' similar to that of Hollywood's 'Walk Of Fame'. Actress Kareena Kapoor, along with Randhir Kapoor and Madhur Bhandarkar, unveiled the UTV Walk of the Stars on March 28, 2012 in Bandra. The Bandra Bandstand is known as a meeting spot for the youngsters.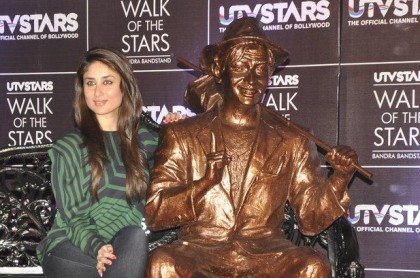 But the Bollywood's Walk of Fame is bit different from that of the Hollywood version. It does not have the names of the stars but features the handprints and the signatures of the Bollywood stars which are embossed on brass plates on the tiles along the path. So far, stars like Kareena Kapoor, Ranbir Kapoor, Sharmila Tagore, Sonam Kapoor, Meena Kumari, Shammi Kapoor, Shabana Azmi and Sridevi have been featured in the Walk of Fame. Apart from the hand prints and signatures, the promenade also has 6 life size statues depicting some of the great Bollywood actors.
UTV started off with 20 handprints of Bollywood stars and also concentrated on the first Family of Bollywood, the Kapoor family. This was the reason Kareena was the main guest at the event in a nearby hotel. The 'Agent Vinod' actress was also asked to unveil the statue of the great actor Raj Kapoor, who is the grandfather of Kareena. Kapoor said that acting is something that the Kapoors have just lived for and that cinema is something that runs through their veins.
UTV said that they focused on the first family of Bollywood that is the Kapoor family and the one legend that was missing from the promenade was the great Amitabh Bachchan. The organisers said that they would have a special function when Bachchan's plaque will be put here. Meanwhile actor Riteish Deshmukh is also working on a similar project called The Legends Walk. The 'Housefull 2' actor has already included Amitabh Bachchan and more Bollywood stars.