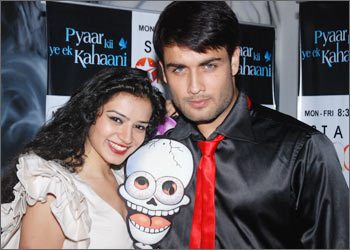 Last week was quite adventurous in Indian television serial 'Pyaar kii Ye Ek Kahaani. After Misha's birthday party, a new couple was formed- Kabir and Pia. I am sure, there must be hardly anyone who liked Pia saying yes to Kabir. But Kabir fans, should not feel offended, it's just that, fans want to see Abhay and Pia paired up.
The problem in the story is that Abhay can't tolerate Pia's face because that reminds him of Maithili, who was probably his ex. But Piya can't do much about it. If our hero hates her so much, then why does he want to make her feel jealous?
Vivian acts with his eyes and I guess that is what makes him more appealing. He hardly speaks anything throughout the episode, he doesn't need to. He lets his eyes and a complete persona do that.
Pia (Sukirti) likewise is a natural actor. She looks confused when she has to; she looks hurt when he hurts her. The casting is done very well by Ekta Kapoor and team.
Pyaar Kii Ye Ek Kahaani is another big show that is liked by the young generation after Kitni Mohabbat Hai. What Ekta wants to say is that she has her kitty full for everyone looking for some good entertainment.