Bollywood Garam: South superstar Rajnikanth and Bollywood star Amitabh Bachchan will soon be seen together in a movie after 20 years. Amitabh will be seen in the south Indian movie 'Rana', in a cameo role.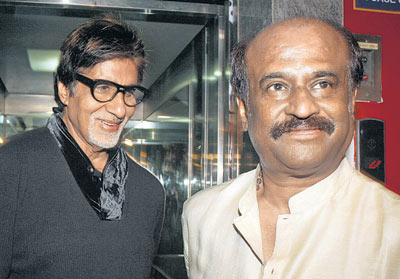 Sources from the production unit  have said that Amitabh will be seen in a few scenes, in the second half of the movie. However, other details of the character have not been disclosed.
Director K S Ravikumar, after celebrating the success of the movie 'Robot' which featured Rajnikanth and Aishwarya Rai Bachchan, is about to film a Tamil action flick, 'Rana'. The production sources on the condition of anonymity said that the movie will feature Rajnikanth in a triple role and Bollywood actresses like Deepika Padukone, Vidya Balan and Rekha have been cast opposite the superstar.
Earlier Amitabh and Rajni had featured in Bollywood films like 'Giraftar' and 'Andha Kanoon'. The two have also been good friends for a long time, which made the new venture possible. The last time the two were seen in the Bollywood block buster, 'Hum' in 1991. 'Rana' will be jointly produced by Rajni's daughter Saundarya with Eros International. Oscar winner, A R Rahman will be giving the music score, while Charles Darby will be the technical director of the movie.