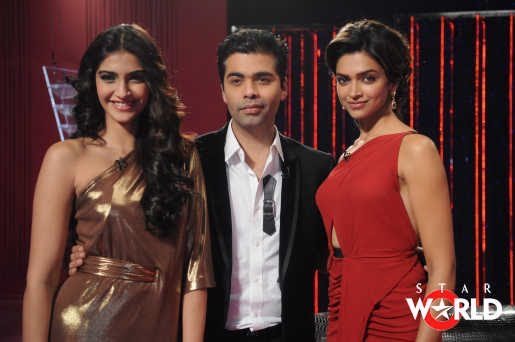 In a candid conversation with Karan Johar, the two beautiful Bollywood actresses Deepika Padukone and Sonam Kapoor, spoke their hearts out. Right from their ex- lovers, backbiting, friendship and botox, they talked about everything. The Koffee with Karan season 3's episode featuring the cute and sassy Deepika Padukone, accompanied with the frank and classy Sonam Kapoor was aired on Sunday night at 09:00pm on India's Star World channel.
Photo Credit: Star World
Karan, who is known for asking all those personal questions to his guests, was quite glued to his format on Sunday night as well. He asked Deepika what would she advice her ex- boyfriend, Ranbir Kapoor? She instantly answered, "To start endorsing a condom brand". Well that was something quite suggestive, say critics.
This question followed another similar one, but this time it was about Katrina (who is currently being linked to Ranbir). Deepika said that she would like to see Katrina's passport. This has led critics to assume if she meant to see Katrina's 'actual' age?
Sonam Kapoor was asked about her comments on the eminent writer of India, Shobha De that had triggered loads of attention three years ago (the time when this gang debuted). Sonam said, "I said this because she had written all nasty things about all the four of us, Deepika, me, Emran and Ranbir and that was not acceptable at all." She even said that De did not sound too harsh on Ranbir because she and his parents are pretty close.
The rapid fire round which gifts hamper to the winner was intelligently and mischievously played by the actresses, who happened to have a tie.