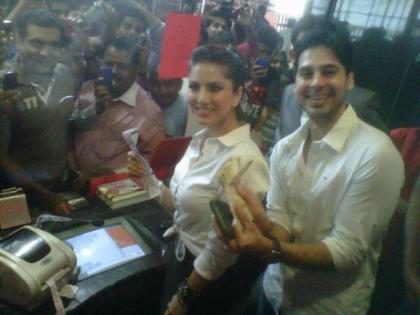 The crowd at Cinemax, Sion in Mumbai on August 5, 2012 went crazy when they saw actress Sunny Leone selling tickets at the counter. It is now everyday people get a chance to buy movie tickets from the Indo-Canadian porn star.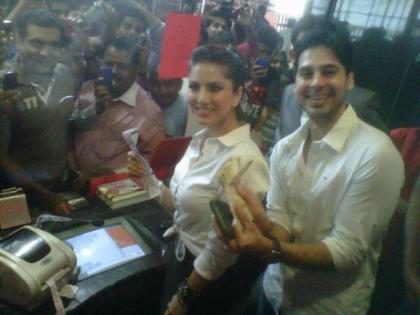 Sunny along with Dino Morea were spotted selling tickets for their recently released movie 'Jism 2'. The movie might have got mixed reviews but this did not stop the movie goers to catch the movie which is touted as one of the boldest movies ever.
Mahesh Bhatt who has written the movie tweeted a picture of Sunny with Dino while selling tickets. Sunny surprisingly was seen quite covered up in a white shirt and smiled for many of the mobile phone cameras which focused on her.
Sunny has played the lead role in the flick while Dino has co-produced the movie. The flick has been directed by the actor turned director Pooja Bhatt. Mahesh Tweeted, 'DinoMorea laughs his way to the bank as @Jism2 heroine @SunnyLeone sells tickets at cinemax, sion (sic)'. This is surely a good way to promote the flick but everything is fair when it comes to the Box Office War. The movie promotion has now gone beyond interviews and appearances.