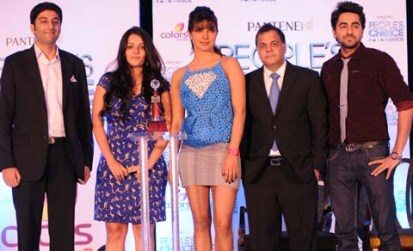 For the first time in the Indian Film Industry's history, the acclaimed People's Choice Awards has come to India from America. This is the only awards show which honors various fields of pop culture across Bollywood, music, television and sports.
The show believes in the motto 'of people, for the people and by the people'. People will be able to vote at the show's wevbsite www.peopleschoiceIndia.com, as the winners of the awards are determined by the fans.
The award ceremony will be held on October 27, 2012 at Film City, which will bring together some Bollywood biggies such as Madhuri Dixit, Kareena Kapoor and Saif Ali Khan, Priyanka Chopra, Sonu Nigam, Parineeti Chopra, Ram Kapoor and Sakshi Tanwar. Actor and singer Ayushman Khurana will be the host for the evening.
While talking to the media, Priyanka Chopra said that she had seen the US version of the awards, and that Colours' platform is the best to present these awards in India. There will be some live performances at the awards; Chopra added that she loves live acts, and that she always loves to try and do something different. Reports said that the newly-wed couple Saif Ali Khan and Kareena Kapoor will also b e performing at the awards function. This will be the first live performance of the couple after marriage.