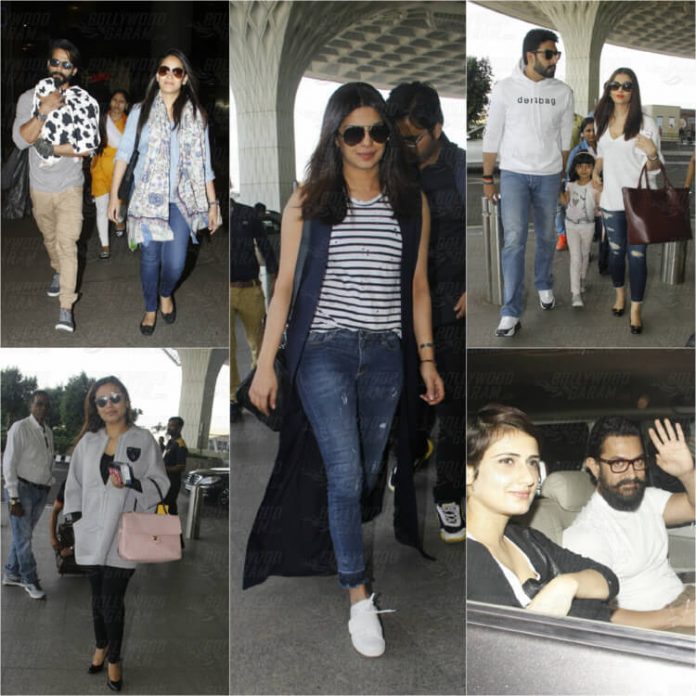 Your Weekly Fix of Celebrity Fashion on the Go!
It's the last week of the year and everyone is busy celebrating Christmas and getting ready to bring in New Year 2017! Let's take you through a handpicked gallery of all the celebrities who were spotted at the airport over the week (in style!)
See inside: Dangal Family at the Airport, Priyanka Chopra, Hrithik Roshan, Arjun Kapoor, Shahid Kapoor with wife Mira, Sunny Leone and more!
Priyanka Chopra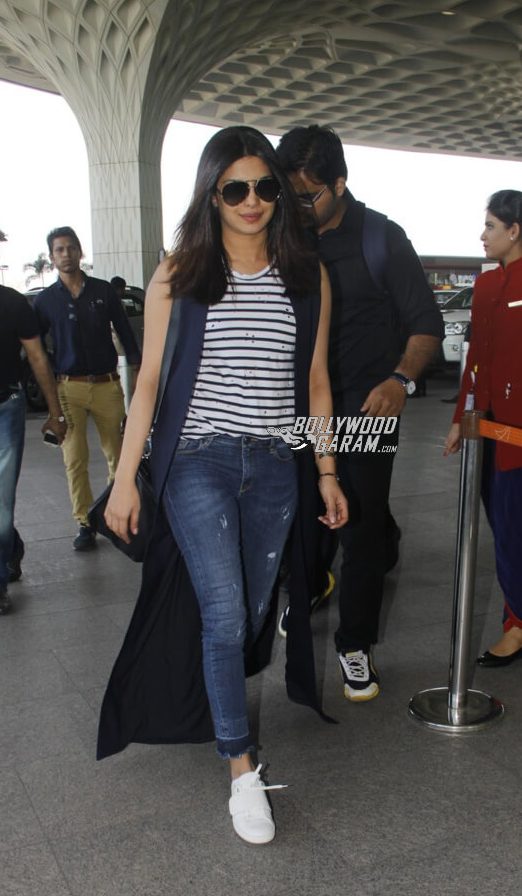 Priyanka Chopra is in India for a few days now, and has been getting all the attention from her Bollywood Family. Here we have the leading lady of Quantico at the airport on December 28, 2016. Piggy Chops is giving us major some fashion goals every time we spot her!
Aamir Khan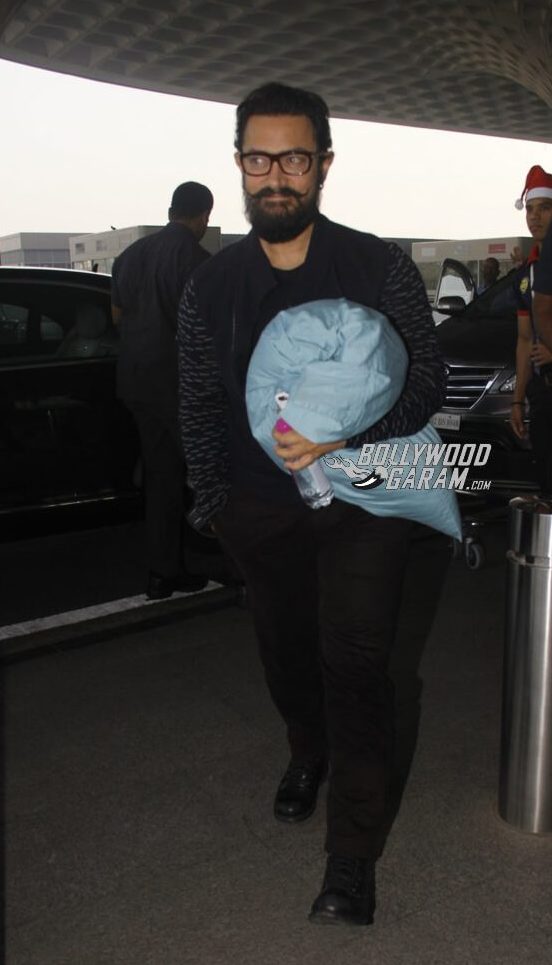 With Dangal hitting the theaters during Christmas, Aamir Khan and team are on a roll as the film is doing exceptionally well. Mr. Perfectionist looks rather cool in his overly grown beard and muscles!
The Dangal Girls
Fatima Sana Shaikh as Geeta Phogat and Sanya Malhotra as Babita Kumari. The girls looked gorgeous in their airport look (as usual).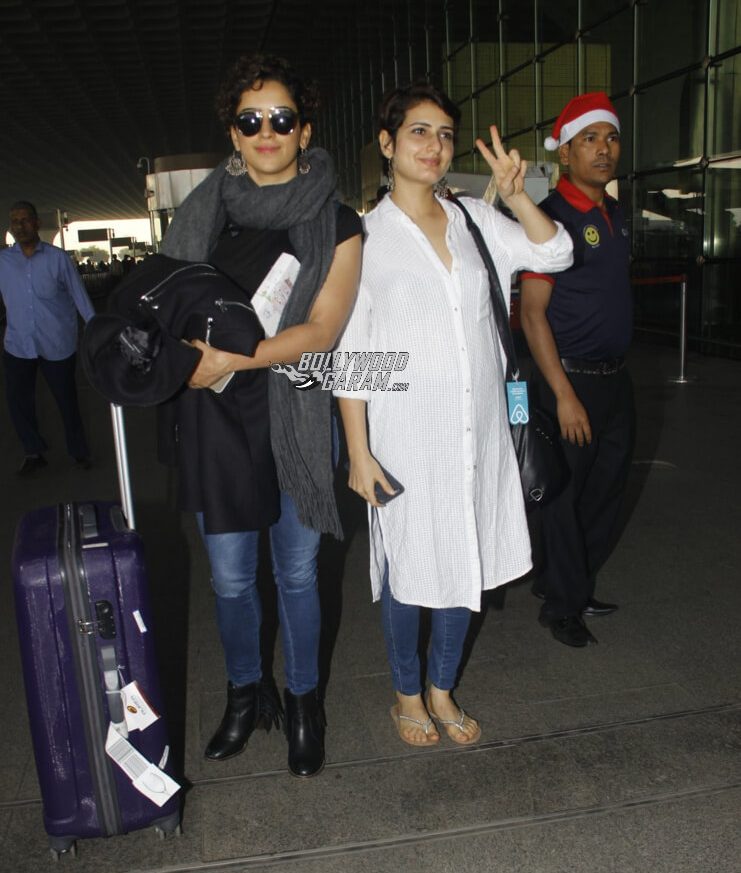 Aamir Khan and Dangal girls – Fatima and Sanya were seen returning form some promotional event, on December 28, 2016.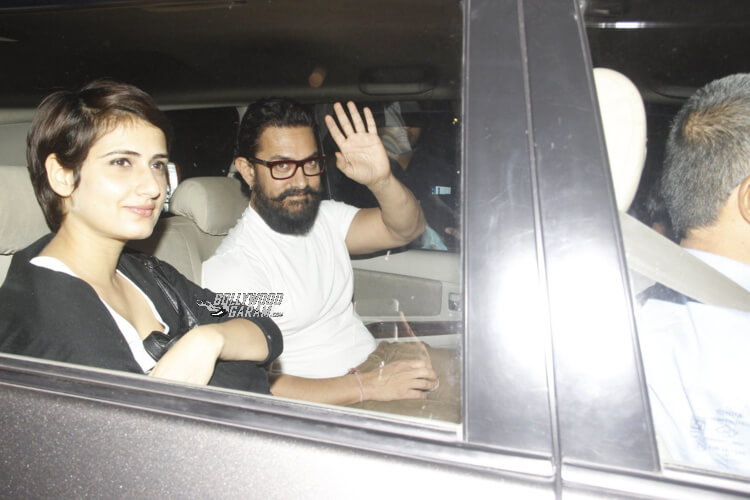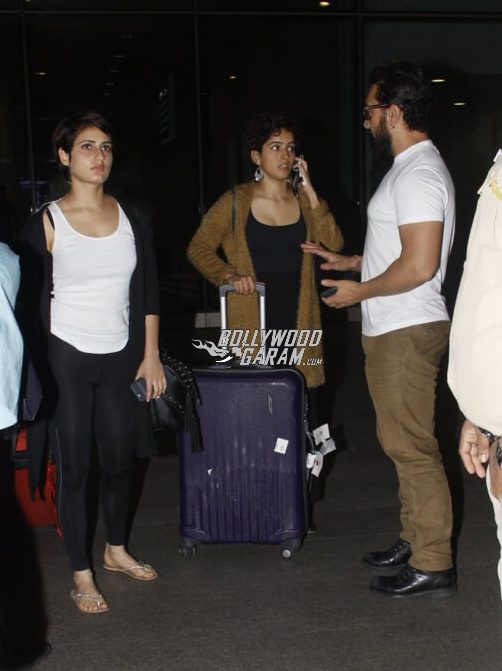 What are they discussing, Let's find out?
Sakshi Tanwar
TV actress Sakshi Tanwar plays the role of Geeta and Babita Phogat's mother, Daya Kaur in her latest movie Dangal. We caught her all dressed in Christmas colors as the Airport on December 25.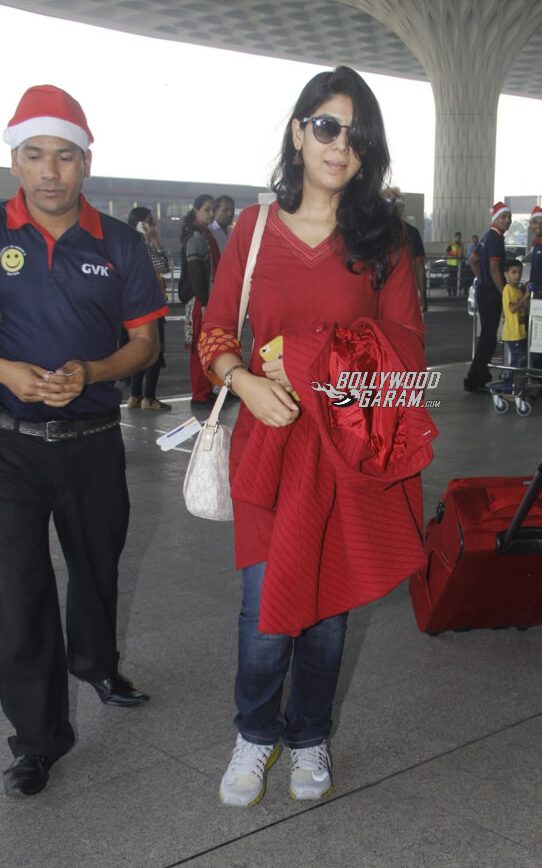 Alia Bhatt with Sidharth Malhotra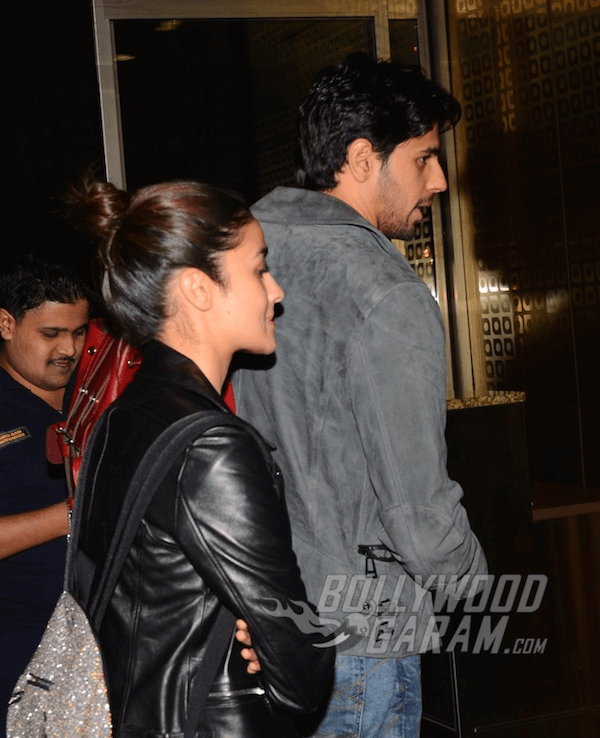 Get full details here – Sidharth and Alia's secret vacation- Exclusive pictures & Details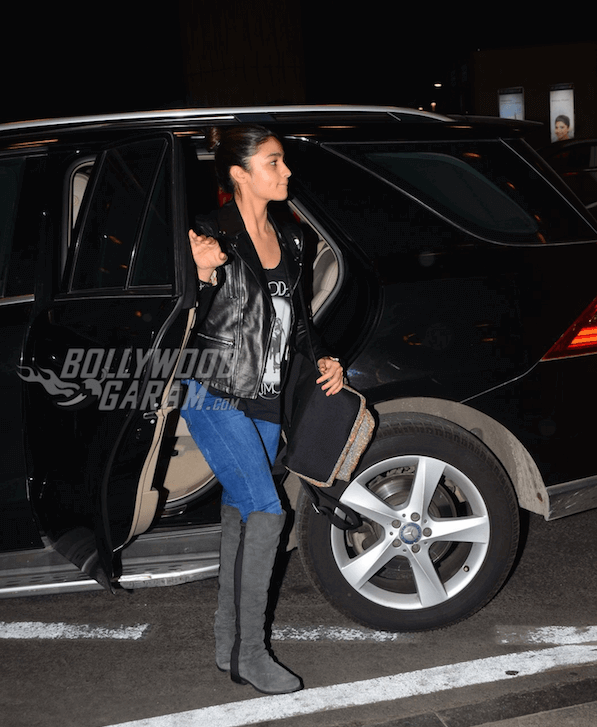 The young couple was seen at the airport on December 25, 2016. Looks like they are headed to an undisclosed location to bring in the New year!
Shahid Kapoor with Mira and baby Misha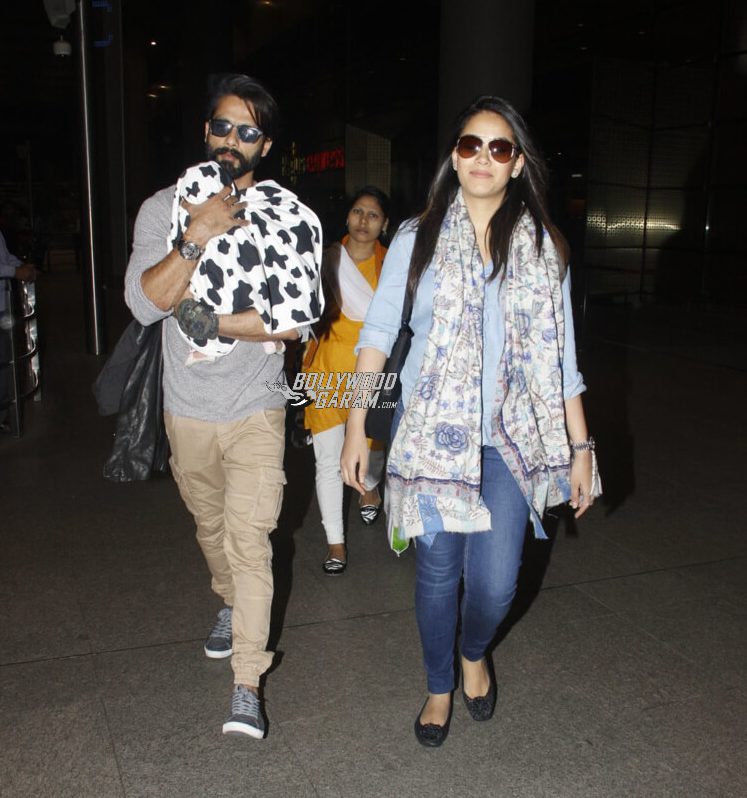 Shahid and Mira get candid on Koffee with Karan – Get Full Details Here!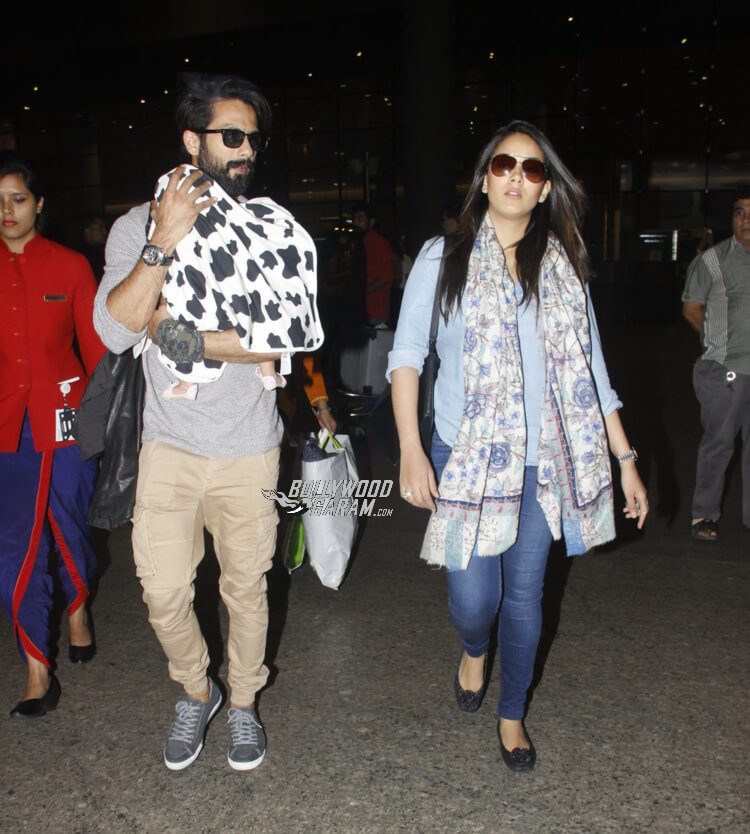 Shahid Kapoor and Mira Rajput Kapoor were seen returning from their mini family trip on December 26, 2016. The couple looks extremely cute together and how can we not talk about the dotting father carrying the toddler in his arms, like always!
The Bachchan's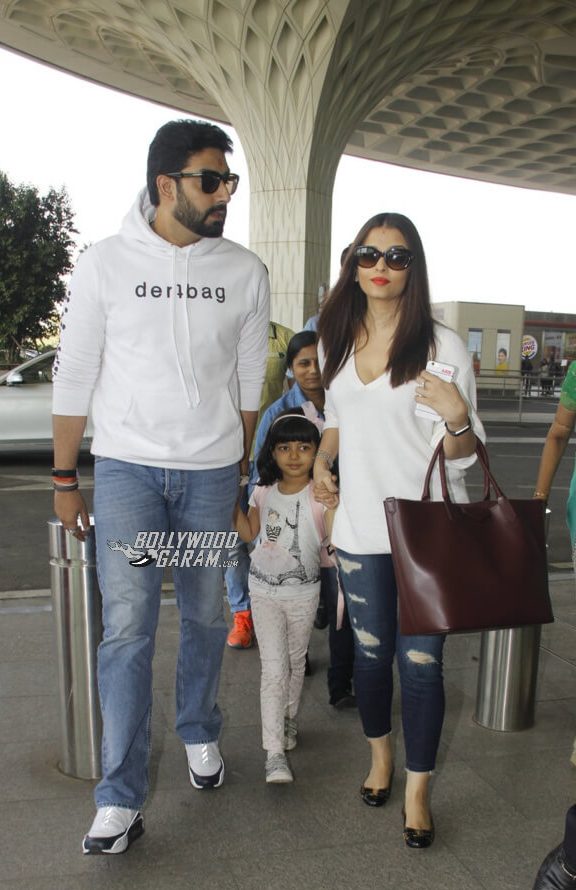 Abhishek Bachchan, Aishwarya Rai Bachchan and cute Aradhya Bachchan were spotted at the airport on December 28, 2016. We still can't get over Aishwariya's amazing performance in Ae Dil Hain Mushkil.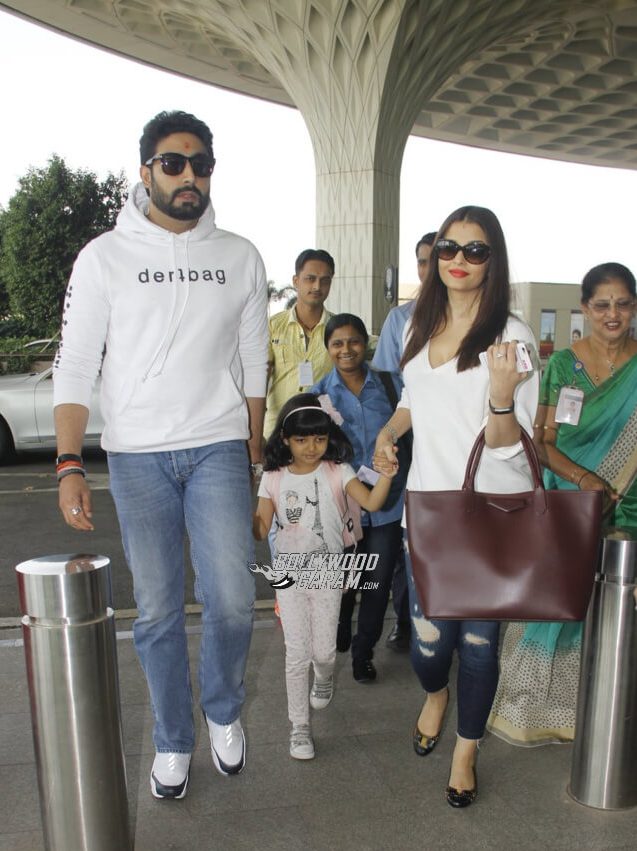 Did you notice something? The Bachchan family is all color coordinated in white!
Hrithik Roshan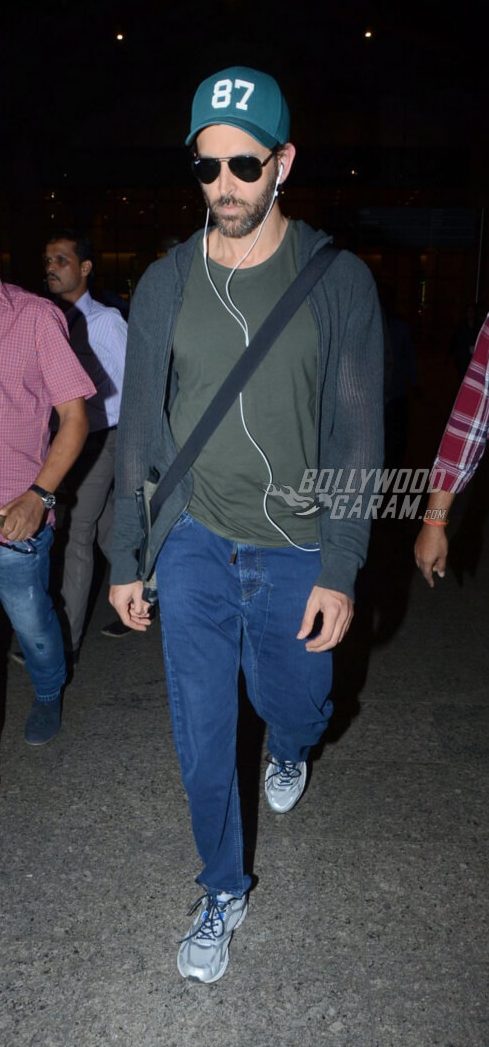 Hrithik Roshan is now gearing up for the release of his latest film Kaabil which is set to hit theater world wide on January 25, 2017.
The Handsome Hunk was spotted arriving at Mumbai Airport on the night of December 30. Looks like he made it home on time to bring in New Year with his sons!
Sunny Leone with husband Daniel Weber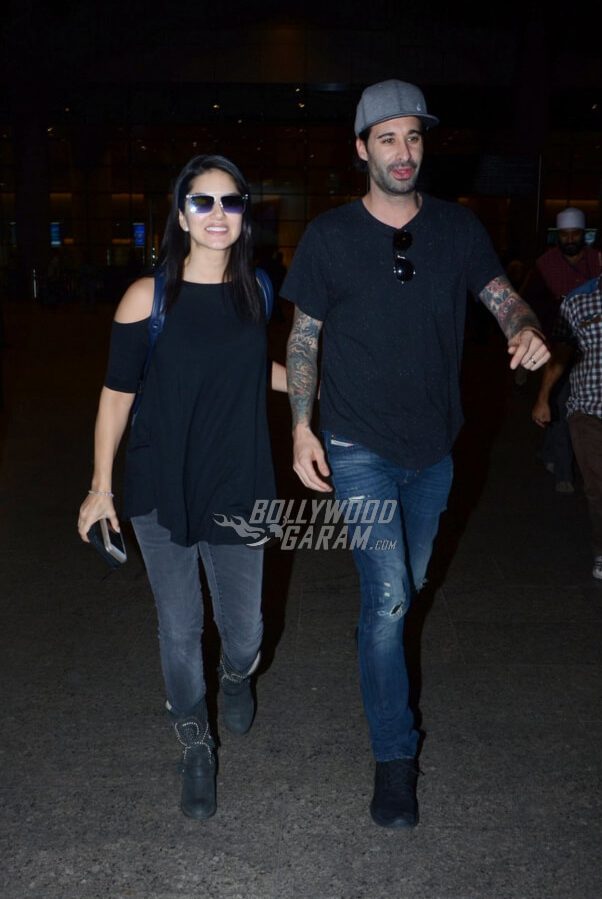 Sunny Leone was seen at the airport on December 30, 2016 with husband Daniel Weber. The couple was color coordinated in black.
And yes have you heard her latest item song from Raees? Check out the promotional video of Laila Main Laila from Raees right here, enjoy!
Varun Dhawan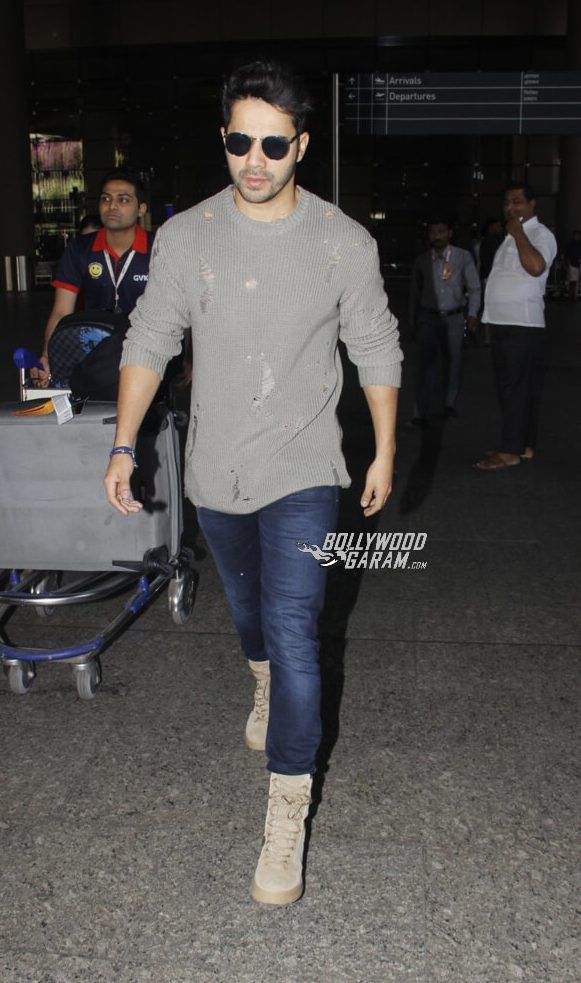 Varun Dhawan was spotted wearing a casual distress top and jean at Mumbai Airport on December 26. His boots make the perfect style statement.
Rani Mukherji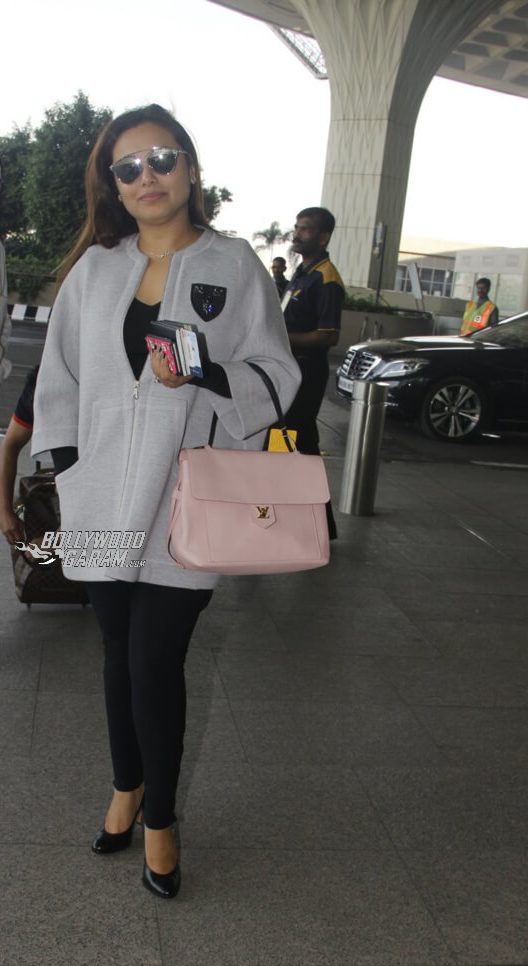 The actress who has given Bollywood some exceptional movies, faded away from the limelight since her marriage. Rani Mukherji was spotted at Mumbai Airport on December 26. We loved her light pink bag though and oversized grey top.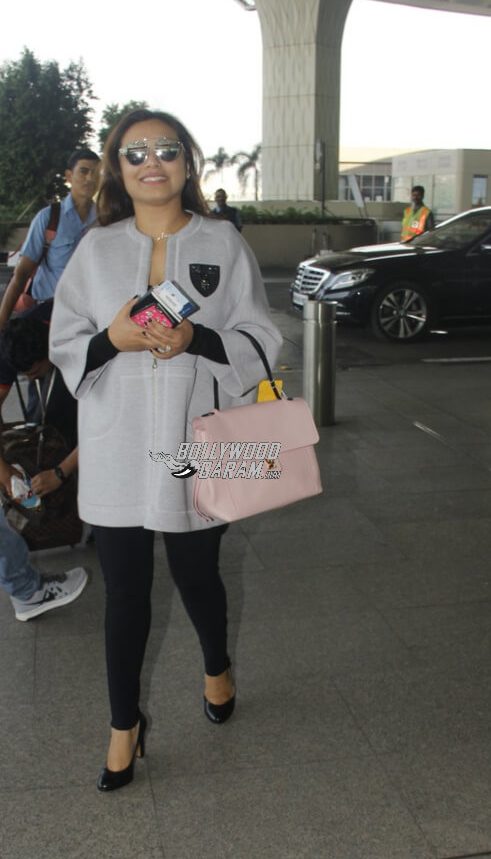 She was happy to pose away for the cameras!
Arjun Kapoor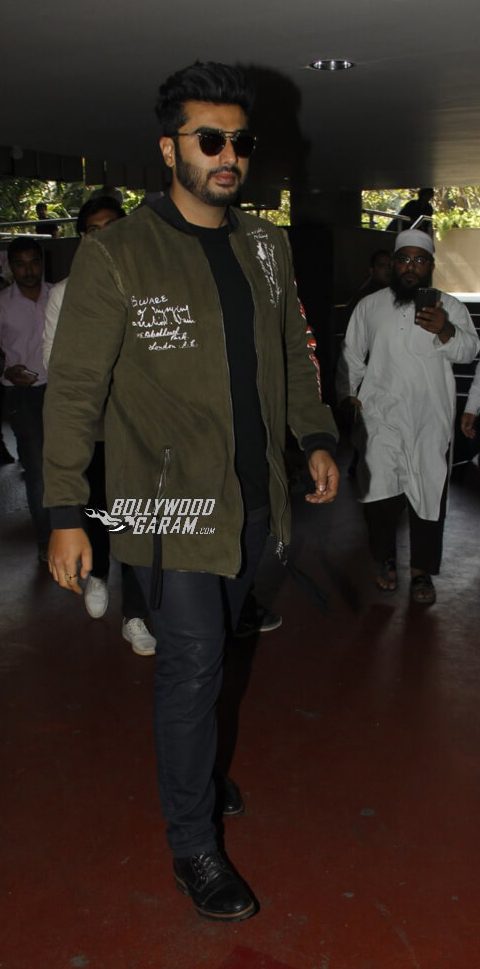 The self – proclaimed Salman Khan fan was spotted at Mumbai Airport on December 28 heading to a vacation with his cousins. Looks like they were off to an undisclosed destination to usher in New Year 2017.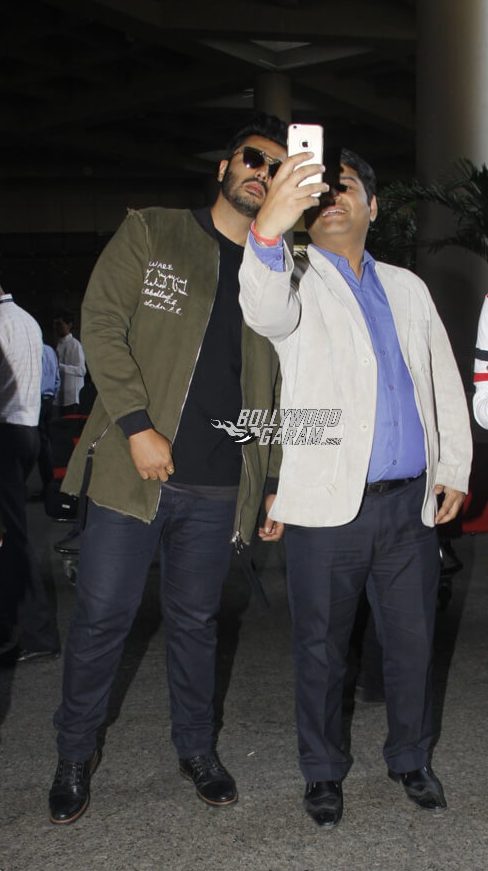 Here's Arjun Kapoor clicking selfies with his fans at the airport!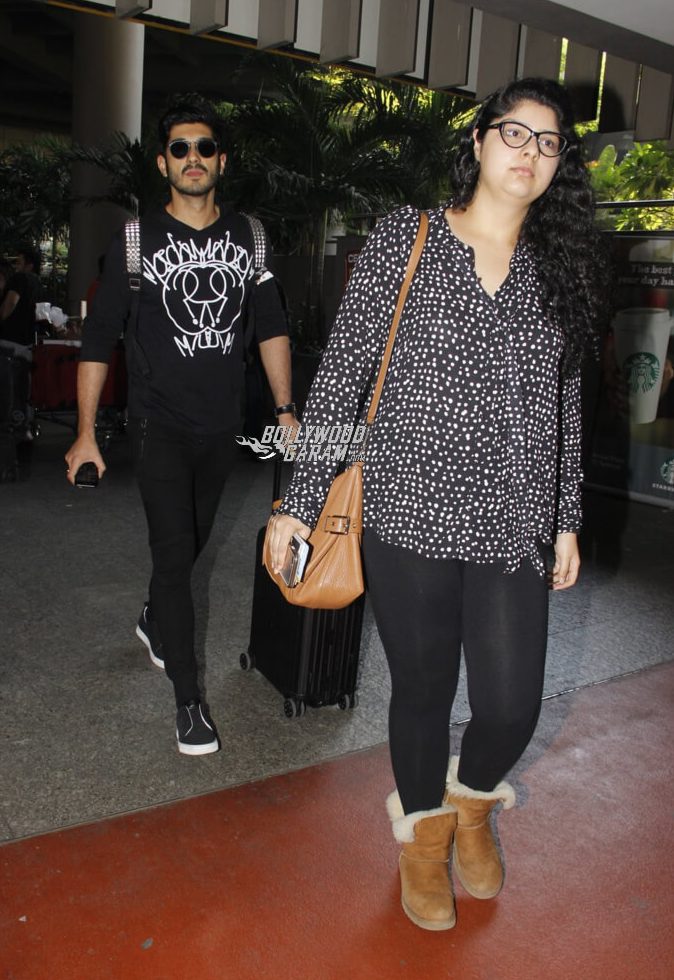 Arjun was accompanied by his sister Anshula Kapoor and cousin Mohit Marwah (behind Anshula) as they headed for a small vacation. Some well deserved catch-up time for the actor we suppose.
Sonakshi Sinha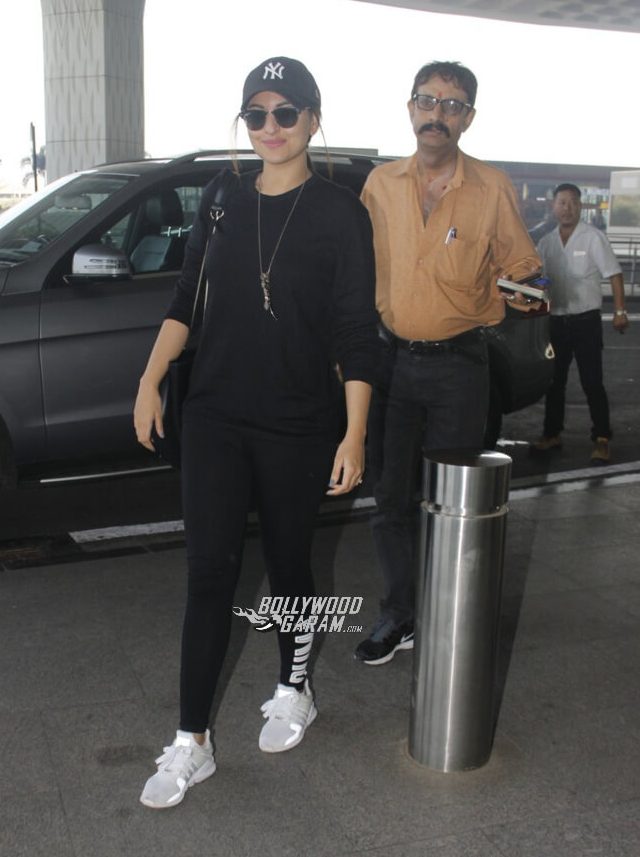 The Dabangg actress was spotted at Mumbai Airport flashing a rather sporty look!. She paired her black (exerise) leggings with a lose-fit black top and a cap, sporting some cool White walking shoes!
Suzanne Khan with Parents
Suzanne was seen traveling with parents, Sanjay and Zarine Khan. Looks like the Khan's too, were off to enjoy a family vacation. any guesses where they're headed?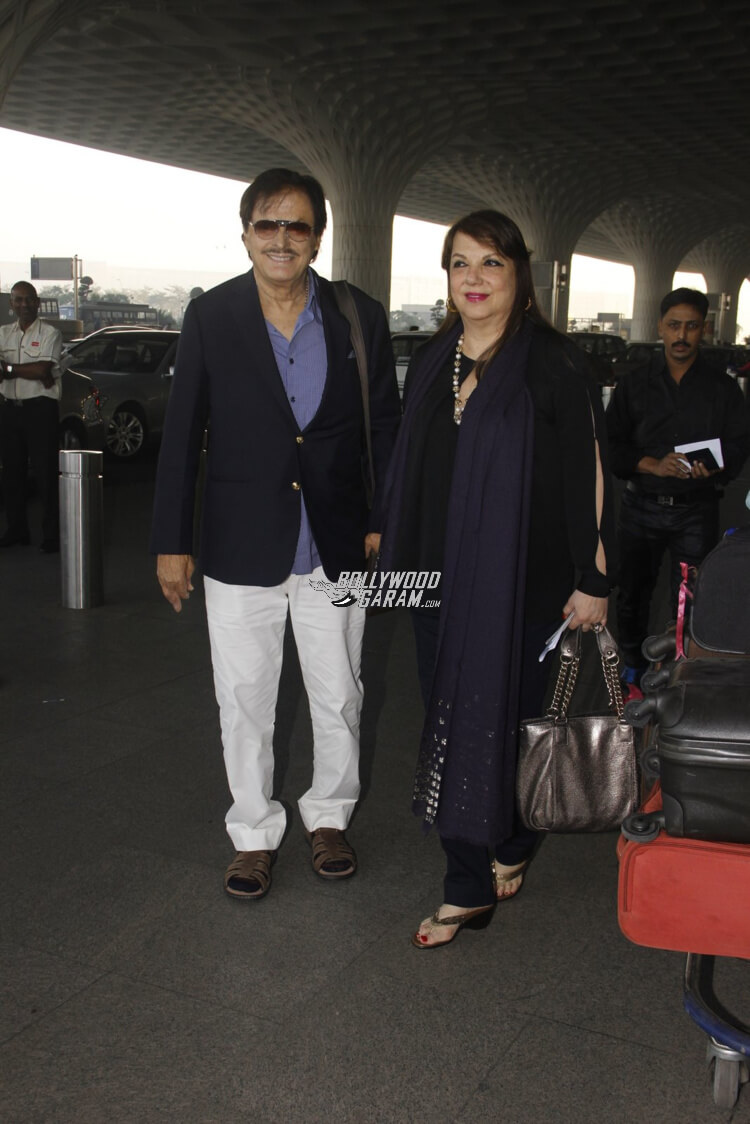 Ayushmann Khurrana with Family
Aayushmann Khurrana was seen at Mumbai International Airport on December 25 with his family. Looks like they too were headed to a family vacation to celebrate the Christmas break. Aayushmann looked like a rapper with his black and orange tracksuit and cap.
Here's wife Tahira Kashyap with daughter Varushka Khurrana looking cute as a doll in her pram. Mommy Tahira kept it all casual in a simple grey T-shirt paired with beige pants.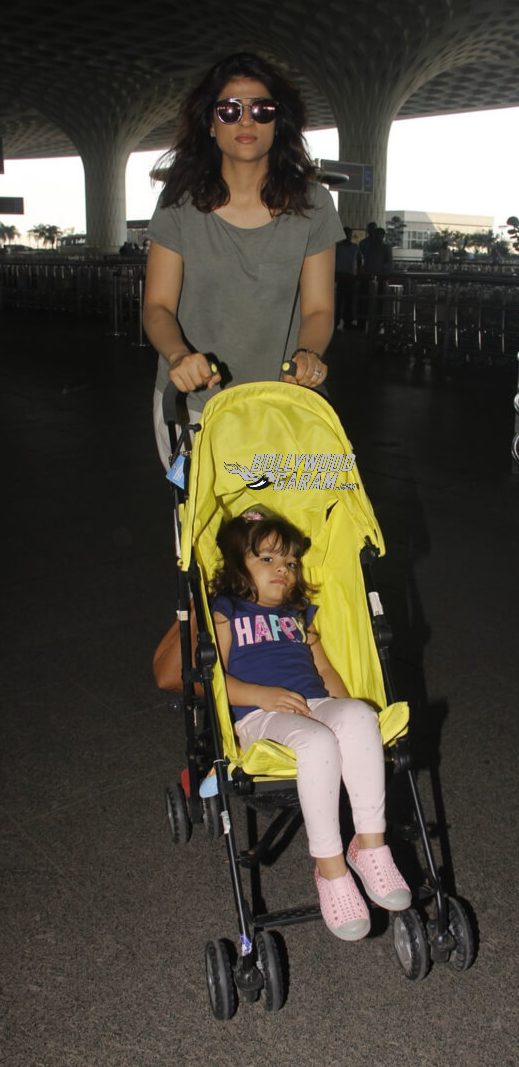 And here's their little rockstar, Virajveer Kurrana who's enjoying sitting over the bags and posing for us!
Notice his well coordinated Superman T-shit and shoes? Kudos to mommy Tahira for bringing every little boy's dream come true!
Jacky Bhagnani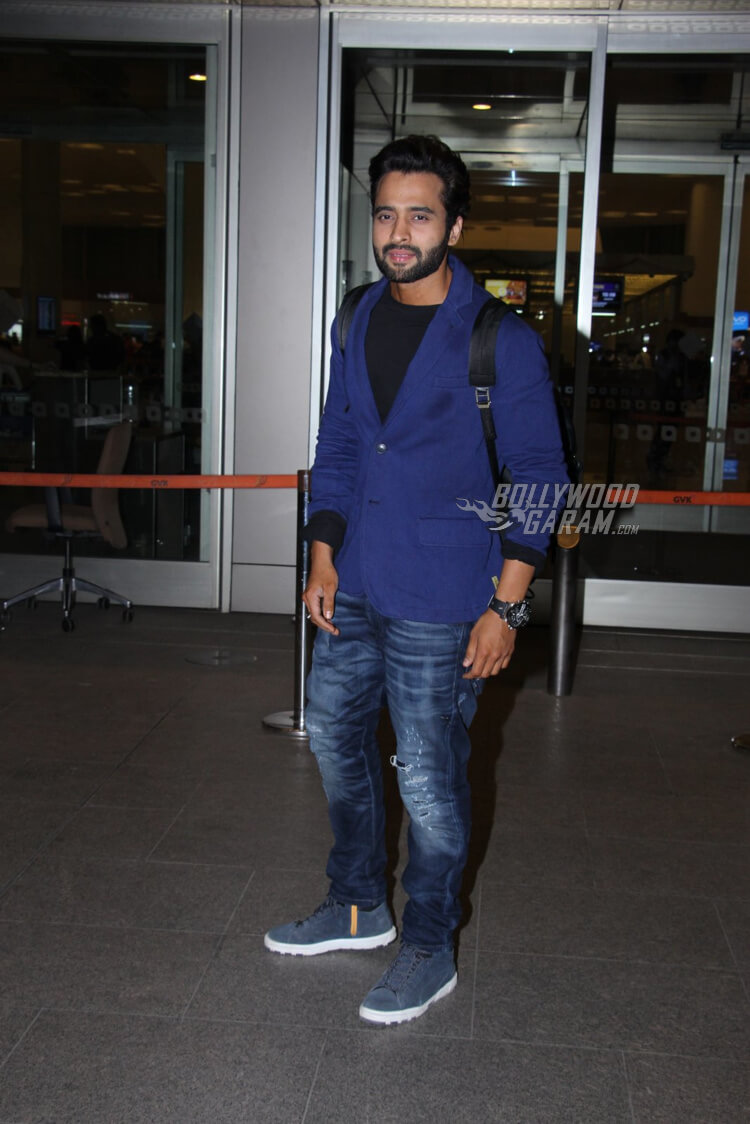 Jacky Bhagnani was spotted at the airport on December 30, 2016. He looked good in his blue blazer and jeans. We wonder where he's headed to solo this festive season.
Check out photos from his 31st birthday bash
Shankar Mahadevan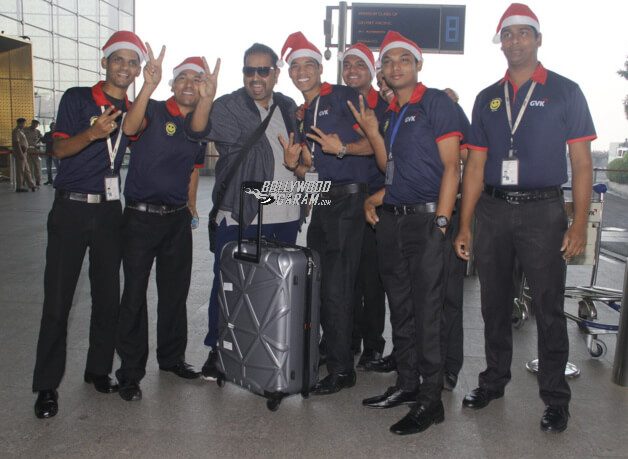 Multi-talented Singer and Music Composer, Shankar Mahadevan is a frequent visitor at the airport and was more than willing to get a picture with the airport assistance staff! It's the perfect Christmas picture, isn't it?
Stay tuned for Garam updates your favorite stars exclusively on Bollywood Garam! We wish you a Happy New Year, 2017 🙂
Photo Credits: Viral Bhayani