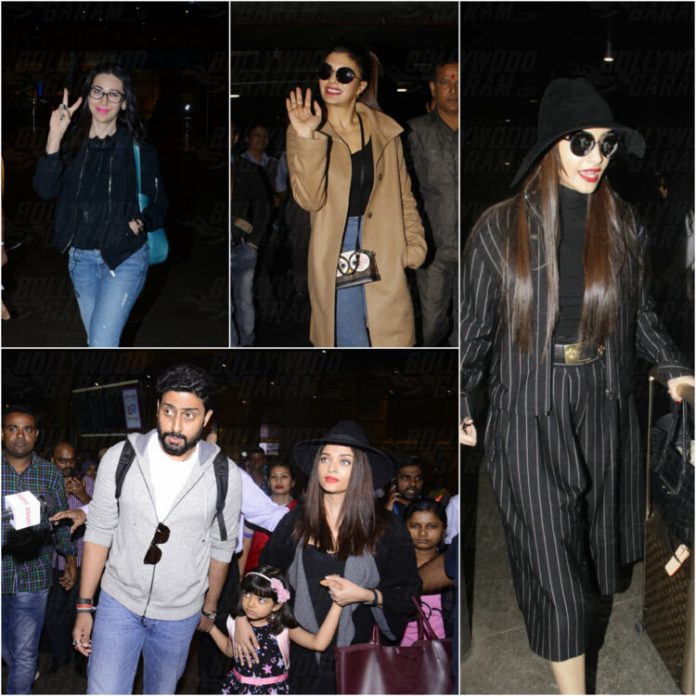 Catch All Your Favorite Stars Put Their Best Style Forward at Mumbai Airport this New Year!
Looks like all B-town families are returning from their vacations. This week Bollywood Garam spotted many Bollywood celebrities at the Mumbai Airport, returning with their kids and families. In addition there we some solo appearances too.
Not one star was out of style this week! Looks like Airport Fashion is some serious business when it comes to our Bollywood Actors.
More Inside: Sonam Kapoor, Abhishek and Aishwarya Bachchan, Akshay Kumar and Twinkle Khanna, Varun Dhawan, Jacqueline Fernandez and More
Sonam Kapoor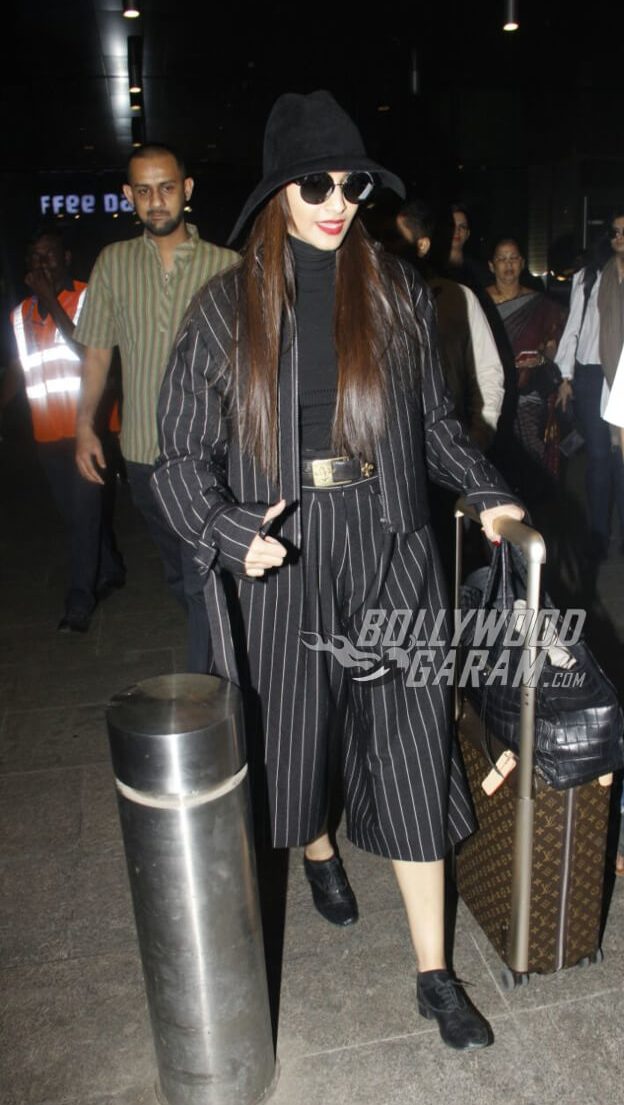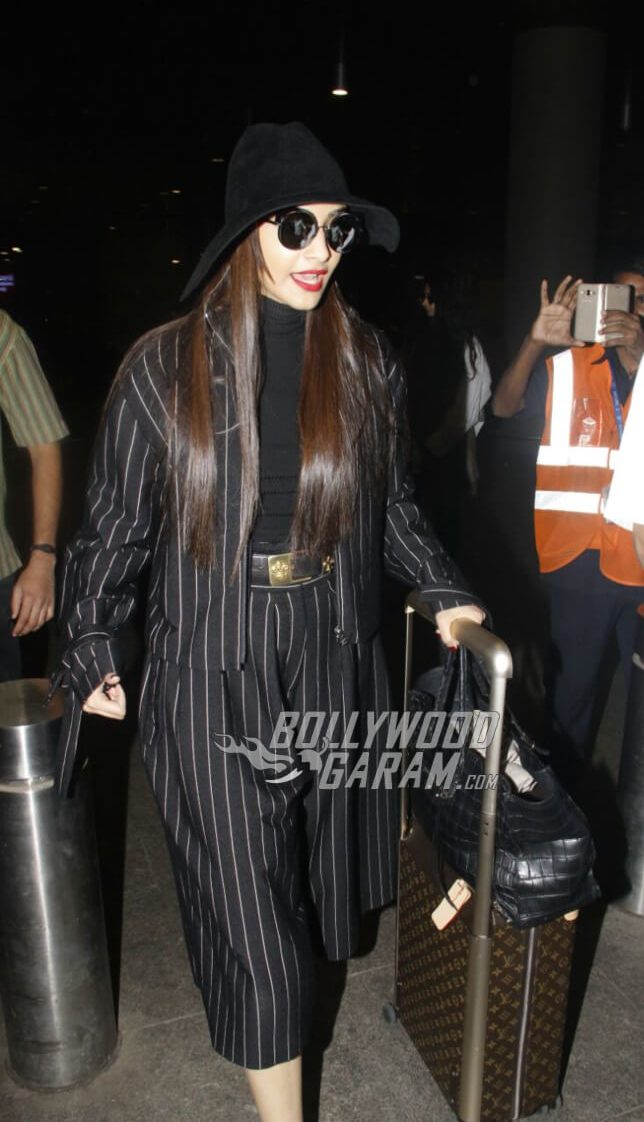 Miss Kapoor slayed it completely in her airport look on January 4, 2017. She looked stunning in her fully black outfit. From the black blazer to black shoes, black hat to black bag – everything was just so perfect!
This is probably one of the most refreshing looks we have seen in a while, right? Way to go girl!
Abhishek and Aishwarya Rai Bachchan
The black hat seems to be a common trend with the ladies!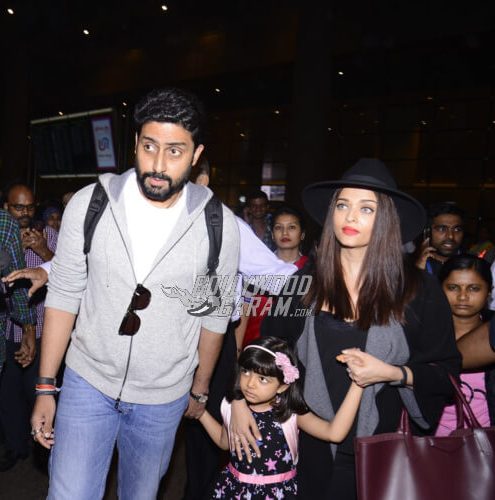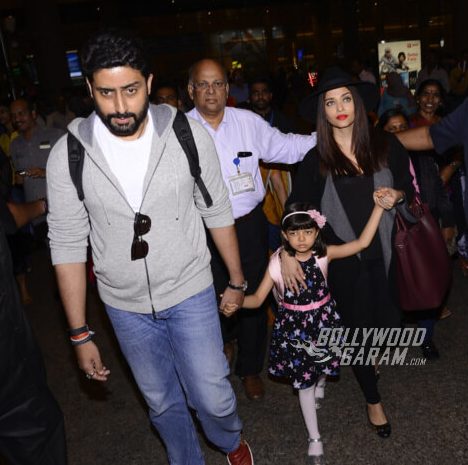 Abhishek Bachchan was seen at the airport on January 2, 2017 with wife Aishwarya Rai Bachchan and daughter Aradhya. Aishwarya Rai looked beautiful in her black outfit specially, the long black over coat with grey collars!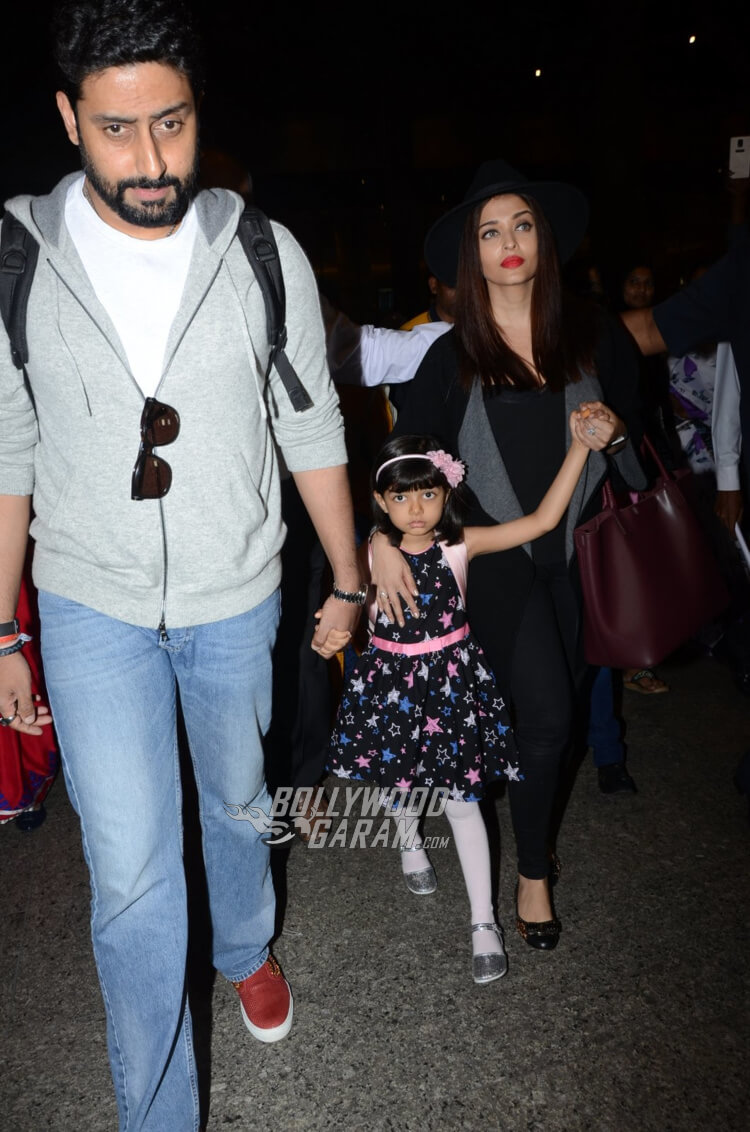 Cute Aradhya was in between the protective parents who didn't let go of her hand for a bit on her way out of Mumbai Airport. The were last spotted leaving on December 28 to bring in the New Year, at an undisclosed holiday destination.
Hrithik Roshan and Yami Gautam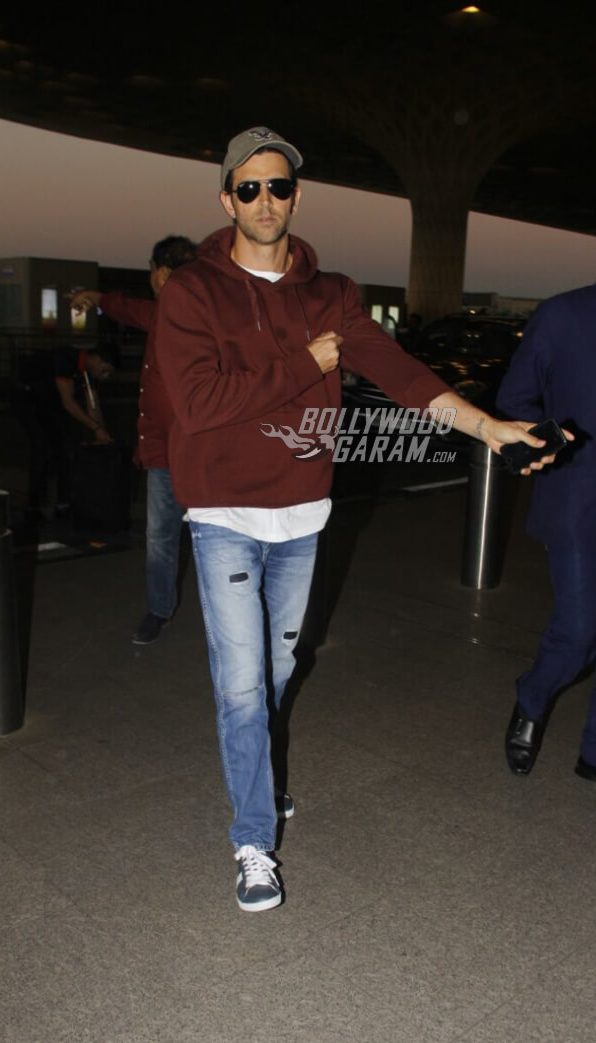 Hrithik Roshan keept it casual in his airport look on January 6, 2017. He was spotted in blue jeans and a red hoodie. The Kaabil Actor looked simply charming in those casuals!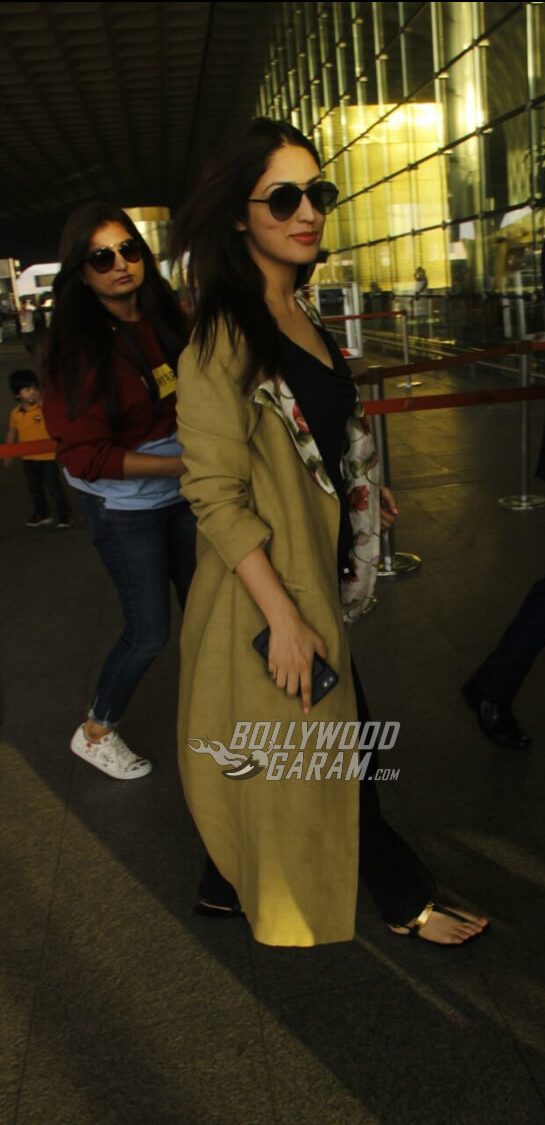 On the other hand Yami Gautam was seen in a long-overcoat and looked extremely pretty! We love the way she carries her self with a smile, it's definitely worth falling for!
Hrithik Roshan and Yami Gautam have been busy collecting air-miles in order to promote their upcoming movie Kaabil, which is set to release on January 25. We are already looking forward for the movie now!
Jacqueline Fernandez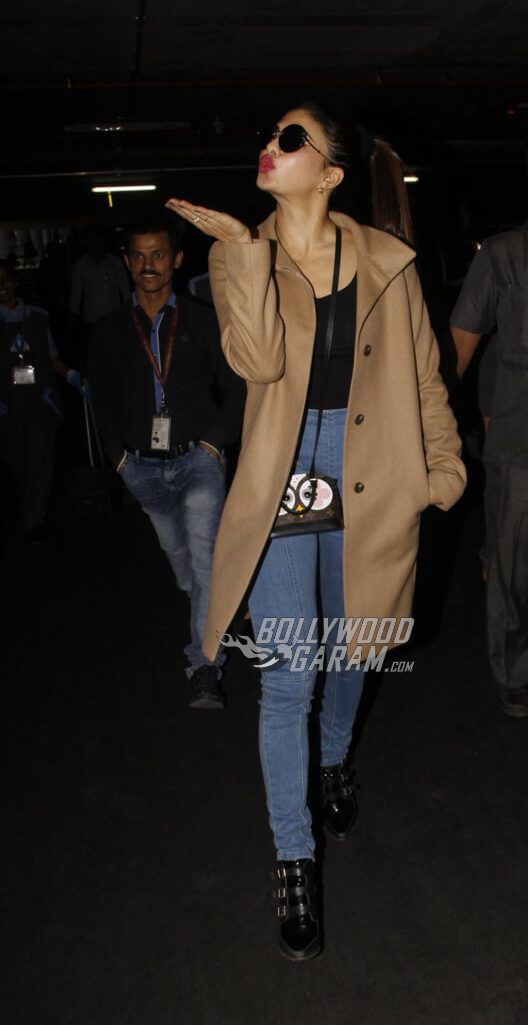 Jacqueline Fernandez is always in good spirits and happy to pose for Bollywood Garam. We love the way she carries her self, and here she was at the airport on January 3, 2017 stealing our heart! Jacqueline looked extremely stylish just like her BFF- Sonam Kapoor, in a black tee paired with a brown over-coat.
And Did you notice her owl faced sling bag? OMG it's so cute!
Anushka Sharma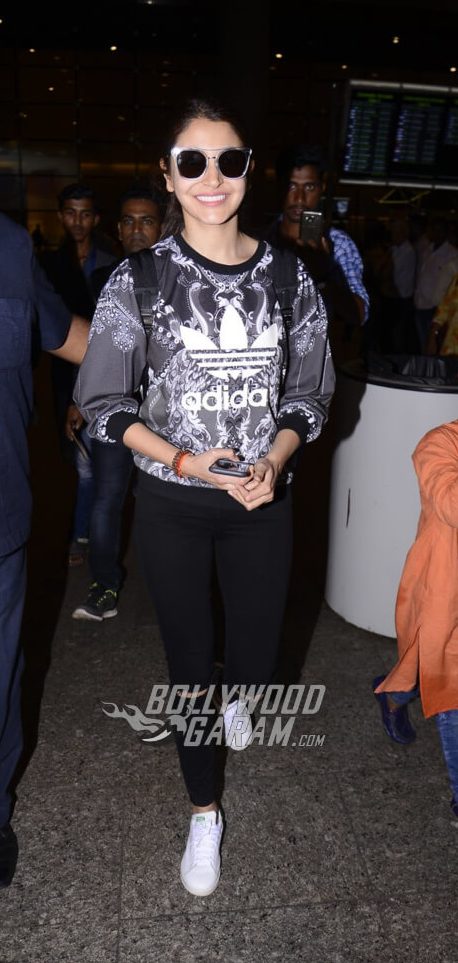 Anushka Sharma wore an Adidas t-shirt and choose to pair it with white sneakers in her latest appearance at Mumbai Airport. After all those rumors about her engagement to boyfriends Virat Kohli, looks like the actress chose to travel separately from their vacation as she landed at Mumbai Airport on January 2.
Varun Dhawan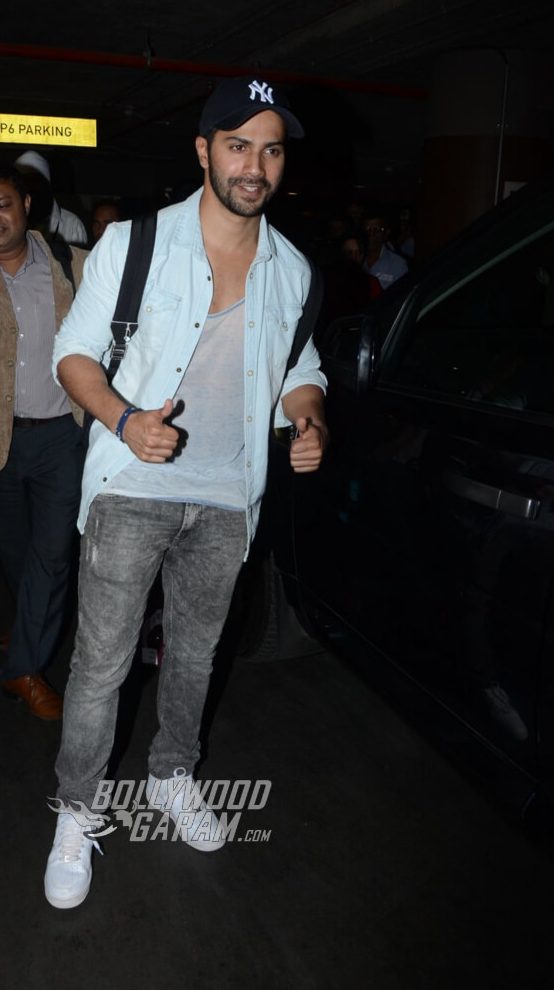 The Father-son duo were spotted at the airport on January 2, 2017. Varun looked super cool in his casual, yet so stylish avtaar. We love the color combination he sported with his cool blue shirt, dark grey jeans and a light grey T-shirt. Did anybody notice that his sneakers are in fact color coordinated with his shirt?
David Dhawan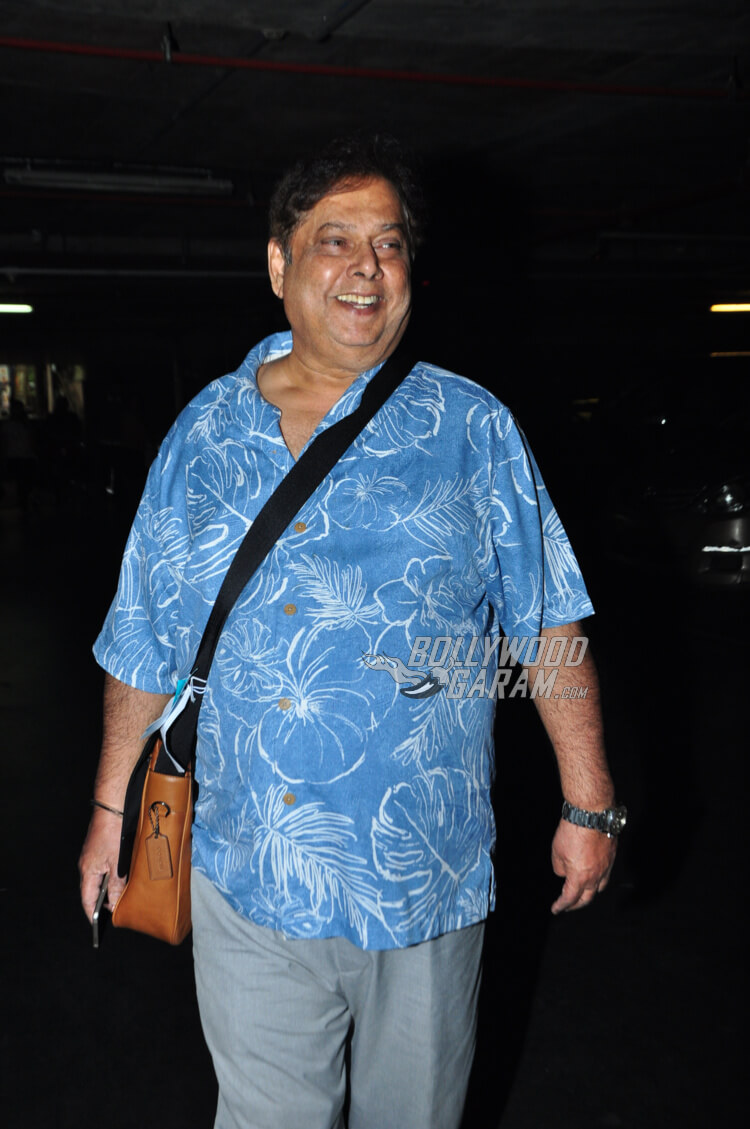 The director who has made us laugh so hard while watching his movies was caught along with his son, Varun Dhawan at Mumbai Airport. He was all smiles for the shutterbugs.
Akshay Kumar and Twinkle Khanna with Daughter Nyasa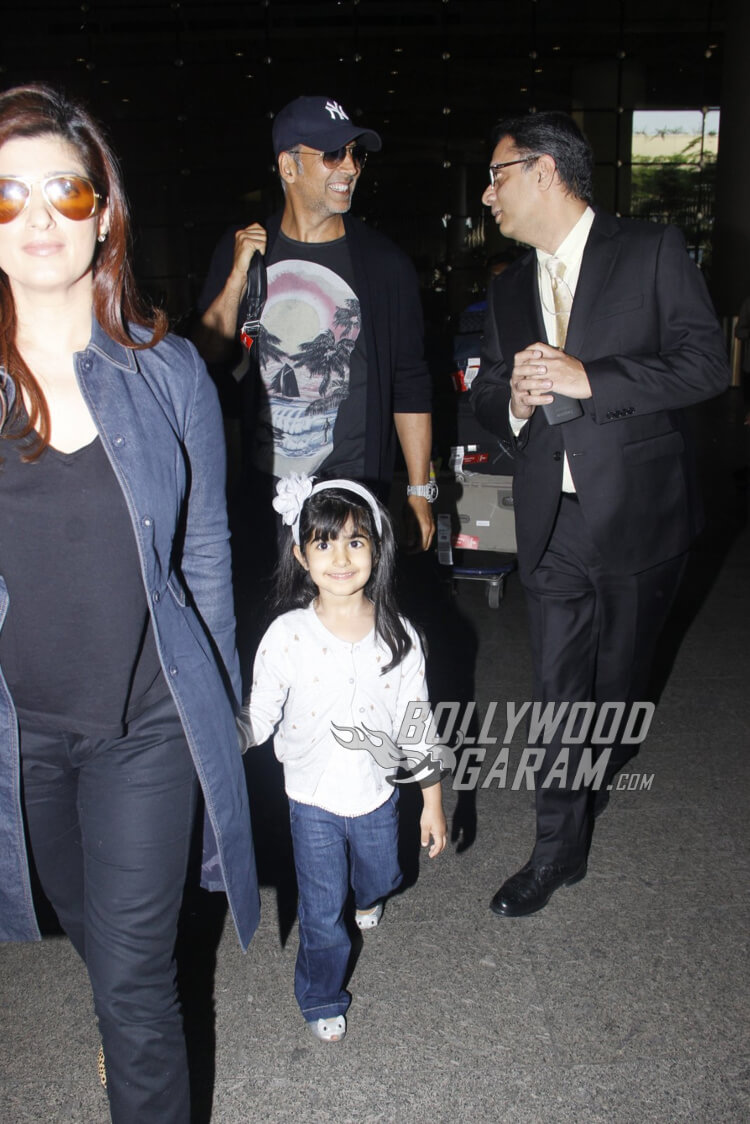 Mrs. Funnybones and husband Akshay Kumar were seen returning from a family vacation abroad. Twinkle Khanna was seen along holding daughter Nyasa's hand, who stole our hearts with her mischievous look!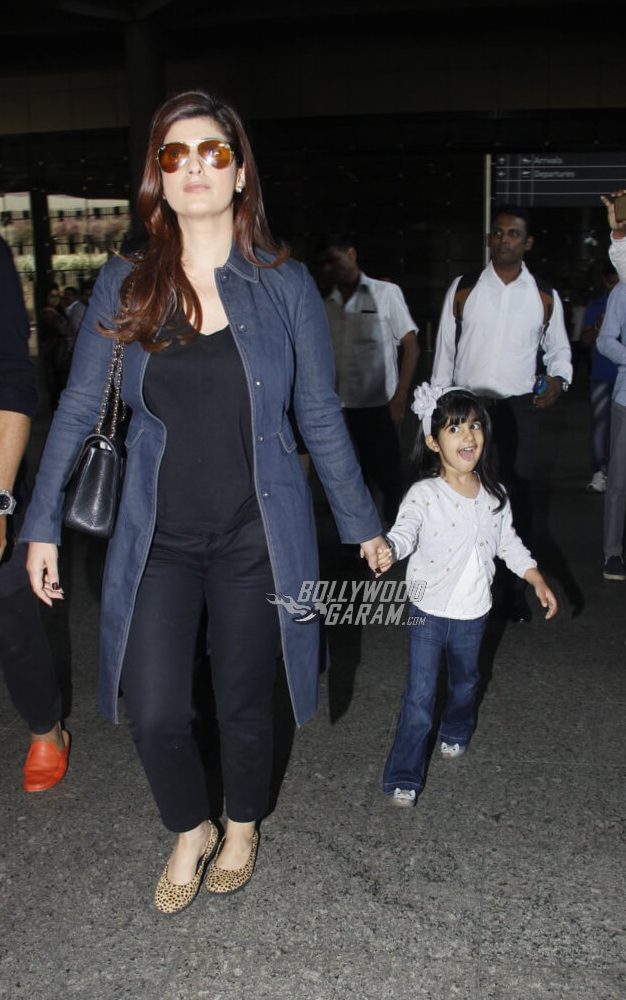 Looks like the family was returning from a long Birthday vacation, celebrating Twinkle Khanna's 42nd Birthday, which is co-incidentally the same day as her Father, Rajesh Khanna's Birthday too. 
Karisma Kapoor
Karisma Kapoor was seen at Mumbai Airport with her kids, Samiera Kapoor and Kiaan Raj Kapoor on January 3, 2017 and without kids on January 2, 2017. In both her airport looks she looked equally pretty and flaunted the same shade of lipstick, which compliments her perfectly!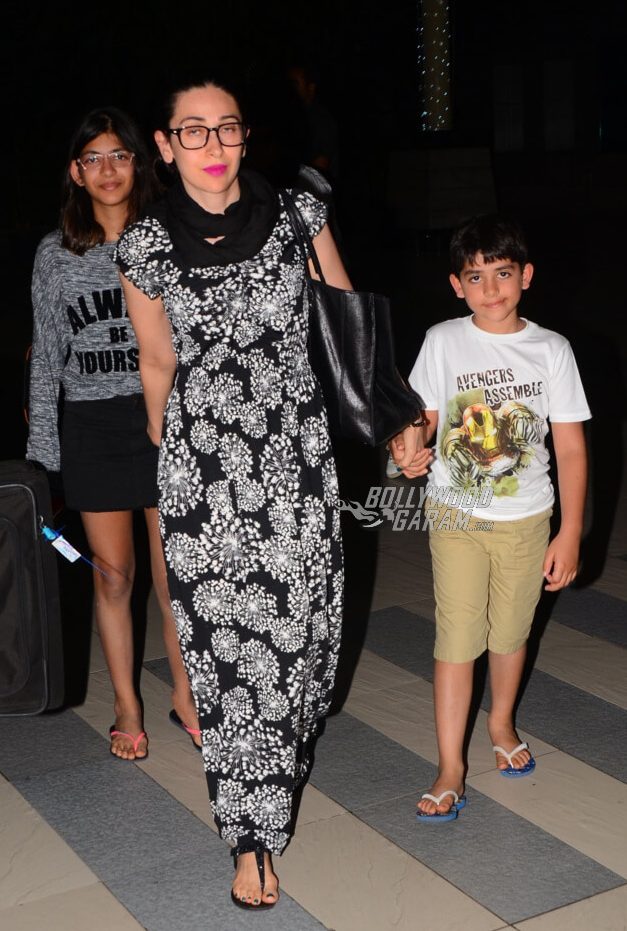 Sonakshi Sinha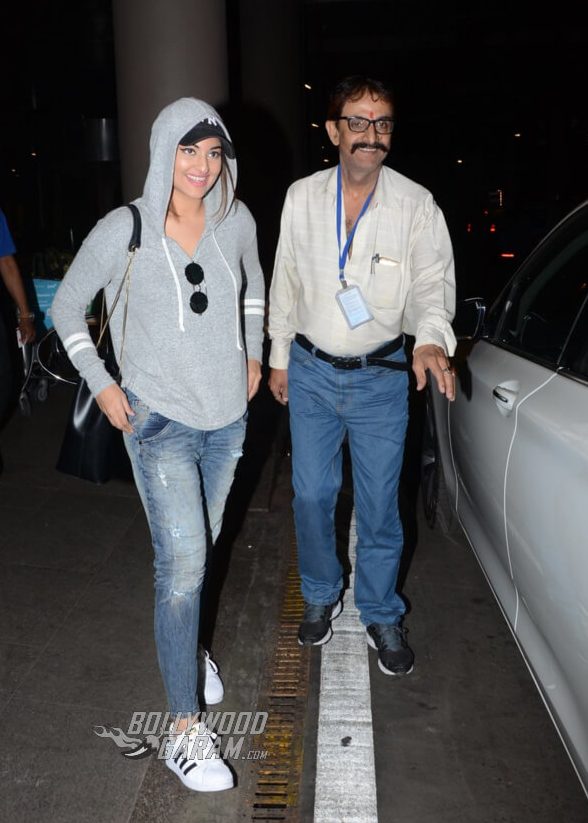 The Force 2 actress was spotted returning from a 5 day long trip to an undisclosed location. She was last caught at Mumbai Airport on December 28, sporting the same black cap. We love her cute hoodie in this picture though.
Disha Patani
Disha Patani looked extremely pretty in ripped jeans and t-shirt, when spotted at the airport on January 6, 2016.
Parineeti Chopra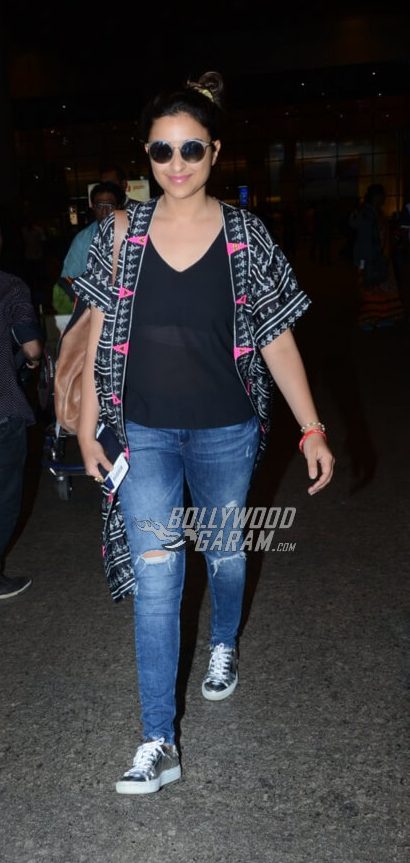 Parineeti Chopra gave us some strong fitness goals last year, and is now giving us some major fashion goals for 2017! We like the way she has paired her ripped jeans and black top with shiny sneakers and a long jacket tribal print jacket.
We are eagerly awaiting the release of her upcoming film Meri Pyari Bindu which is set to release on May 12, 2017.
Kajal Aggarwal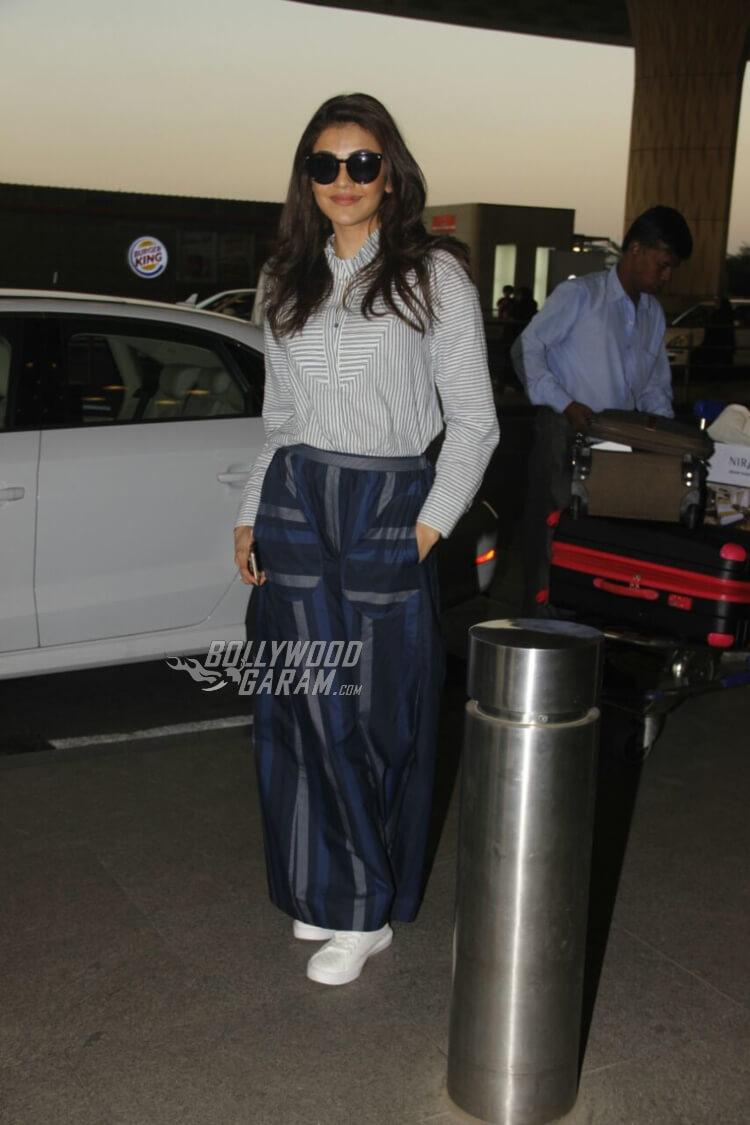 Kajal Aggarwal was spotted at the Airport on January 6, 2017. She looked extremely stylish in those striped palazzo pants which she choose to pair it with a shirt.
Kajol and Ajay Devgn with family
Looks the Devgns too are back from their long holiday as they were last seen leaving Mumbai Airport on December 22.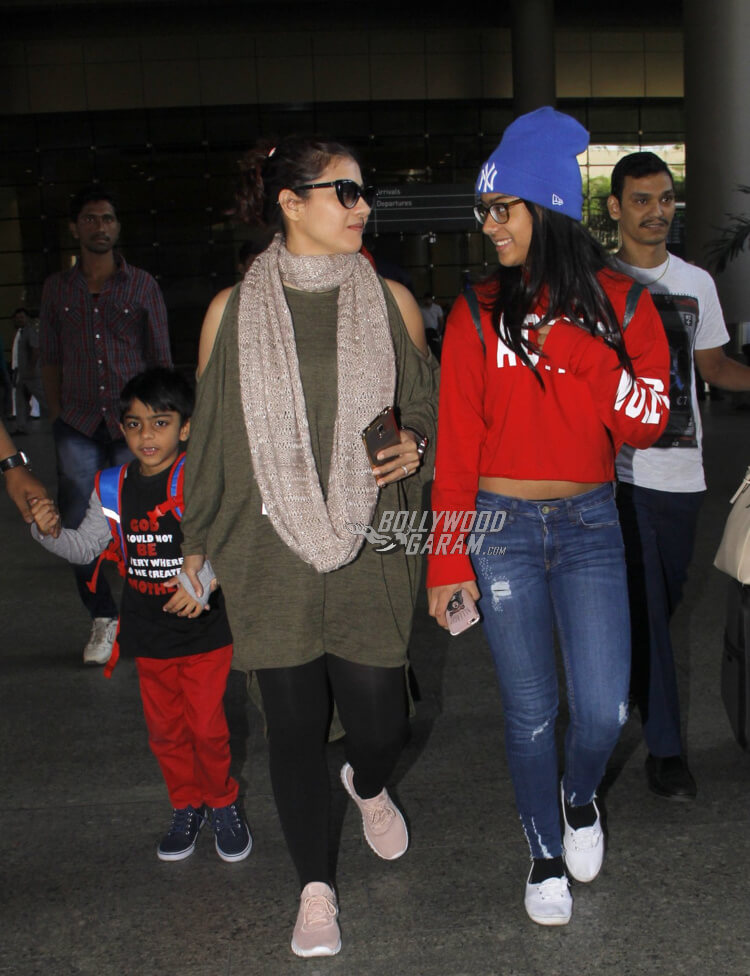 We managed to capture a cute mother- daughter moment between Kajol and daughter Nysa at Mumbai International Airport on January 3. Yug can be seen holding his mother and bodyguard's hand.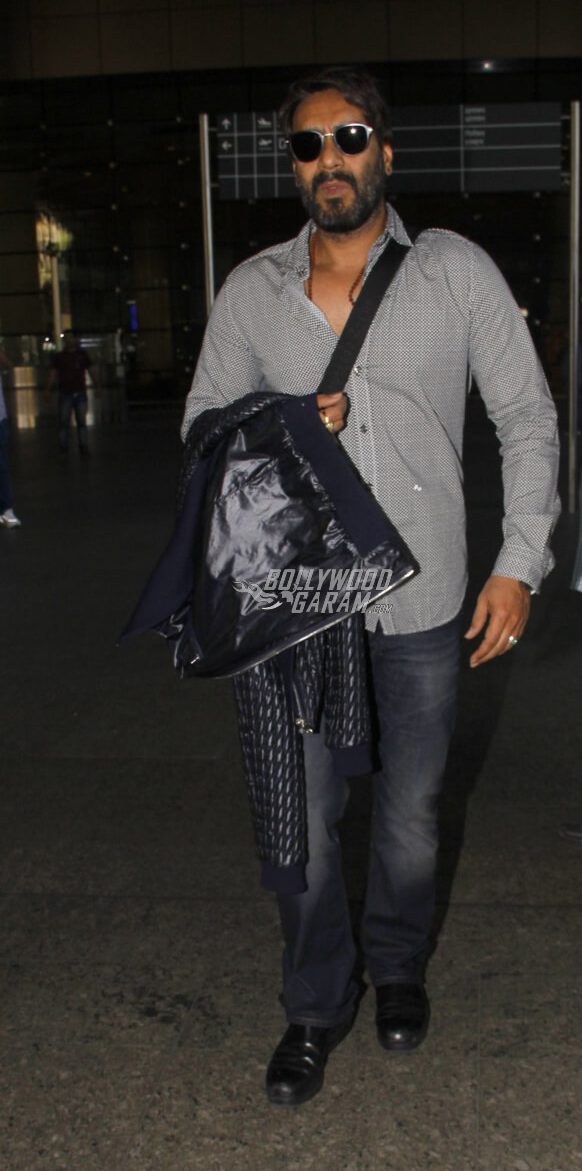 And here's the star, Mr. Ajay Devgn sporting a cool black-white pattern shirt and holding a down's jacket in hand. We hope they enjoyed their time off!
Mallika Sherawat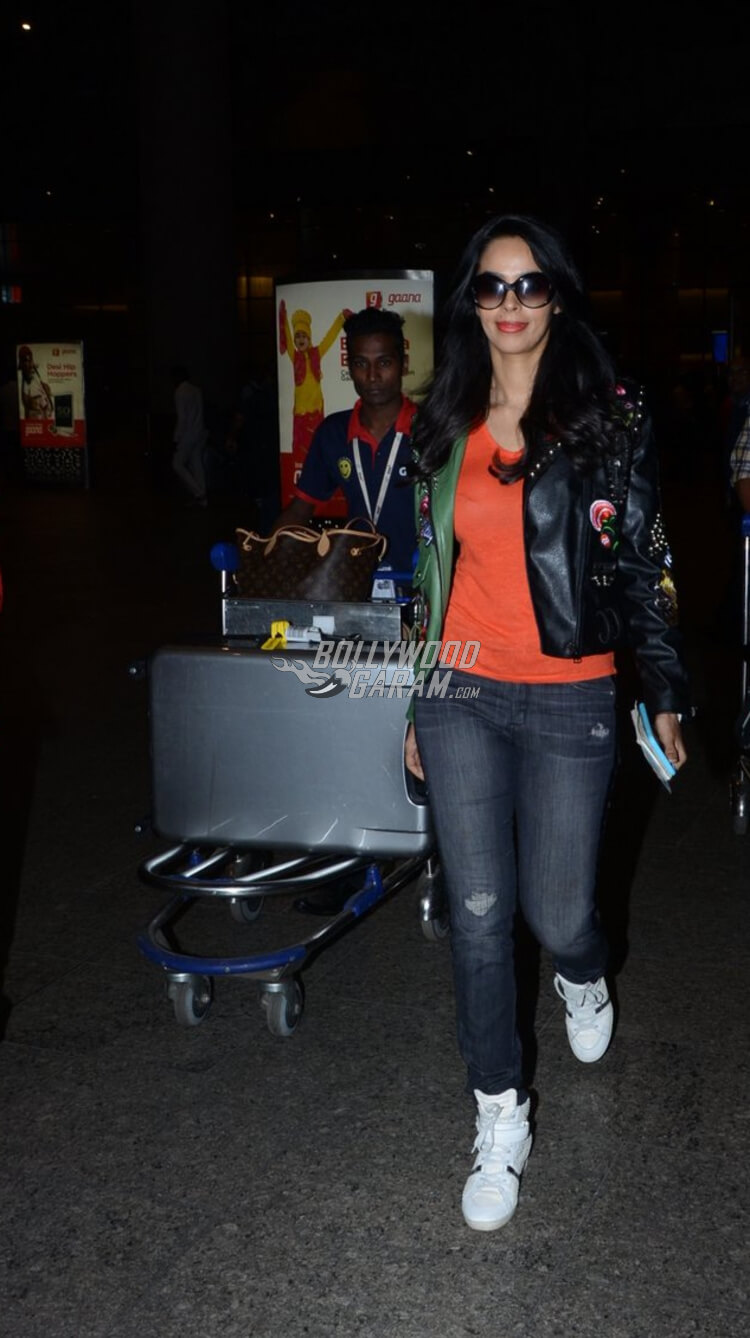 Omg looks whose back? Mallika Sherawat whose settled overseas was seen at the Mumbai International airport on January 6, 2016! She for a change was in casuals and choose to pair it with a funky black leather jacket!
Priyanka and Vivek Oberoi with Suresh Oberoi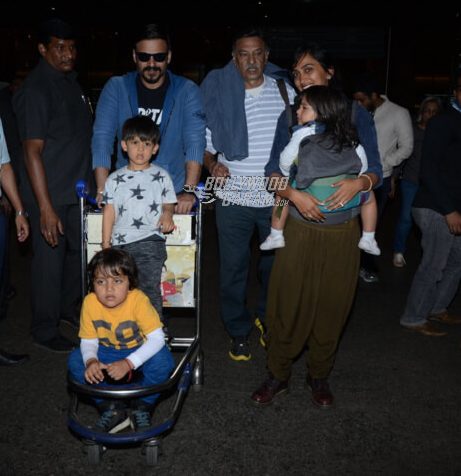 Vivek Oberoi too was spotted at Mumbai International Airport returning from what looked like a family vacation on January 3, 2017. We spotted wife Priyanka Alva Oberoi and father Suresh Oberoi along with kids, Ameyaa (in Priyanka's arms) and son Viaan on the trolley.
Masaba Gupta
This amazing fashion designer was seen returning from a small vacation with husband, Producer Madhu Mantena (seen in a dary grey shirt right behind her). The designer looked pretty cool in her blue dress, dark grey hat and white sneaker like sandals.
Farah Khan and Shirish Kunder with Kids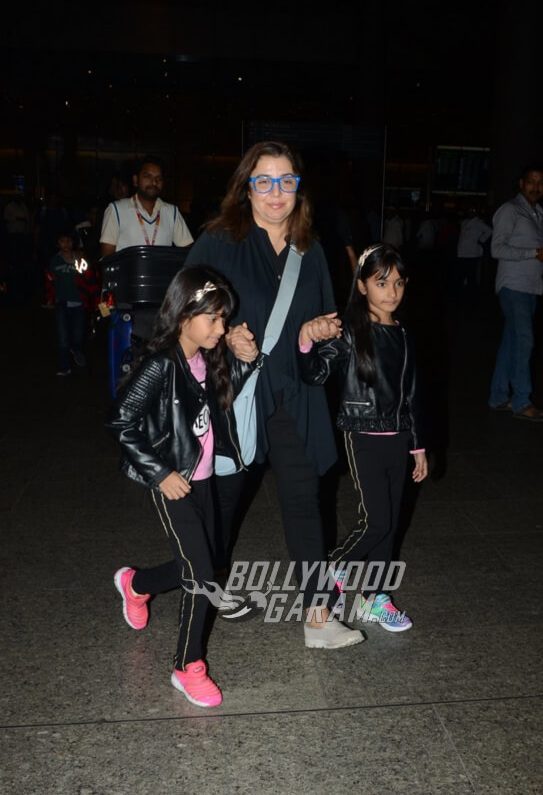 Ace Choreographer turned Director turned Producer and Reality Show Judge, Farah Khan was seen at Mumbai Airport with her two lovely girls, Anya and Diva Kunder.
Living up to the tradition of twins/ triplets dressing up similarly, they sported identical leather jackets and track pants. While we love Farah's neon blue spectacles!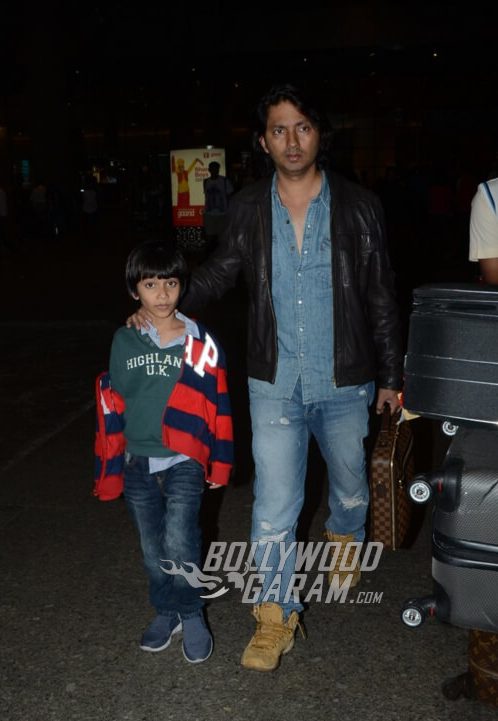 And here's Husband, Director Shirish Kunder accompanying their son Czar Kunder at the airport. We wonder where they're off to!