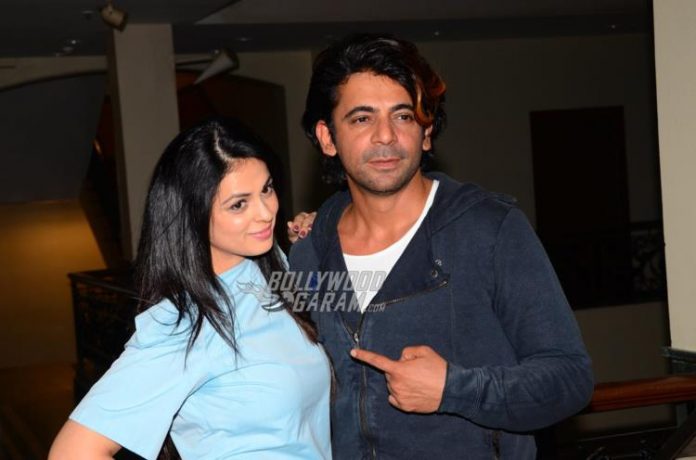 Movie Name: Coffee With D
Cast: Sunil Grover, Anjani Sukhani, Dipannita Sharma and Zakir Hussain
Director: Vishal Mishra
Running time: 2 hours 3 minutes
Genre: Comedy
Bollywood Garam Rating: 2/5 stars
After creating ripples in the world of TV and a few supporting roles in Bollywood, Sunil Grover has finally made a debut as the lead in the movie 'Coffee With D' where D stands for the popular gangster who once allegedly ruled in Mumbai.
The story of the movie is about the popular news channel anchor, Arnab Ghosh, played by Sunil who is known for attracting TRPs to the channel with his temper. But due to some reasons, his popularity started decreasing and the channel owner played by Rajesh Sharma threatens to shift him from the prime time slot. While Arnab is confused with ideas, his wife Parul, played by Anjani Sukhani, drops an idea to do an interview with 'D' the gangster.
The movie starts with very slow and dragging scenes and it can be said that Sunil is suitable only on television comedy shows and not for mainstream cinema or he just needs to brush up his acting skills. Director has tried his best to draw attention of the audience towards Anjani who plays the role of a pregnant wife and wears skimpy outfits while at home. There are just a couple of moments when the audience can laugh but otherwise it is really tough to maintain patience even for just two hours.
Anjani has managed to bring a few laughs when she acts she is scared of the goons who break in to her house. Dipannita, who plays the muse of the news channel head, cannot be given much credit for her work. Overall, there is no reason that the movie should be recommended even during weekends.
Photo Credits: Viral Bhayani