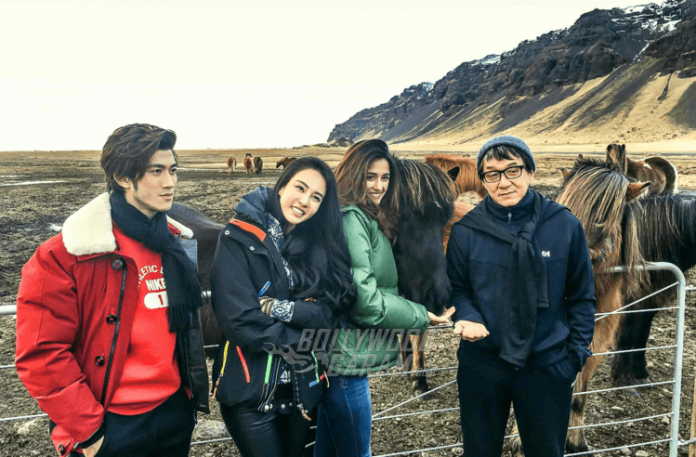 Movie Name: Kung Fu Yoga
Cast: Jackie Chan, Sonu Sood, Disha Patani, Amyra Dastur and Aarif Rehman
Director: Stanley Tong
Genre: Action-adventure-Comedy
Running time: 140 minutes
Bollywood Garam Rating: 2/5 stars
The release of Kung Fu Yoga is a proud moment for the Indian actors for their debut in International movies. International star Jackie Chan is known for his comic timings and many of us have grown up watching his movies. People who are fans of Jackie Chan might be disappointed with 'Kung Fu Yoga'.
The story of the movie is about Chan played by Jackie, who is China's best archeologist and is approached by Ashmita played by Disha with a map of the Magadh dynasty that leads to a hidden treasure. Jack and his assistants take up a task of helping her. Though this might sound interesting, the director has failed to draw any interest of the audience. The saddest part is that despite the fact that the movie is a combination of two great nations China and India, they have failed to create any laugh despite having a big star onboard.
There is nothing funny in the movie and to make it worse the pace of the film is too slow. It is completely disheartening to see a superstar take up such roles. Sonu in the movie has overdone everything while Amyra, who plays a smaller role has done a decent job. Disha, who made her debut with the movie 'MS Dhoni' has disappointed with her monotonous dialogue delivery. The only thing that can be appreciated are some of the action sequences that have been shot well. Moreover, like the title says 'Yoga' there was no 'Yoga' found in the movie and there was just a lot of Kung Fu.
Overall, there is nothing to be said about the plot, or the characters and no reason to recommend the movie for a theatre watch.
Photo Credits: Taihe Entertainment and Shinework Pictures