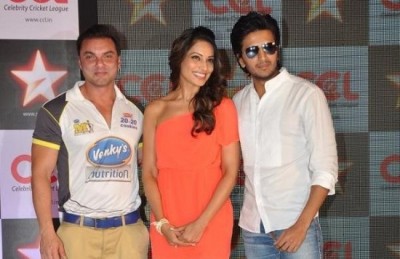 Wednesday December 19, 2012 turned out to be a big night for Bollywood, as two major events took place in the city and specifically the Novotel hotel. One was the press conference for the Celebrity Cricket League and the other was the Playboy bash that was being thrown. Bipasha Basu found herself to be the centre of attention though, as she was recently elected as the brand ambassador for the Celebrity Cricket League.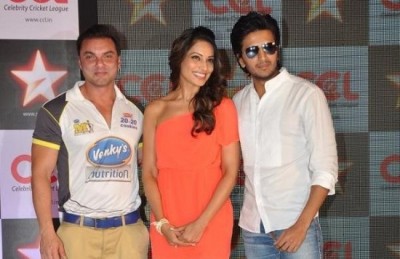 Photo Credit: Zenfs
The 'Raaz' actress was the talk of the evening, as she was dressed in a peach colored outfit and seemed very comfortable in her new role. Apart from Bipasha, other Bollywood A-listers were also present in the form of Riteish Deshmukh and Sohail Khan, who are also team owners.
Sohail Khan owns the Mumbai Heroes team and Riteish owns Veer Marathi. Both team owners were dressed very smartly for the occasion in their team colors, as was Charu Sharma, who is a celebrity commentator at the event.
Bipasha was over the moon as she explained that she was always interested in sport and fitness. The 'Jodi Breakers' actress also went on to say that she could not wait for the season to begin as the event gave stars who are passionate about the game a chance to show their skills.