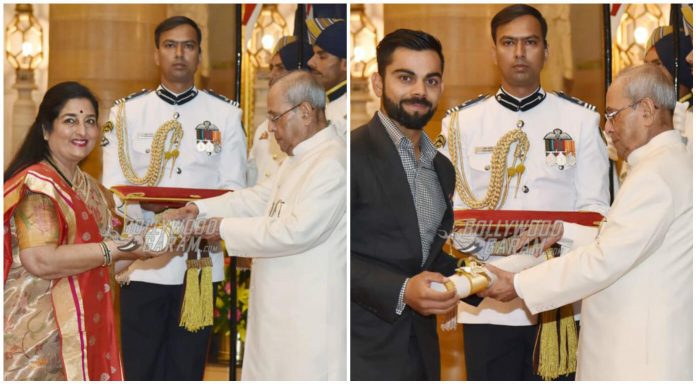 Virat Kohli and Anuradha Paudwal honored with the Padma Shri for their contribution in the fields of cricket and music respectively
Indian cricketer Virat Kohli received the fourth highest civilian award, the Padma Shri from the hands of President Pranab Mukherjee at Rashtrapati Bhavan in Delhi on March 31, 2017. Virat Kohli and singer Anuradha Paudwal, were among the 39 people who were honored with the Padma Shri awards 2017.
The cricketer has shown some great form on the cricket field and has also helped the team towards success. Virat has also contributed towards taking the Indian cricket team to the number one position in test matches after taking over from captain Mahendra Singh Dhoni. The 28 year old cricketer also won the Player of the Tournament at the Twenty -Twenty Championship where the Indian team managed to reach the semi-finals.
Virat, even on an individual basis, was positioned in the top three batsmen in all the three formats. The cricketer expressed his happiness in a message through Instagram and wrote, "What an absolute honour and a memorable day to receive the Padma Shri award from the president of India. These days last for a lifetime. Gods been kind. Jai hind".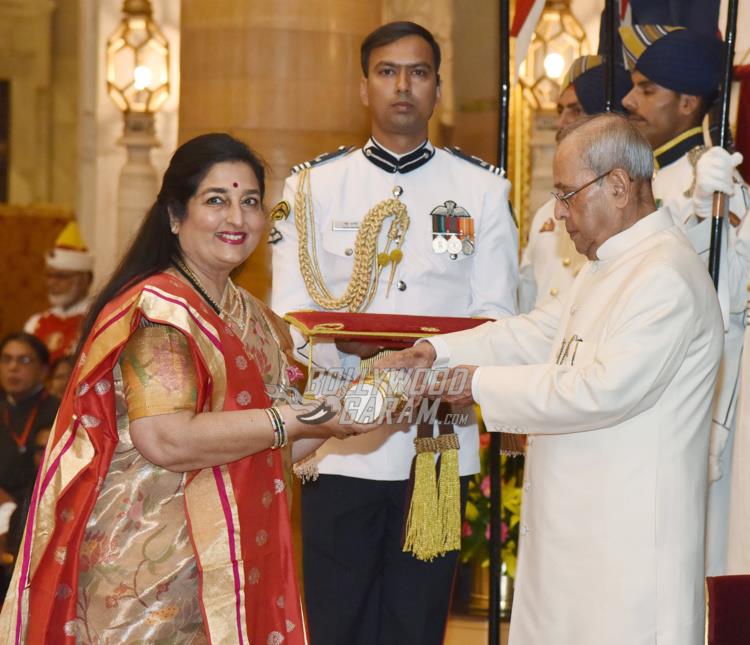 On the other hand, singer Anuradha Paudwal, who is known for singing devotional songs, said that the Padma Shri is like a Prasad for the years of hard work she has put in. The 64 year old singer has also crooned Bollywood songs in many of the noteworthy movies like Aashiqui, Ram Lakhan, Saajan, Dil and others. Anuradha expressed, "I am very grateful. It is a wonderful honour to get from the Government of India. I have been singing devotional songs to Mata Rani for so long and I feel the honour is the prasad for all my hard work. I am extremely happy. It is a beautiful honour". This year the government received 18,000 nominations out of which 4,000 were submitted online.
Other Padma Shri Awards 2017 winners include –
Former Lok Sabha General Secretary T K Vishwanathan
Endocrinologist Dr. M M Godbole
French historian Michel Danino
Former professor at the Massachusetts Institute of Technology Anant Agarwal
VP of Kanyakumari's Vivekananda Rock Memorial, Nivedita Raghunath Bhide
Folk singer Basanti Bisht
Entrepreneur Mohan Reddy Venkat Rama Bodanapu
Madhubani artist Baoa Devi
Folk artist of Halakki tribe in Karnataka, Sukri Bommu Gouda
Bike ambulance dada of Jalpaiguri district, West Bengal, Karimul Hak
Writer Narendra Kohli
Para-athlete Deepa Malik
Theatre artist Wareppa Naba
Kathakali exponent Chemancheri Kunhairaman Nair
Malayalam poet Akkitham Achyuthan Nambudiri
Tribal artist from Kharkhan, Mukund Nayak
Environmentalist Balbir Singh Seechewal
Gynaecologist Dr. Bhakti Yadav
Padma Vibhushan Award 2017 winners
Late Lok Sabha Speaker P A Sangma
Former Chairman of ISRO Prof. Udipi Ramachandra Rao
Politician Sharad Pawar
Murli Manohar Joshi 
Padma Bhushan Award 2017 winners
Yoga guru Swami Niranjanananda Saraswati
Thai princess Maha Chakri Sirindhorn
Father of laparoscopic surgery in India, Tehemton Erach Udwadia
Photo Credits: Viral Bhayani