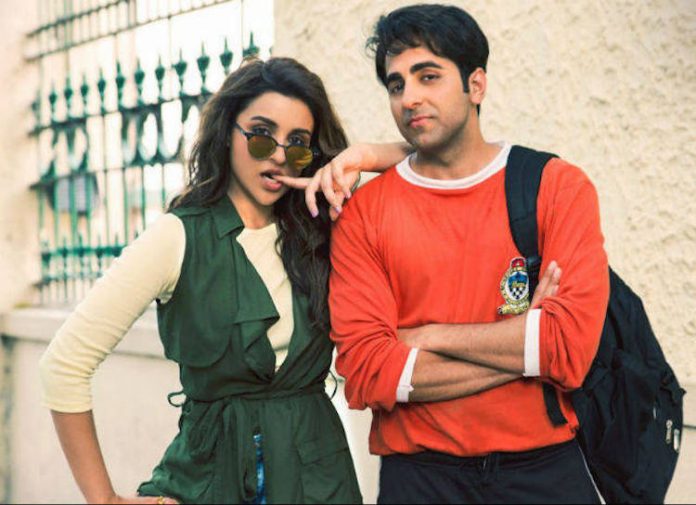 Chapter 2 of Meri Pyari Bindu trailer, Gabbar aur Samba takes us through the adolescent stage of Abhi and Bindu
The love story of Meri Pyaari Bindu is getting more interesting with each trailer! Makers of the movie have announced that they will be launching the entire trailer of the movie in five parts over five sequential days, starting from April 3.
Meri Pyaari Bindu Official movie trailer chapter 1 – Samosa and Chutney was launched yesterday by lead actors Parineeti Chopra and Ayushmann Khurrana at a press conference. The trailer has already grabbed our interest and fans are eagerly looking forward to the other 4 parts of the complete movie trailer.
While the first part of the trailer shows us how Abhi, as a kid has fallen for his new pin sized neighbor, Bindu. Chapter 2 of Meri Pyaari Bindu official movie trailer – Gabbar aur Samba shows us how Bindu (Parineeti) is a total stud and cheats in exams at the cost of studious Abhi (Ayushmann). Bindu lives life to the fullest, rides a Royal Enfield while Abhi does whatever Bindu makes him do.
The two are the new best friends in town, just like Gabbar – Samba,  Jay – Veeru, Munna – Circuit – its Bindu – Abhi! Bindu's character is that of a fun-filled, bubbly girl who lives in the present while Abhi plays that one friend who is always there for you.
Just like Chapter 1 – Samosa aur Chutney, this trailer too has an iconic song, R D Burman's, Duniya Mein Logo Ko, which makes you sing along.
Watch Meri Pyaari Bindu official movie trailer chapter 2 – Gabbar aur Samba right here –
The trailer reveals Bindu – Abhi's mantra of life – "Zindagi ek pighalti hui ice cream ki tarah hai. Taste nahi kiya toh waste ho jayegi."
Meri Pyaari Bindu releases on May 12, 2017. Stay tuned for more updates on the movie exclusively on Bollywood Garam!