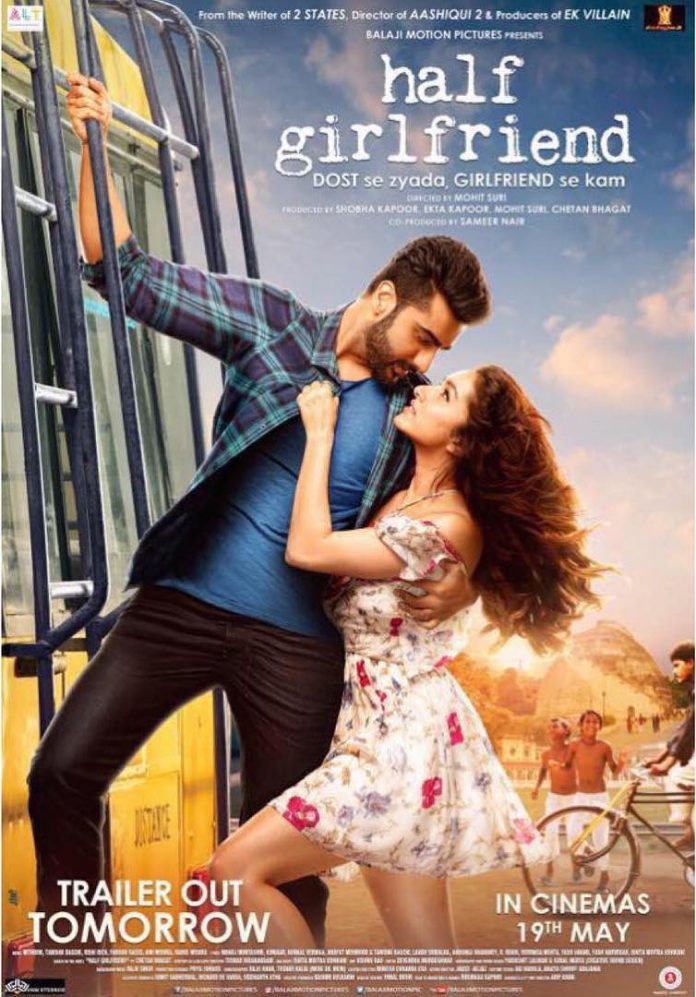 Half Girlfriend new poster features Arjun Kapoor and Shraddha Kapoor in a romantic pose, trailer shows underlying tension between the two
Makers of Half Girlfriend have released a new poster and official movie trailer of the movie. In the new movie poster, lead actor Arjun Kapoor can be seen holding co-star Shraddha Kapoor at the back of a bus. A village atmosphere can be seen at the backdrop and the poster has surely depicted some intense romance between the protagonists.
The new poster was shared by Arjun Kapoor on his Instagram page with the caption, "Holding on to each other, through thick and thin, here's presenting the next poster for #HalfGirlfriend #19May".
Upcoming flick Half Girlfriend is ready to hit the theatres on May 19, 2017. This is the first time Arjun will be seen sharing the screen space with Shraddha Kapoor.
Moving on to the movie trailer, it shows Arjun speaking impeccable Bihari accent and his struggle while speaking English. Shraddha plays the role of an attractive and rich Delhi girl Riya, who agrees to be Madhav's Half Girlfriend. Towards the end the trailer, things becomes intense and Madhav and Riya's relationship hits rock bottom and he goes out searching for her. Half Girlfriend has been shot in Bihar, Delhi and the US. Arjun will be seen playing the role of a Bihari boy Madhav Jha while Shraddha will be seen playing the role of a Delhi girl Riya Somani. But the most interesting part of the trailer, when Riya kisses Madhav goodbye!
Recently, an interesting video was launched that showed Arjun reading a few excerpts from the Hindi version of the book and at the end of the video, the actor asks, "Yeh Half Girlfriend kya hota hai?!"
The upcoming movie is directed by Mohit Suri and produced by Shobha Kapoor, Ekta Kapoor, Mohit Suri and Chetan Bhagat. Half Girlfriend also stars Rhea Chakraborthy, Seema Biswas and Vikrant Massey. Earlier Chetan Bhagat's Five Point Someone book was also made in to the movie 3 Idiots, which did a great business at the box office. Before that his book A Night At A Call Centre was also made in the movie Hello by Salman Khan but could not impress the audience and critics. Now that Chetan Bhagat has himself ventured as a producer, it will be interesting to see how the book has been adapted.
See full Half Girlfriend trailer right here –
Stay tuned for more updates on Half Girlfriend promotions are movie review only on Bollywood Garam.