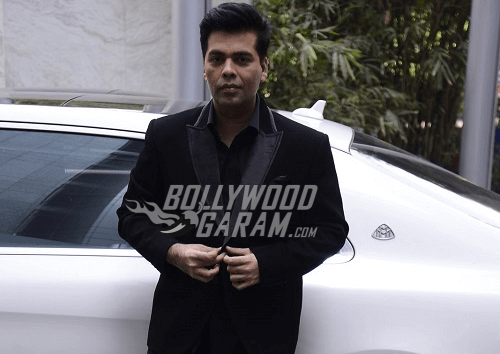 Producer-director Karan Johar celebrates his 45th birthday today
This year, Karan Johar's birthday is going to be a super special one. This is the first time the dapper producer/director/TV show host will be cutting his birthday cake with two of his biggest gifts – his twins, Yash and Roohi. The dapper Bollywood honcho has a number of reasons to celebrate, personally and professionally. He's not only a proud papa, but has also got another of his films, Badrinath Ki Dulhania in the 100-crore film club.
The happy birthday boy is reported to have told a leading daily, "It's my first birthday with my babies, though they don't know that. But they don't know they are making the day their papa turns 45 so special."
Though it's his special day, he can't help but gush about his teenie-tiny new members of the Johar family. "Emotions are all over the place. The happiness quotient is at its optimum. More than anything else, I feel that I have finally reached a point of satisfaction that we all strive for. I see a spring in my mother's steps. I sleep for seven hours now and I feel really light as opposed to the stress of responsibilities that one generally feels. I feel happy that I wake up to my children."
Since Karan Johar is finally at that point in his life where he has everything he wished for, will he be making anymore wishes while blowing out his birthday candles? We don't know yet, but be prepared for a star-studded birthday bash tonight! According to the producer-director himself, he's invited 128 people for his birthday party! He spoke with his Student Of The Year, Alia Bhatt, who asked him about the upcoming celebrations through a Facebook Live video. In his interview, they covered every possible topic, including that debut Karan Johar party a young Alia Bhatt was invited to years ago, and how he made her feel special, holding her hand and introducing her to everyone else at the 'do.
Bollywood Garam wishes Karan Johar a happy 45th birthday and may all his wishes come true in the coming year!