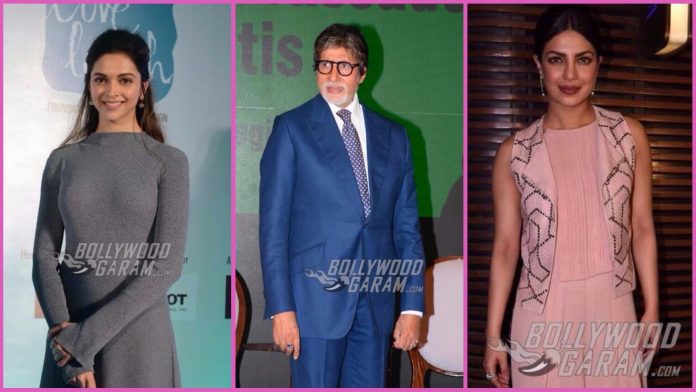 The Academy of Motion Picture Arts and Sciences, also known as The Academy, is an organization that upholds the excellence of cinema. It is popular for its annual Academy Awards, which is officially known as the 'Oscars'. On June 28, 2017, the Academy decided to invite 774 new members to the Oscars Voting Panel. Astonishingly, the list includes 14 Indian film personalities.
#1 Amitabh Bachchan
Amitabh Bachchan is known as Big B or Shahenshah of Bollywood globally. He first got famous in the early 1970s for his blockbuster hits, Zanjeer and Deewar and since then he has been the most respected and honored personality of Bollywood. He has done more than 190 Indian films in his career of almost five decades.
#2 Aishwarya Rai Bachchan
Aishwarya Rai Bachchan is the diva of the world. Her beauty and talent have gained her popularity all over the world. She won the title of Miss World in 1994.Through her career, she has established herself as one of the most influential celebrities in India. She has also received numerous awards and titles, one of them being, 'the most beautiful woman in the world'.
#3 Aamir Khan
Aamir Khan is an Indian director, actor, and producer. He has won four National Film Awards and eight Filmfare Awards. He has also been honored with the Padma Shri Award in 2003 and Padma Bhushan Award in 2010. He is one of the kind.
#4 Priyanka Chopra
Also known as PeeCee, Priyanka is not only a diva in Bollywood but now has also become popular in Hollywood because of her TV series, Quantico. In an interview with Mumbai Mirror, she says, "I'm so grateful, such an honor! I'm excited about the Academy inviting me and all these amazing women into the fold.There's Naomi Harris, Gal Gadot, Leslie Jones. It's so good to see all these wonderful women on the list. And it's good that the Academy included some guys too."
#5 Deepika Padukone
Deepika Padukone is one of the highest paid actresses in the world. She started her career through Bollywood film, Om Shanti Om and now has become a global star through her Hollywood debut, xXx: Return of the Xander Cage. She is the recipient of three Filmfare Awards.
#6 Irrfan Khan
Film critics and experts worldwide consider Indian artist, Irrfan Khan to be one of the finest actors in the world. He has done a few British films also. Irrfan received Padma Shri Award in 2011 and is India's fourth highest civilian honorable person. He has won the National Film Award for Best Actor for his film, Paan Singh Tomar.
#7 Mrinal Sen
Mrinal Sen is an Indian filmmaker, who is considered to be one of the greatest ambassadors of Indian cinema globally. His films are known to be an artistic depiction of social reality. He has won the National Film Award for Best Feature Film.
#8 Goutam Ghose
Goutam Ghose is the famous director and cinematographer of Bengali Cinema. His few notable film are Antarjali Jatra and Padma Nadir Majhi in Bengali. He won National Film Award for Best Non-Feature Film in 1986 for his documentary, Land of Sand Dunes.
#9 Anand Patwardhan
Anand is known for his documentary films in India. He makes socio-political, human rights oriented films. Some of his films enlighten about social issues like religious fundamentalism, casteism and unsustainable development in India. His blockbuster hits include Bombay: Our City (1985), In Memory of Friends (1990) and In the Name of God (1992). Anand Patwardhan is known as the vocal critic of Hindu ideology.
#10 Arjun Bhasin
Arjun Bhasin is a costume designer in Bollywood and Hollywood. He is famous for his work in Bollywood films like Dil Chahta Hai (2001) and Rang De Basanti (2006) and Hollywood films like Monsoon Wedding (2001) and Life Of Pi (2012). He was also the fashion editor of GQ in India.
#11 Amrit Pritam Dutta
Amrit Pritam Dutta is a sound designer who has won IIFA Award for Best Sound Recording and Guild Award for Best Sound Design.
#12 Mohit Kallianpur
Mohit Kallianpur is known for his visual effects and animation skills in films. His notable works include Gone Fishing, Shrek, Frozen Fever, Frozen, and Moana.
Picture Credits: Viral Bhayani