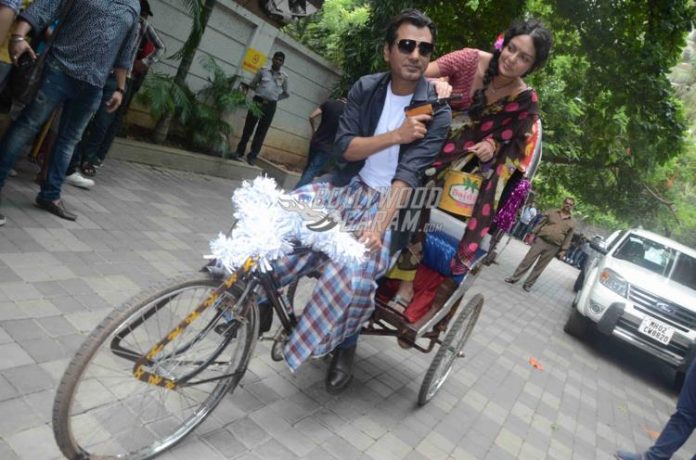 Almost two weeks ago, Babumoshai Bandookbaaz casting director Sanjay Chauhan stirred up storm after her was quoted in an interview saying that it would be weird to cast fair people opposite Nawazuddin Siddiqui as he is dark skinned and average looking.
This definitely did not go down well with Nawaz and he promptly responded to these remarks on Twitter by saying, "Thank you for making me realize that I cannot be paired along with the fair and handsome because I'm dark and not good looking, but I never focus on that." 
But the racism controversy doesn't seem to die down and Nawazuddin's co-star from Babumoshai Bandookbaaz has come out in support of the brilliant actor. In an interview, Bangali model turned actress Bidita Bag said, "It is good that I'm not paired opposite fair and handsome people. I'm paired opposite someone who has fair and lovely thinking and I value that. It's my honor and privilege that I got to watch him perform. He is one of the best actors that I have ever worked with. I will always cherish his ability to get into the skin of the character and become that person for the entire duration of the shoot."
Casting director Sanjay Chauhan's statement has opened a pandora's box in racism in the industry and has prompted a debate on whether filmmakers really think about an actor's skin color before casting them or focus on acting abilities?
Thank U 4 making me realise dat I cannot b paired along wid d fair & handsome bcz I m dark & not good looking, but I never focus on that.

— Nawazuddin Siddiqui (@Nawazuddin_S) July 17, 2017
However, in related news, it has been reported by the makers of Babumoshai Bandookbaaz that Pahlaj Nihalani led CBFC has demanded 48 cuts in the entire film! This has come as a shock to the makers as the bold storytelling adds the necessary flavor to the action-drama set in the rural hinterlands of India. Nawazuddin Siddiqui will be seen playing the role of a contract killer who lives life King-size and is a womanizer, in the upcoming film.
Though the film is slated for a August 25, 2017 release, it is yet to be seen if the film will be passed with a U/A certification by the CBFC. Or if makers will need to appeal to the Revision Committee to get a certificate.
Photo credits – Viral Bhayani