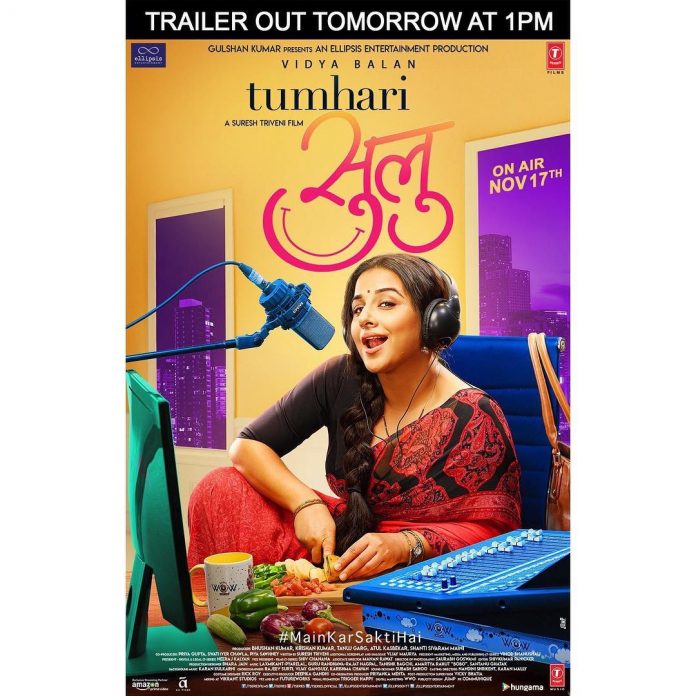 Makers of Tumhari Sulu are making it even more interesting for the audience. A new poster has been unveiled which has shown Vidya Balan's character as a fun Radio Jockey. The poster has also informed that the trailer is ready to be released on October 14, 2017. The official trailer is expected to go on air at 1 p.m. on October 14, 2017.
The poster not just shows Vidya as the radio jockey but has also shown her multitasking as she cuts vegetables on a chopping board while she interacts with the listeners on the radio. The upcoming film is a comedy-drama directed by Suresh Triveni and will show the fun side of Vidya who plays the character of a middle-class woman, Sulochana.
Vidya's character in the film, who is also known as Sulu suddenly lands a job of a night radio jockey. The makers have also recreated the song, Hawa Hawai from the film, Mr. India. Suresh in an earlier interview with a leading daily said, "Vidya's Sulu is a big fan of Sridevi and we wanted to pay a true tribute to the original, reviving it in its full glory."
While the teaser of the film was fun to watch, the trailer is expected to make the audience more curious. Tumhari Sulu is ready to be released in theatres on November 17, 2017.
Photo Credits: Instagram