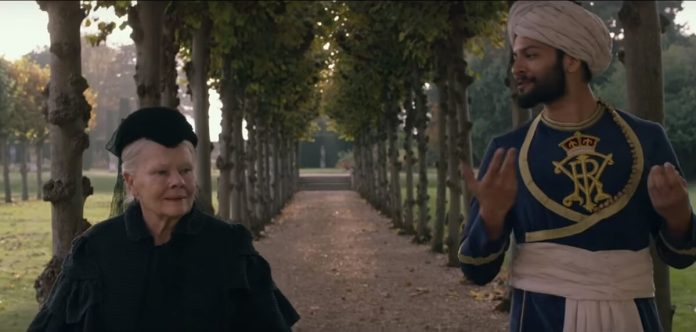 Movie Name: Victoria and Abdul
Cast: Ali Fazal, Judy Dench
Director: Stephen Frears
Genre: Biographical Drama
Running Time: 1 hr 52 minutes
Bollywood Garam Rating: 2.5/5
The trailer of the film Victoria and Abdul was charming and enthralling enough and posed certain questions about the film. Charming and enthralling it could still be with the brilliant performance of Judi Dench and the plot where a friendship and unconventional love is born between Queen Victoria (Judi Dench) and a 20-something handsome Indian footman Abdul Karim (played by Ali Fazal).
Based on Abdul Karim's journals and Shrabani Basu's fictional account of history, the movie showcases how an Agra Prison clerk (Ali Fazal) has a strong influence over the Queen and slowly and eventually becomes her biggest confidante, her Urdu instructor and one who gives her more insight on Indian cuisines. However, the film could have been much more and closer to history if it had given as much insight or even a glimpse into the reality of the pathetic conditions of the country and the people during the colonization of India, albeit the queen's portrayal is something humane, sensitive and understanding.
Abdul Karim had come to meet the queen to present her with a ceremonial coin as she completed her golden jubilee as the Queen and from then on starts the story of their relationship that assumes many different forms during the course of the film. However, the Queen's 'feelings' towards abdul are clear enough when she comes to know about Abdul's marriage and later welcomes his wife and her mother warmly.
The royal officials however do not take the growing bonding between Abdul and the Queen well and look at the entire situation with bewilderment, anxiety and dismay, probably thinking among themselves about the repercussions and the intricacies of their relationship.
The movie however provides for a Sufi inspiration with Rumi's quotes in Abdul's voice and language. The main point that the movie seems to highlight is the bonding and camaraderie between two people divided by their countries, cultures, history and language among many other such factors yet choose to be so much more than a common man brought to the Buckingham Palace in England as "a gift from India" and a Queen who is happy to take his services.
Photo Credits: YouTube