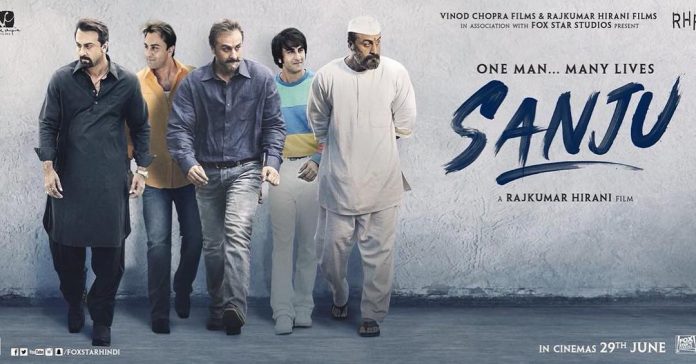 After a teaser, Ranbir Kapoor's fans are eagerly waiting for the official trailer of his upcoming film Sanju. Here is the good news as the official trailer will be released in the third week of May, 2018. The film is a biopic on the actor Sanjay Dutt. The teaser has shown that the film will be speaking out about the different phases the actor has gone through from his young days. The film will also include a few controversial moments in Sanjay Dutt's life.
The makers released the teaser in April, 2018 and Ranbir portrayed different looks of Sanjay from the 80s till date. Since then the fans have been eagerly waiting for the official trailer of the flick which will be released in theatres on June 29, 2018.
Filmmaker Rajkumar Hiranil, while talking about Ranbir said, "I had a basic draft of this biopic when I sent Ranbir a message, 'I have a script, let's meet up when you're free.' Ranbir is usually aware of everything that is happening in the industry. He is very sharp. I'm guessing he already knew that I was planning a biopic on Sanjay. When I sent him the message, Ranbir promptly replied, 'I hope it's not the Sanjay Dutt biopic.' And I thought, 'Oh God, maybe he has heard and he may not want to do it.' I told him it's the same script, but let's meet. When I met him, I realised he knew a lot about Sanju. He had spent time with him and knew him well. He used to work out at his gym and had probably heard the stories. But when he saw the angle of the story, he was like, 'It's interesting, let's do it.'"
The film also stars Anushka Sharma, Paresh Rawal, Sonam Kapoor, Dia Mirza, Karishma Tanna and Manisha Koirala.
Photo Credits: Instagram