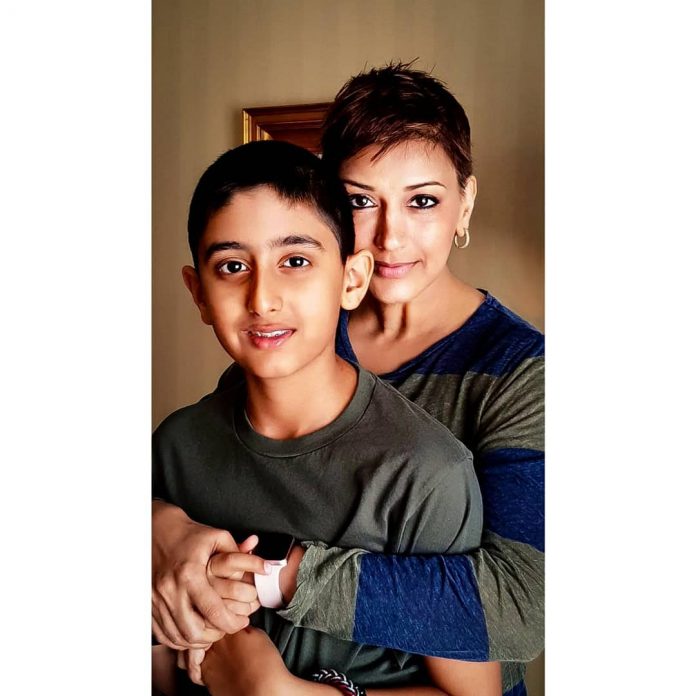 Bollywood actress Sonali Bendre was recently diagnosed with cancer which has metastasized. The actress had made the announcement through social media and shocked her fans and colleagues. Sonali is currently undergoing treatment at a facility in New York and recently shared a couple of her pictures while she fights the disease. The actress recently posted a picture with her son Ranveer, revealing how her son is the source of her strength.
Sonali shared an adorable picture of herself posing with her 12 year old son Ranveer. The Sarfarosh actress also revealed about her decision to tell her son about her cancer diagnosis and how he took it with maturity. Sonali in the picture can be seen with even more shorter hair. The actress in her post said, "From the moment he was born 12 years, 11 months and 8 days ago, my amazing @rockbehl took ownership of my heart. From then on, his happiness and well-being have been the centre of anything @goldiebehl and I ever did. And so, when the Big C reared its ugly head, our biggest dilemma was what and how we were going to tell him".
Sonali Bendre added that she is spending time with her son in New York while he is on summer vacation. The actress in an earlier post had shared that she is staying positive as she fights cancer.
Photo Credits: Instagram