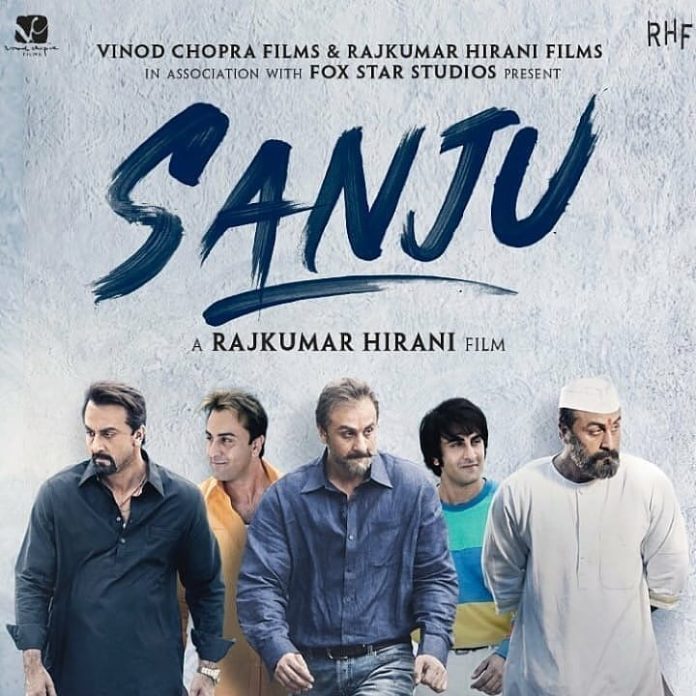 Movie Name: Sanju
Cast: Ranbir Kapoor, Paresh Rawal, Vicky Kaushal, Manisha Koirala, Sonam Kapoor, Dia Mirza, Anushka Sharma, Jim Sarbh, Boman Irani, and Karishma Tanna
Director: Rajkumar Hirani
Genre: Biopic
Running Time: 161 minutes
Bollywood Garam Rating: 4/5 stars
Ranbir Kapoor deserves all the applause for all the efforts and the way he has managed to imitate every single gesture and style of Sanjay Dutt. Sanju, has outlined some of the crucial happenings of the life of the Bollywood superstar Sanjay Dutt. His struggles with drugs, his involvement in the 1993 Mumbai blasts and the Arms Act case the film has spoken about the actual facts behind all that was spoken and talked about his life.
Not many knew that Sanjay had a special friend in Kamlesh played by Vicky Kaushal, who had remained one of the integral parts of Sanjay Dutt and his struggles with various controversies. The first half of the film has shown Sanjay struggling with his inner demons while he tries hard to come out of the mess. Director Hirani has always been the veteran in bringing out the actual vision of the emotions that keeps the audience intact to the story. Ranbir looks strikingly similar to Sanjay Dutt. Apart from Ranbir's efforts to be Sanju, the make-up and styling has done the magic. Some of the finest performances can be seen from Paresh Rawal who played Sunil Dutt, who stood by Sanjay and was the guiding star of his son's life, Manisha Koirala, who looked strikingly similar to veteran actress Nargis, was very fond of her son. Vicky did well with the Gujju accent and kept his innocence intact throughout.
The songs like Kar Har Maidan Fateh and Ruby Ruby have managed to make a great impact and helped bring out the actual emotions. The story indeed shocks the audience as for what Sanjay Dutt has gone through in his life and how he learned a lesson that how small mistakes in life affects the life of the family members as well. There is a moment between Paresh Rawal and Ranbir when they hug each other while shooting for Munna Bhai MBBS, where Paresh looks so similar to Sunil Dutt as just the upper portion of his face could be seen. Another character, worth to be mentioned is of Jim Sarbh who played Zubin Mehta. Jim excelled while playing the dark character, who peddled drugs to Sanju. Anushka Sharma, who played a writer was the eye candy in the entire flick as she looked gorgeous with those curls and bright eyes. There was not much that Anushka could deliver in terms of performance, but her presence made the entire package complete.
Sanju excels on every front but the only thing that missed was that we could have got to see more of Manyata Dutt's entry in Sanjay's life and may be Madhuri Dixit's impact on Sanjay's life.
Photo Credits: Instagram