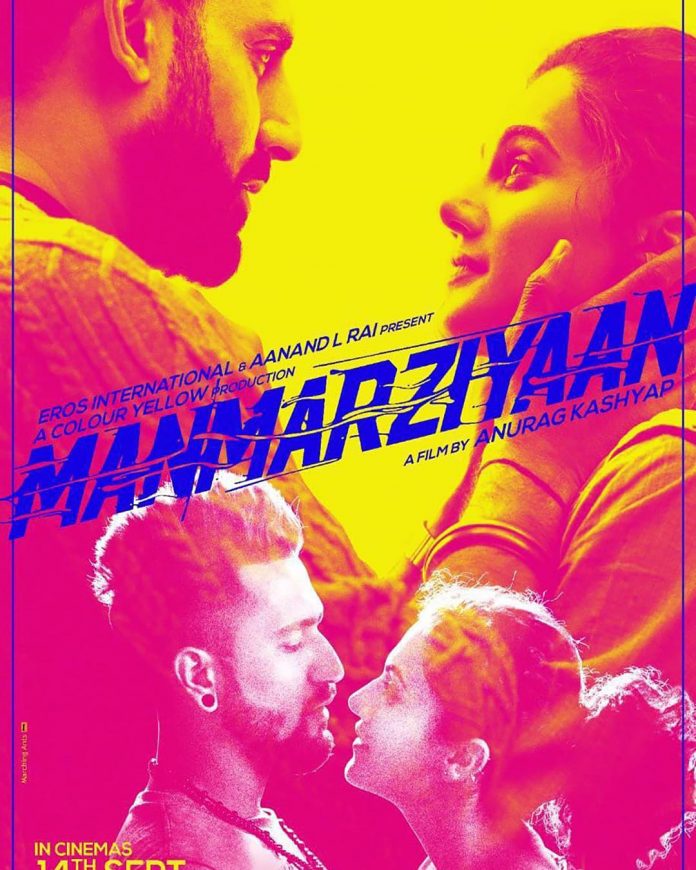 Movie Name: Manmarziyaan
Cast: Abhishek Bachchan, Taapsee Pannu and Vicky Kaushal
Director: Amit Trivedi
Genre: Romantic-comedy-drama
Bollywood Garam Rating: 4/5 stars
Anurag Kashyap has once again served his maturity with Manmarziyaan as he narrates about love and relationships and it is truly refreshing. The film overall is a conventional love triangle but managed to gain the tag of being original with its treatment and the way love is portrayed by the makers.
The story is about Rumi played by Taapsee, and Vicky played by Vicky Kaushal, who are in love and cannot stay out of the bedroom and are obsessed with each other. Rumi and Vicky are one day caught red handed by her family and then pressure builds up to get married. However Vicky becomes commitment phobic and Rumi eventually gives up on him and agrees for an arranged marriage. This is when Robbie played by Abhishek Bachchan enters to form a love triangle.
Vicky and Taapsee play a couple madly in love in a small town setting but the frivolity of their relationship comes as a surprise for the audience. Taapsee has done her best and is the best performance of her career so far. You can ignore a few glitches like reacting a little too much in a few situations. Vicky has given justice to his role of a Punjabi boy, who does not have a handle of his life. However, it is Abhishek Bachchan's performance which is to look for. His character of Robbie is the one who has added the actual drama to the film. Abhishek has done well with an image of a good boy.
It can be said that equal contributions by Taapsee and Abhishek has made the film complete in itself. Manmarziyaan story might be too deep for a few people but it is one of the best romantic movies that Bollywood has come up with since a long time.
Photo Credits: Instagram