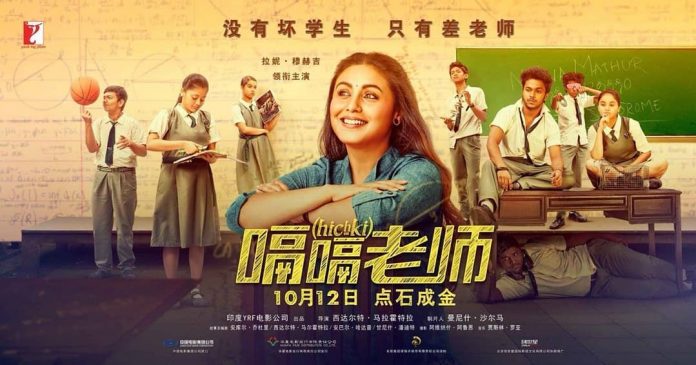 Rani Mukerji starrer Hichki released in the Indian theatres on March 23, 2018. After having a successful run at the box office in India, the makers have released the film in China and has already crossed the Rs. 100 crore mark in China.
The film has showcased the life of a teacher, Naina Mathur, played by Rani Mukerji, who changes the lives of many students from the economically backward background while she also deals with her own nervous system disorder Tourette Syndrome. Hichki was released in the universal theme on October 12, 2018 and has managed to impress the Chinese audience as well.
The film has managed to make Rs. 102.5 crores in the second week of the release and the Chinese audience is surely loving Rani's performance. Rani while talking about Hichki's success in China said, "Good cinema has no language barriers and it connects with the hearts and minds of the audience. The success of Hichki in China proves just that. We knew we had made a special film but for it to get so much love and acclaim from audiences across the globe is an extremely proud and humbling moment for all of us. I congratulate my producer Maneesh Sharma and my director Siddharth P. Malhotra for creating a gem of a film whose universal message of love has been melting the hearts of audiences in China now".
For the Chinese audience the film has the title Teacher with Hiccup. The actress has also promoted the film in various Chinese cities including Beijing, Shenzhen, Shanghai, Guangzhou and Chengdu. Hichki had marked the return of Rani Mukerji to films after the birth of her daughter Adira Chopra. The actress was earlier of two thoughts if the audience would be able to accept her back as an actress. After the success of Hichki, Rani is considering other scripts as well.
Photo Credits:Instagram