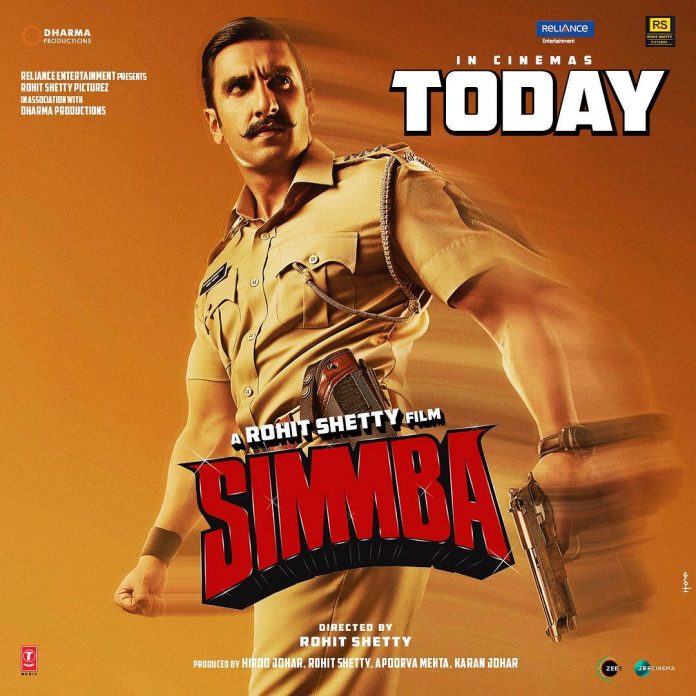 Movie Name: Simmba
Cast: Ranveer Singh, Sara Ali Khan, Sonu Sood, Vrajesh Hirjee and Ashutosh Rana
Director: Rohit Shetty
Genre: Action comedy
Running Time: 159 minutes
Bollywood Garam Rating:4/5 stars
The audience has always waited for a Rohit Shetty film to be released in theatres. Simmba was one of the most awaited films of 2018 as it brought together the fresh pair Ranveer Singh and young Sara Ali Khan on the silver screens. Rohit Shetty is back with what he does the best in terms of entertainment.
Simmba is a loose adaptation of the Telugu hit flick Temper. The story of the film is about a corrupt cop played by Ranveer, who remains focused on earning money by no matter what means. For him corruption is normal and something that everyone does for a living. But his eyes are opened when he himself gets groped in a dilemma when one of his loved ones becomes a victim as she is brutally raped and murdered. This is when Sangram Bhalerao also known as Simmba turns in to a good cops and fights against the baddies.
Durwa Ranade, played by Sonu Sood plays the role of a local stronghold and has played quite a convincing role. No one else from the industry can be imagined as Sangram Bhalerao than Ranveer. After playing Alauddin Khilji, the audience will get to see a new side of the actor who is innocent yet wild in terms of his character.
Sara Ali Khan does not have much play similar to what other female actors have done in Rohit Shetty films. But have managed to leave a good mark with the help of their character. This is the second appearance of Sara after Kedarnath within a month, which means that she is here to stay in the industry and is indeed promising. Simmba has a message, but that is not the focus. The focus is pure entertainment for the audience and surely a good entertainer for the weekend.
Photo Credits:Instagram