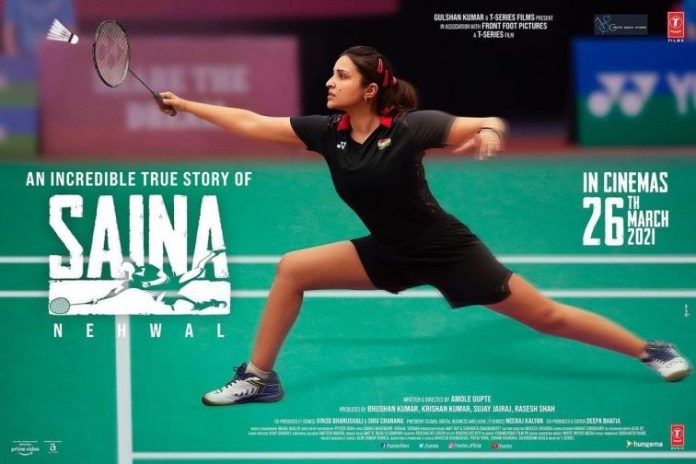 Movie Name: Saina
Cast: Parineeti Chopra, Manav Kaul, Eshan Naqvi, Meghna Malik and Subhrajyoti Barat
Director: Amole Gupte
Genre: Biographical sports film
Bollywood Garam Rating: 4/5
The much awaited biopic of the ace Indian Badminton player Saina Nehwal is out now and is streaming on the OTT platform Amazon Prime. Parineeti has surely trained hard to play the role of the hardworking and determined Saina Nehwal, who made the country proud a number of times and surprised people every time she picked up her badminton racket.
The story begins with how Saina's mother was passionate about the game and how she pushed her younger daughter to play the sport. Saina started off training for badminton from a very early stage and did face a number of hardships before she could achieve her ultimate dream of becoming the world's number one badminton player. There is also a part that has shown when the player had shot to fame which was allowing her to be distracted from what she was actually supposed to do. The player was also asked to keep away from her childhood sweetheart Kashyap, but her determination was what helped her sail through the storms.
Parineeti managed to pick up the style and language with ease while her mother played by Meghna Malik as also promising as a strict Haryanvi mother. Some of the interesting and important portions of Saina's life has been narrated in the film. Manav Kaul who plays a strict coach, also did justice with his job. His role while fine-tuning the player to perfection was commendable has been well-appreciated.
To get an overall idea of the film, Parineeti gets all the credit as she has managed well to mimic Saina's character and has also worked hard on actually learning the game. It is surely a treat for the patriotic audience who would be proud to know when they learn about Saina's achievements for the country.
Photo Credits: Parineeti Chopra official Instagram account