Bollywood Garam: The lovable actor of Bollywood, Mr. Shahrukh Khan, recently messed with choreographer Farah Khan's husband Shirish Kunder at a party thrown by Sanjay Dutt. Khan reportedly assaulted Kunder at a party on January 29, 2012.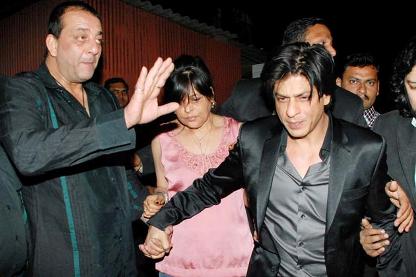 Reports say that the 'Joker' director was drunk at the party and was constantly following Shahrukh whereever he went. Moreover, our sources say that Kunder even entered the washroom with Shahrukh, due to which the 'Baazigar' actor got irritated and pushed him on a sofa and punched him.
The incident was confirmed by 'My Name Is Khan' director Farah, who said that her husband was beaten up by Khan and three of his bodyguards after Shahrukh asked Shirish the reason he tweeted against him. Farah told an Indian news agency that there wasn't any provocation from her husband Shirish's side and the assault was totally uncalle for.
Bollywood Garam sources also stated that the host of the party, Dutt, had to interfere and apparently slapped Shirish for sending lewd messages to his wife Maanyata and for also allegedly misbehaving with a girl at the party.
For all Bollywood fans, this is not the first time Khan and Shirish have messed up with each other. After the release of the movie 'Ra.One',  the director made a nasty remark in Twitter saying, "I just heard a 150 Cr firework fizzle."
The incident has confirmed that the friendship between Shahrukh and Farah has crumbled. Kunder later said that he would not file  any FIR against Shahrukh after the incident.