Bollywood Garam: The much awaited Bollywood movie 'Ek Tha Tiger' first look has been released. Producers Yash Raj Films have given a peek into the film with the help of the digital poster in a sepia tone.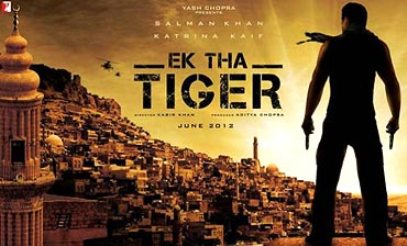 The first look has superstar Salman Khan showing off his biceps and holding two guns while he looks on at an Arab city. While going through the digital poster, the caption says that all his life he has been fighting for the country. But this time he will be fighting for his love. The love interest will be undoubtedly played by Salman's ex sweetheart Katrina Kaif – even though Kaif is missing from the poster.
The whole look of the digital poster gives an impression as if he is on the quest to rescue his love from bad people. Two helicopters are also seen flying over head, while the scarf that is tied on the neck of Salman is seen waving in the wind. The first look of the movie has indeed generated curiosity among the viewers.
The movie will be directed by Kabir Khan and is all set to be released by June 2012. Hope Salman keeps up the entertainment factor in the movie like he has maintained with the movies 'Dabangg' and 'Ready'.