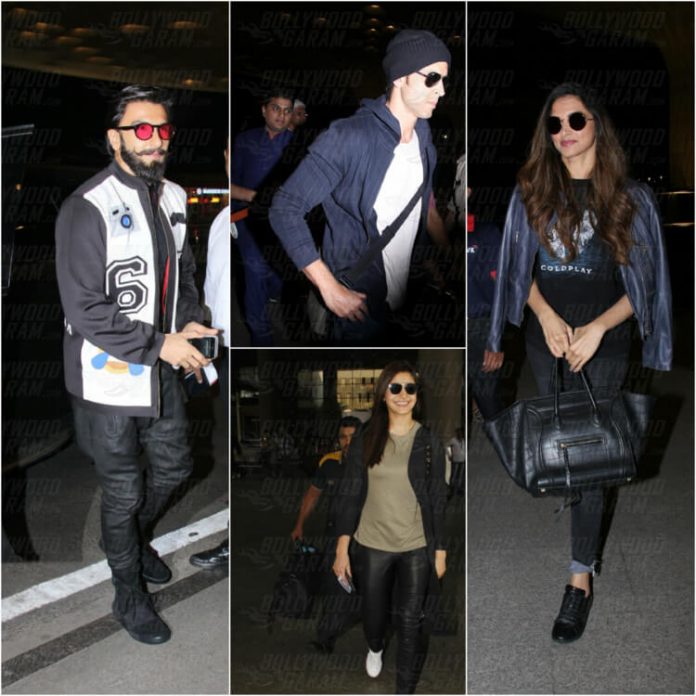 Red Hot and Absolutely Live from Bollywood Garam
Deepika Padukone and Ranveer Singh Spotted Together!
More Inside – Hrithik Roshan, Kangana Ranaut, Alia Bhatt, Virat Kohli, Anushka Sharma, Vidya Balan
Catching actors at the airport has definitely taught us one thing – that our Bollywood celebrities have got their style on point!
Bollywood Garam caught Bajirao and Mastani arriving at Mumbai Airport, Departure Terminal on November 28, 2016. The effortlessly stylish couple is headed to Dubai for attending the 2016 Esquire Awards.
Deepika Padukone and Ranveer Singh are all set to sizzle on the big screen in their latest period drama film; Padmavati, directed by Sanjay Leela Bhansali – releasing on November 17, 2017.
The love birds never fail to impress us with their style. Behold their classic airport looks! (An Exclusive Bollywood Garam Report)
Deepika Padukone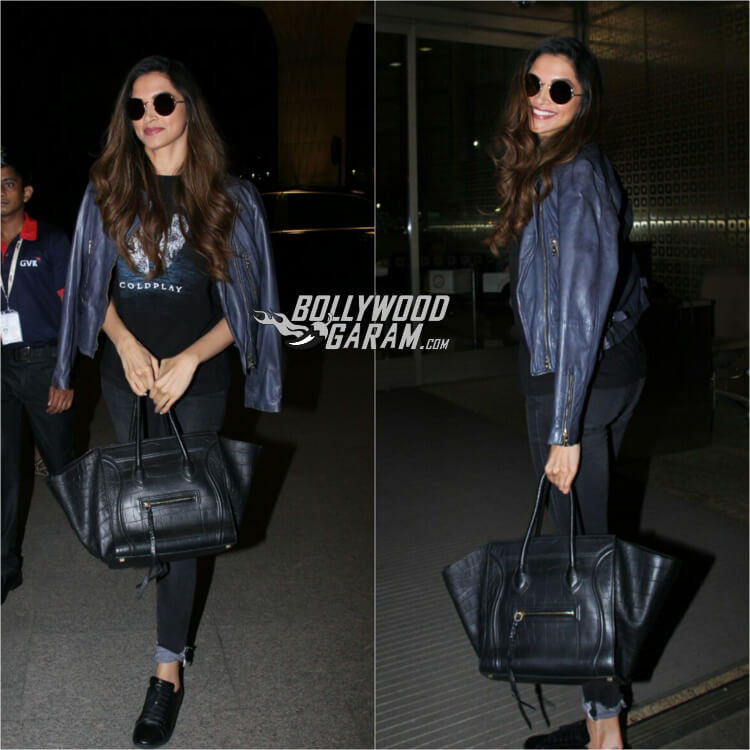 Deepika Padukone owned the casual look completely with her black cold play T- Shirt, paired with a navy blue jacket and black jeans. Her black sneakers look absolutely fantastic. And how can we not talk about that stylish tote bag? The woman slays it in black!
The leading lady of 'Padmavati' managed to pull together several style statements into one kick-ass outfit! Don't you think?
Ranveer Singh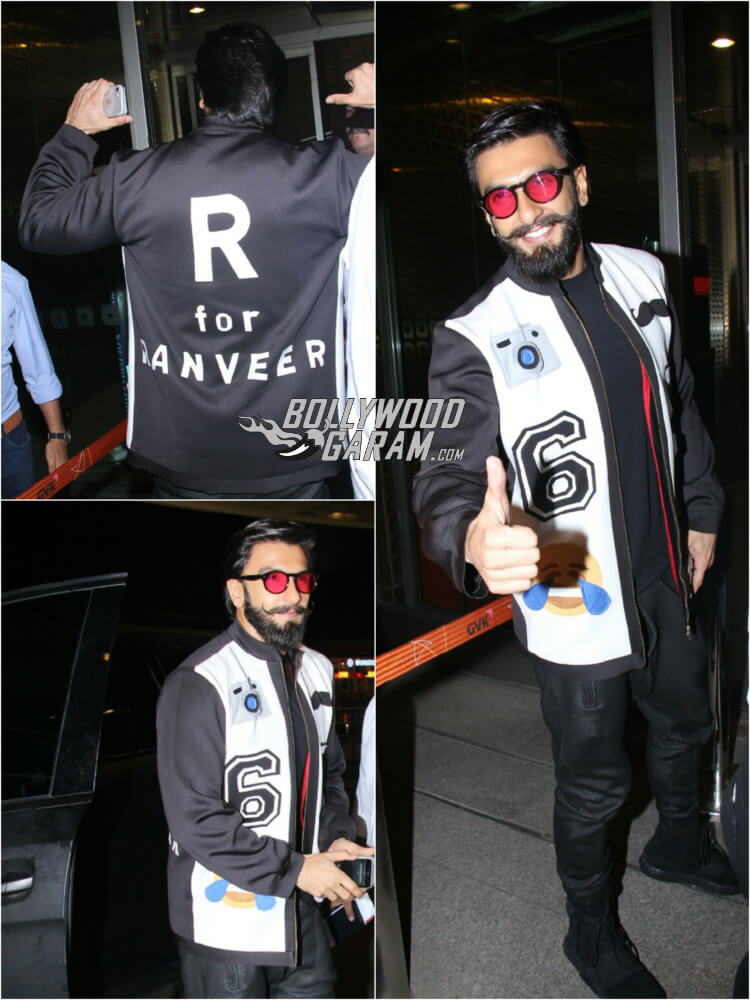 The ever energetic Ranveer Singh is known for making quirky style statements and he definitely stands out with his personalized jacket. It has 'R For Ranveer' printed on the back and WhatsApp emoticons on the front. We absolutely love it!
Here are a few more Bollywood actors And Cricketers who hit the airport in style. Check them out!
Virat Kohli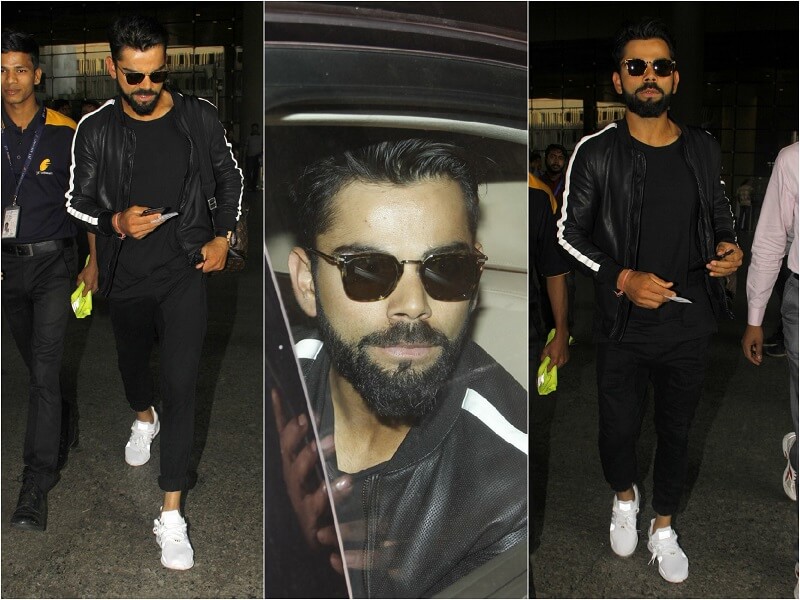 Bollywood Garam exclusively caught Vice Captain of the Indian Cricket team at Mumbai Airport on December 1, 2016. Virat Kholi never disappoints with his looks, be it on field or off-field. The man in black looked extremely smart in those black joggers and t-shirt. The black jacket and white sneakers added to his classic look.
Hrithik Roshan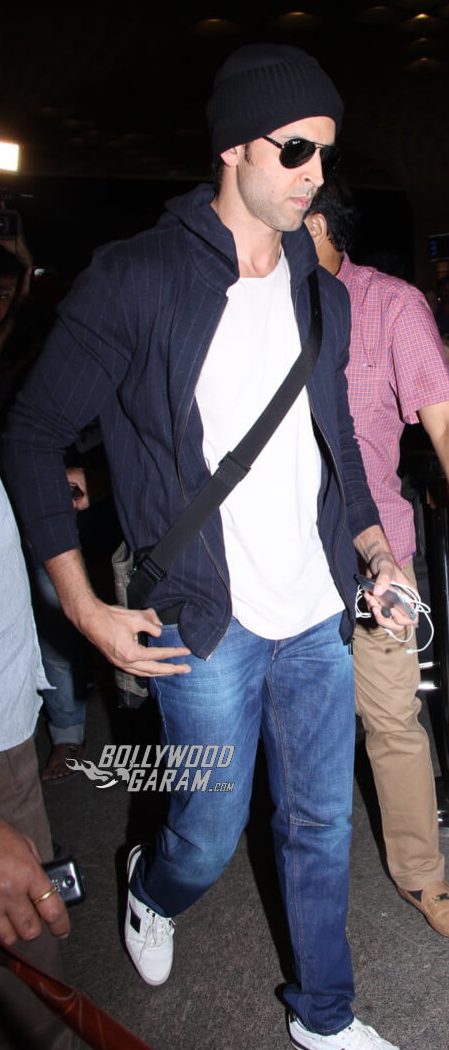 India's Greek God stands strong at number 3 in the list of 'Top 10 Most Handsome Faces In The World'. Bollywood Garam spotted the handsome hunk at Mumbai Airport on November 28, 2016. Hrithik Roshan was wearing a white T-Shirt and blue jeans, this combo can never go out of style, what say?
Kangana Ranaut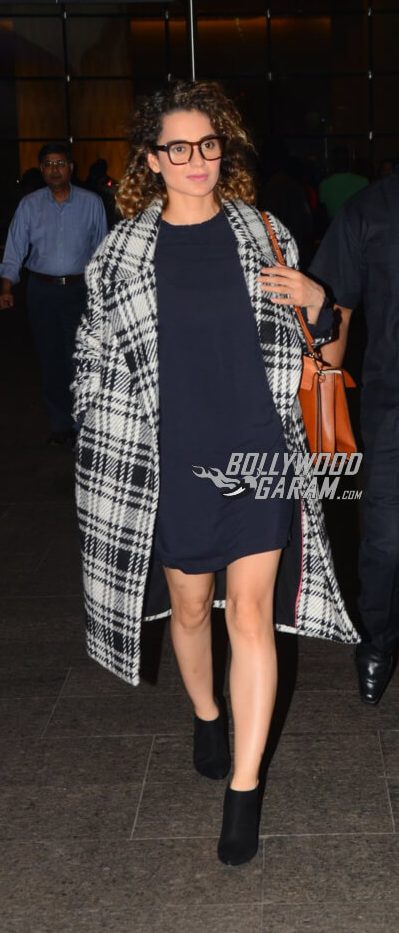 Kangana is always two steps ahead in giving tough competition to all the Bollywood celebrities when it comes to airport fashion. The leading lady of 'Queen' was snapped at the airport wearing a short navy blue dress paired with black boots and a vintage overcoat.
Sonam Kapoor
The fashionista sets the benchmark high for every actress in town with her effortless style.
Bollywood Garam snapped the leading lady of 'Neerja' in a long black dress at the airport on November 29, 2016. We love those black boots and shades paired with her tan brown jacket and brown bag. She definitely inspires us to fly in style!
Alia Bhatt

Alia Bhatt has been spotted at Mumbai Airport quite frequently over the last few days. Looks like the young actress is busy promoting 'Dear Zindagi'.
Alia was spotted donning the classic white – olive green – brown combination on her last visit to the airport on November 29, 2016. The light grey cardigan adds to her chic looks, making her look splendid.
We even caught her taking a selfie with an enthusiastic fan!
Anushka Sharma
Anushka Sharma looked quite happy when we caught her at the airport on November 29, 2016. She ruled the casual airport look in her faux leather pants and black shrug.
Rahul Dravid
Look who we spotted at Mumbai Airport- Rahul Dravid! Our favorite Indian Cricket Team Captain was snapped by Bollywood Garam on December 1, 2016. He looks charming as usual.
Arjun Rampal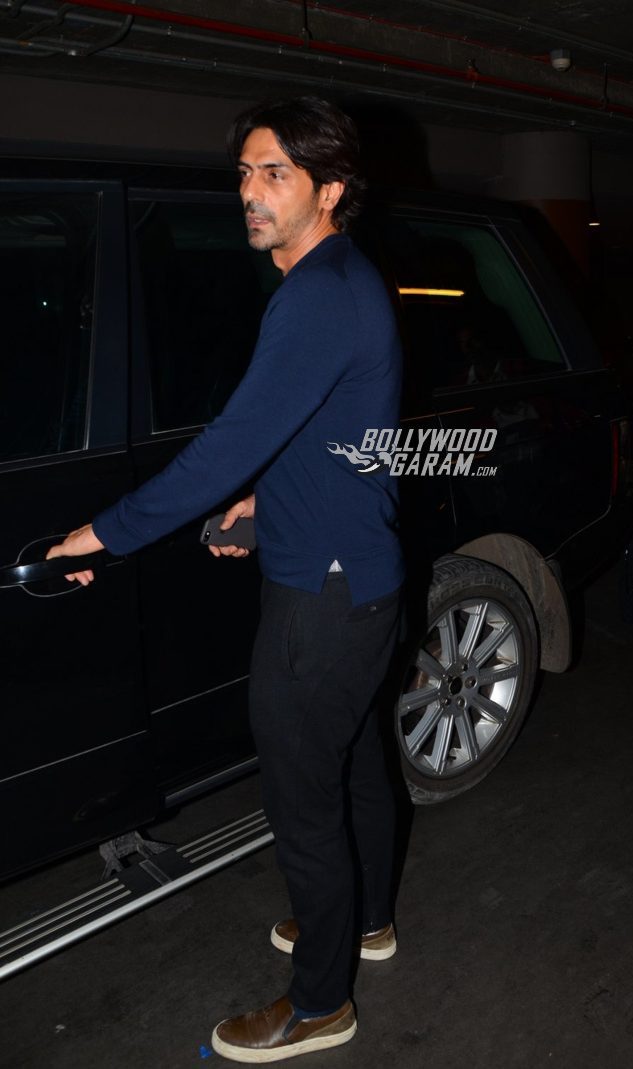 The Rock On Star was spotted at Mumbai Airport on November 29. He looked sharp in his blue full sleeved t-shirt and black joggers. Arjun Rampal also stars in Kahani 2 which releases today.
Neha Dhupia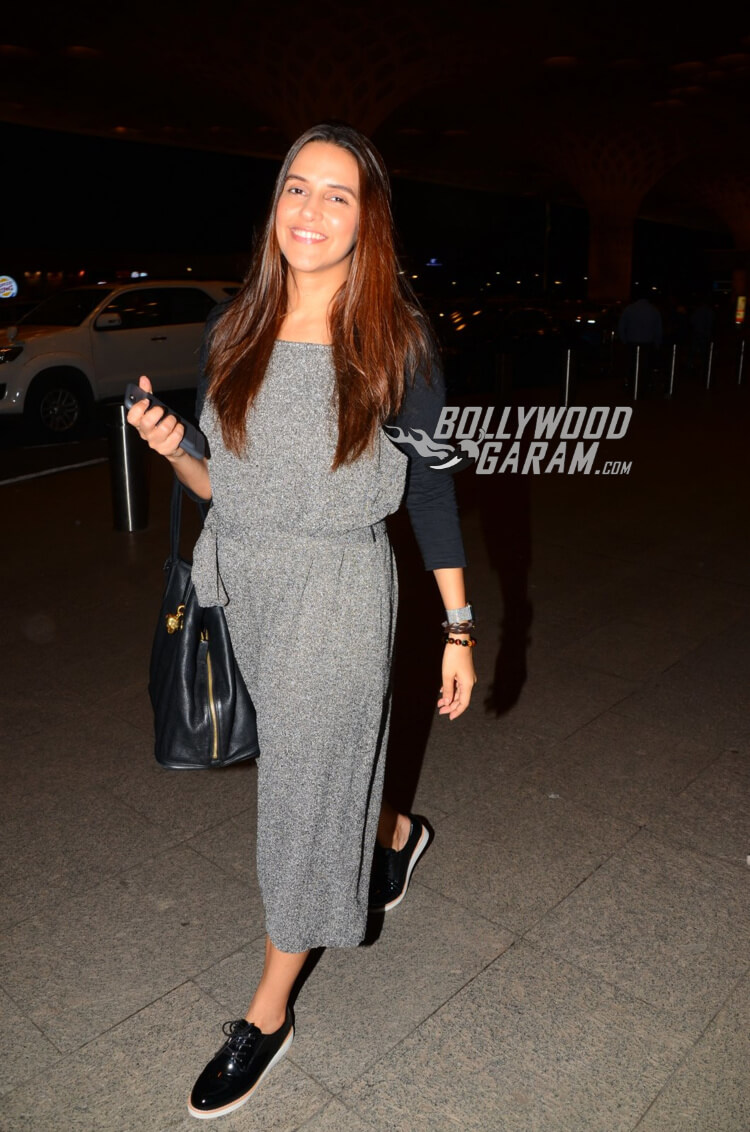 Neha Dhupia the former winner of Femina Miss India title in 2002, has been spotted at the airport quite frequently by Bollywood Garam. She choose to wear a loose grey jumpsuit and pair it with black sneakers. Perfect for a journey in comfort!
Bipasha Basu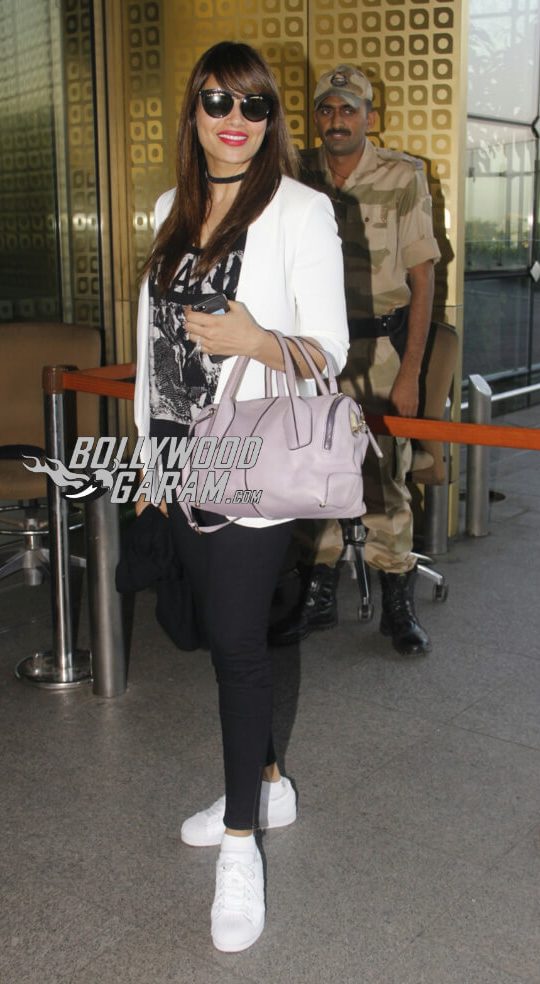 The newly-wed Bipasha Basu was spotted at Mumbai Airport on November 28, 2016. She was all smiles and looked super cool with her trendy black choker, blood red lipstick and white sneakers.
Sooraj Pancholi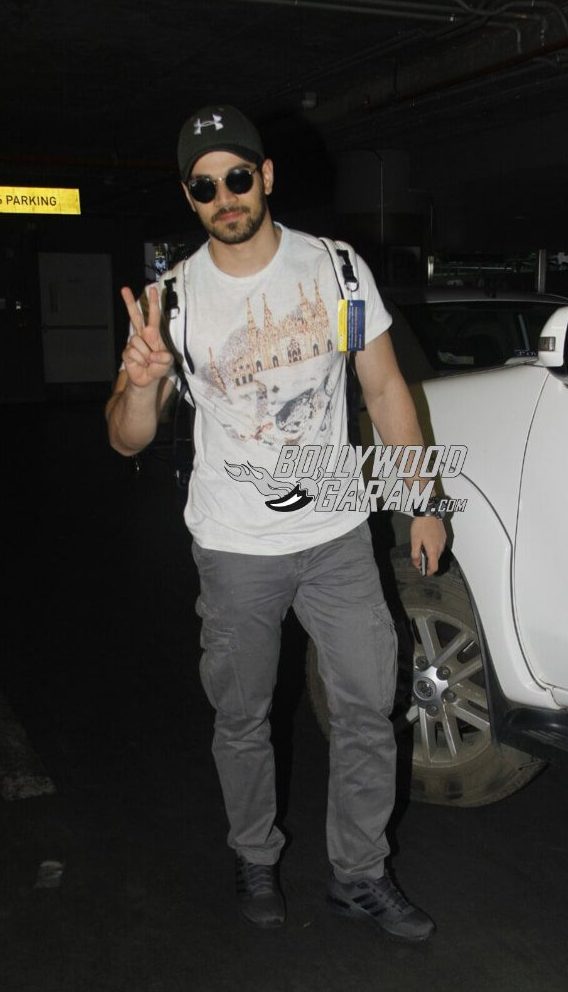 Sooraj Pancholi seems to be a regular at the Mumbai Airport this month. While the talented actor prefers keeping it comfortable and casual – his trademark Black Cap, Glasses and Sneakers do the trick here!
Shriya Saran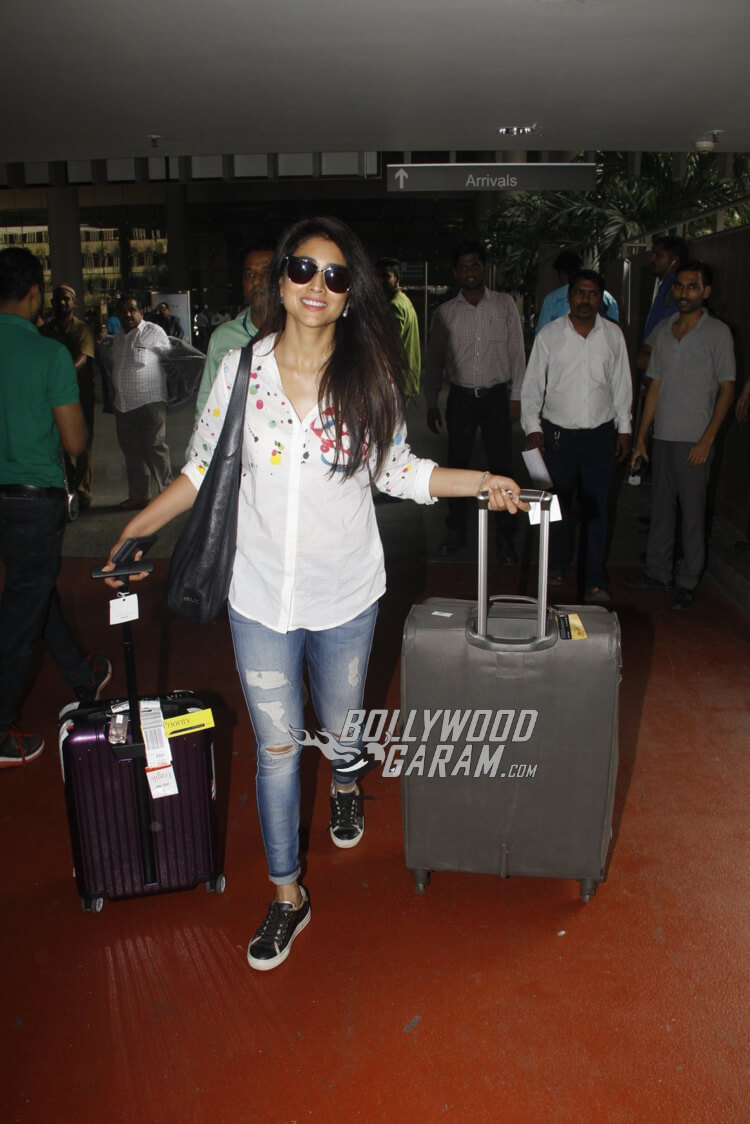 The Indian Film actress and model has given us some hits in the town. She was spotted at the airport wearing a cute white shirt and blue ripped jeans. Looked like she din't mind carrying her own luggage unlike others and was up for a casual day, not bad!
Sonal Chauhan
Sonal Chauhan who debuted with Jannat in 2008, hasn't been making much news, lately, but leaves her spark where ever she goes. She nailed her airport look by sporting a Grey Adidas tracksuit with Pink – Silver heals that add the final feminine touch.
Vidya Balan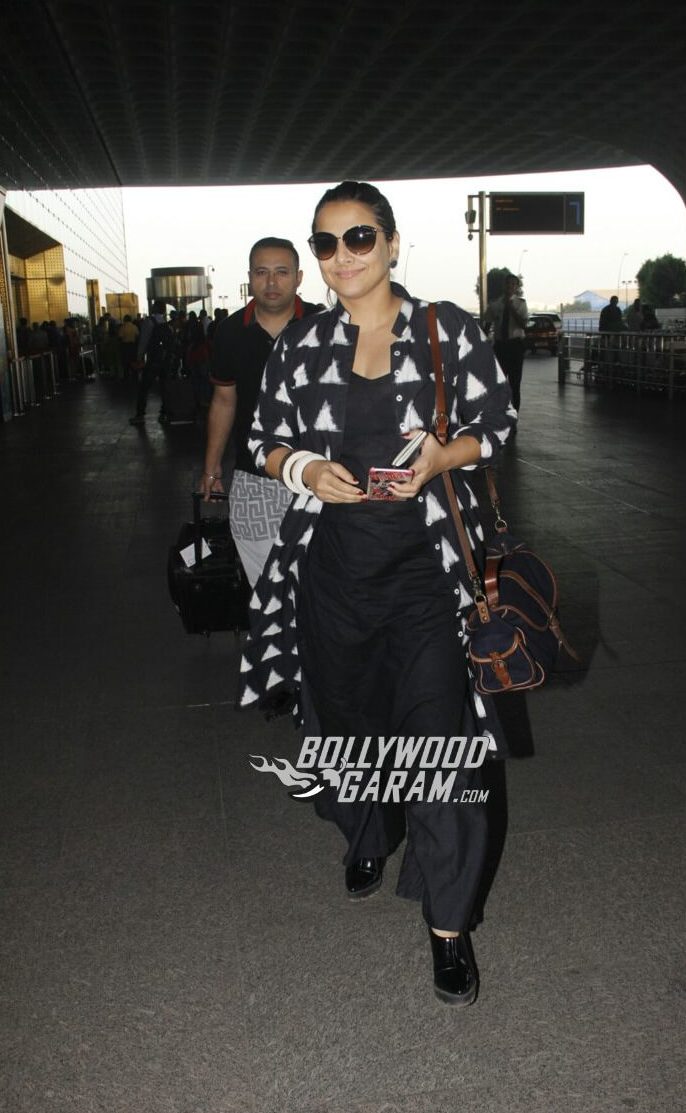 The leading lady of Kahani 2 has been in and out of Mumbai Airport quite often this month. Looks like she headed straight to the airport after shooting for a Kahani 2 promotion on Bigg Boss Season 10. She's kept it simple yet fashionable with her black Kurta and tribal – inspired printed jacket.
Ashish Nehra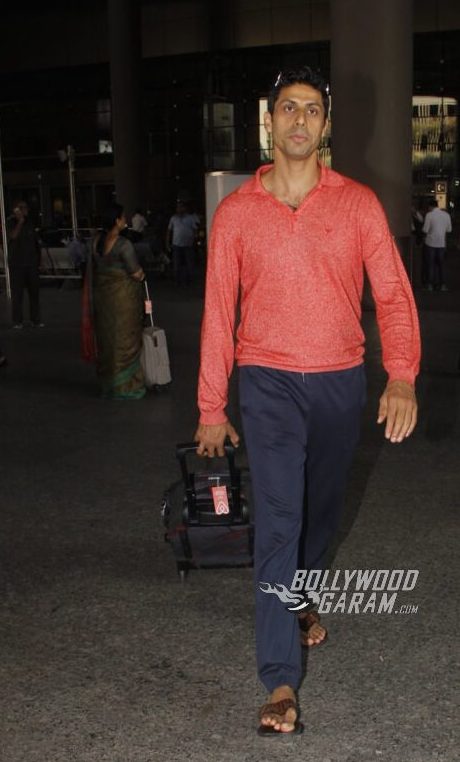 We even caught ace fast bowler – Ashish Nehra along with Rahul Dravis, arriving at Mumbai airport yesterday. Shout out to all the fans!
Urvashi Rautela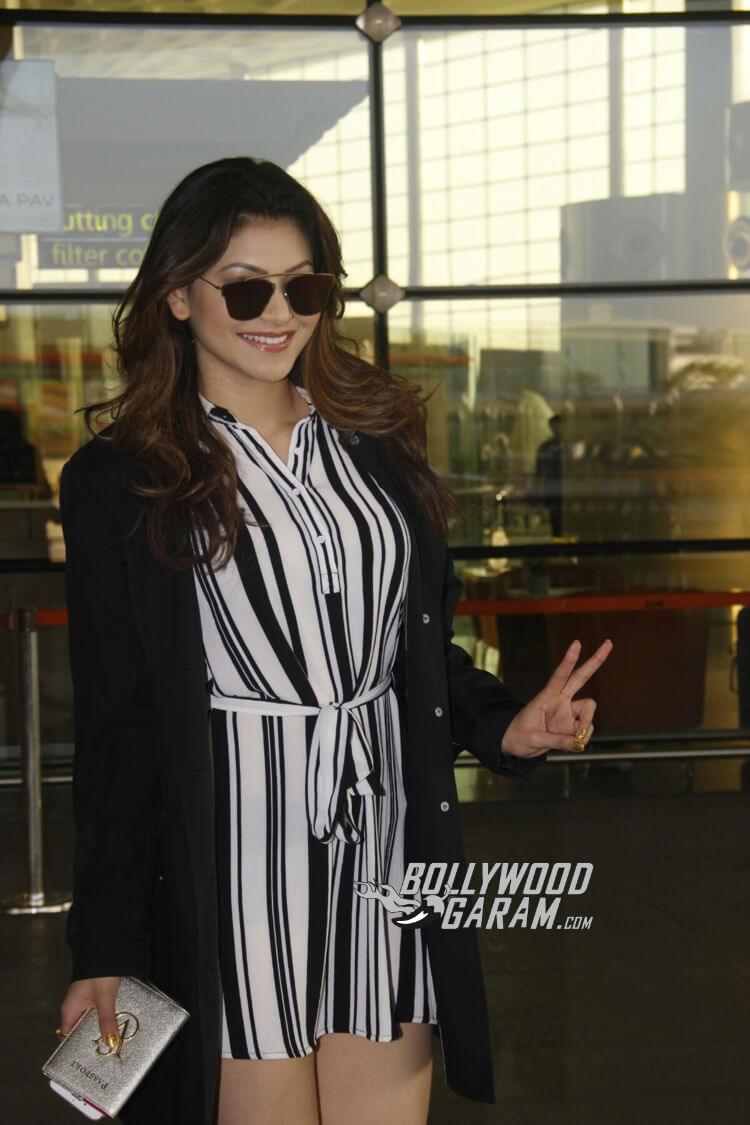 Urvashi Rautela was crowned Miss Diva in 2015 and represented India at the Miss Universe Pageant in 2015. She wooed us with her short black-and-white stripped dress, and that smile – definitely worth falling for.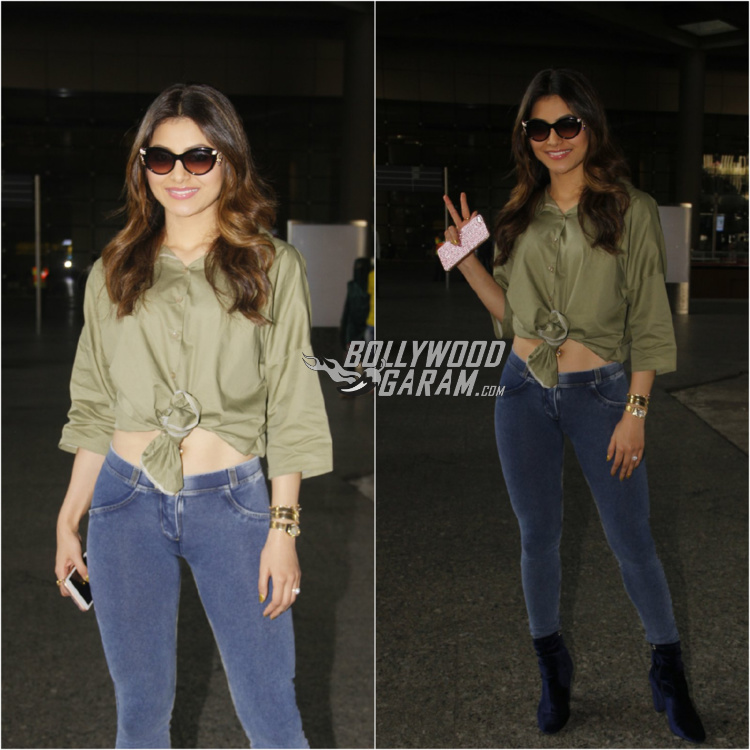 We caught her again at Mumbai Airport on November 29 – looking her gorgeous self. Her blue velvet boots perfectly compliment her jeans.
That's all for this week. Stay tuned for more Bollywood Garam exclusive images and updates on your favorite stars!