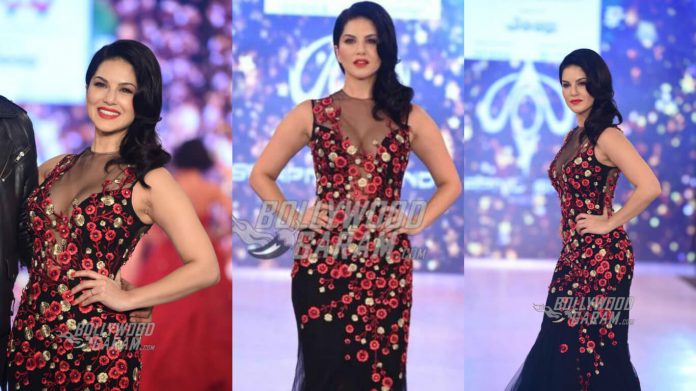 Sunny Leone Walks at IBFW 2017 as Showstopper for Swapnil Shinde
The India Beach Fashion Week 2017 was a 3 day star studded event which concluded on March 8, 2017. On the third day, Sunny Leone walked as a showstopper for Swapnil Shinde's elegant evening wear collection. Held at Marriott Resort and Spa, Goa, Sunny set the ramp on fire with her looks at IBFW!
The star looked ravishing in a sheer black gown with floral embroidery all over it. It was a figure hugging sleeveless gown which accentuated her curves.
The sheer panels around the neckline with gold and red floral appliqué added all the drama needed to create a star showstopper for the evening! The gown has a fishtail hem line and paired with peep toes, Sunny Leone looked like a chic goddess, in it.
With no accessories, minimal makeup and flowing tresses, Sunny stole the limelight.
See all the pictures of Sunny Leone from India Beach Fashion Week 2017 –
Other creations of Swapnil Shinde's collection included asymmetrical pencil skirts paired withs lashing neckline body suits, frilly mini skirts, elaborate shirts and cold shoulder silk dresses. The collection was heavy on reds, blacks, gold, monochrome and champagne and heavy embellishments. A common accessory across the looks of all most of his models was a stunning pair of golden gladiators.
See photos of Kriti Sanon from Day 2 of IBFW 2017
Hit next to see Swapnil Shinde's complete IBFW 2017 collection!