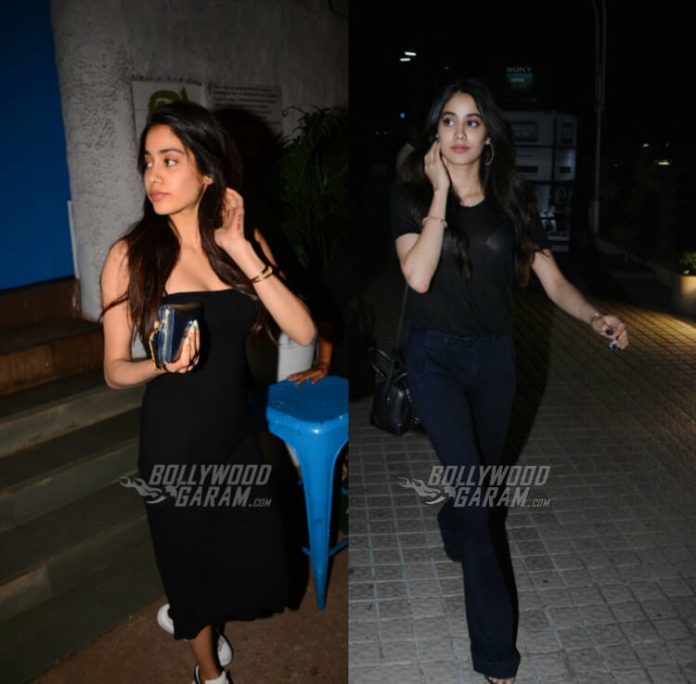 Latest pictures of Jhanvi Kapoor confirm that she has it in her to make it big in Bollywood!
Sridevi's daughter Jhanvi Kapoor is all set to make her debut in an upcoming project by Karan Johar and we are eagerly awaiting official confirmation of the same from Dharma Productions. But meanwhile, we couldn't help ourselves from checking up on what the diva is up to these days!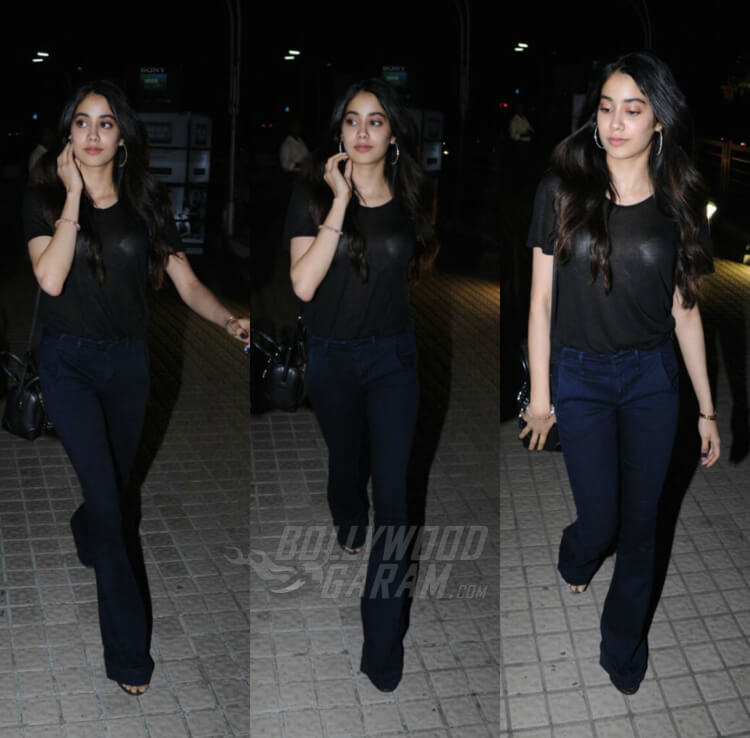 We spotted Jhanvi and sister Khushi Kapoor enjoying girl's night out yesterday, Check it out –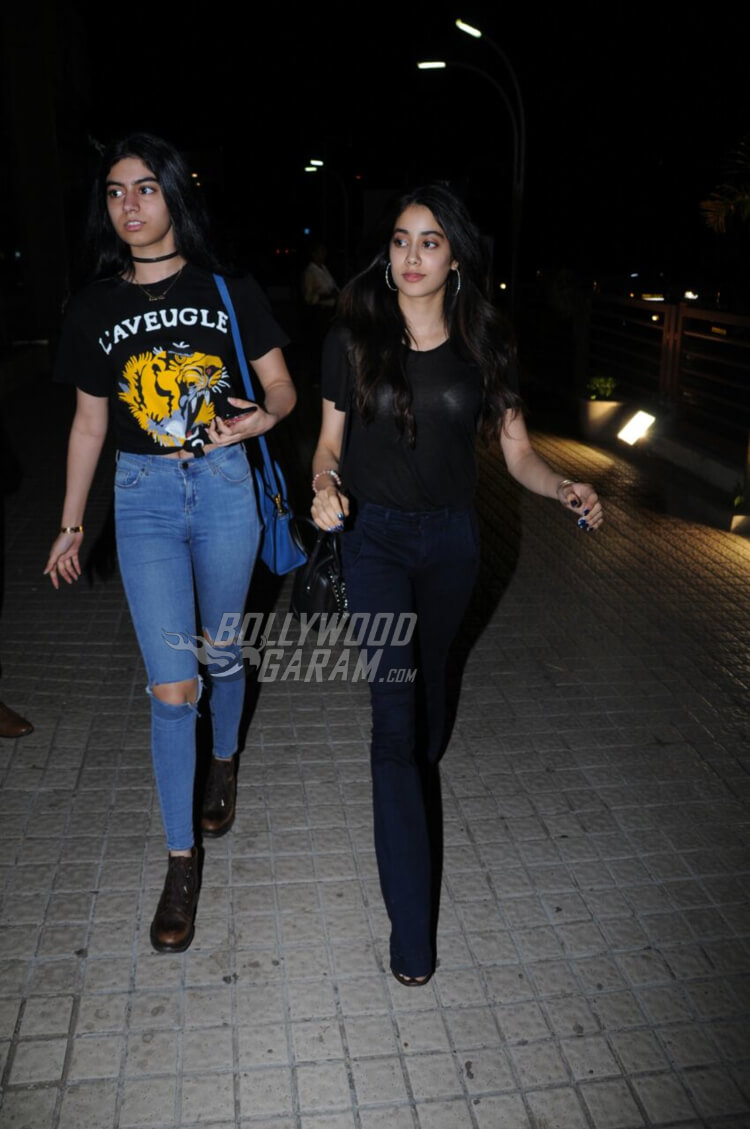 Jhanvi and sister Khushi kept is pretty casual. While Jhanvi wore lose fit jeans paired with a black tee and statement earrings, Khushi wore blue ripped jeans paired with a graphic printed crop top. She completed her look with a black choker and brown ankle length boots.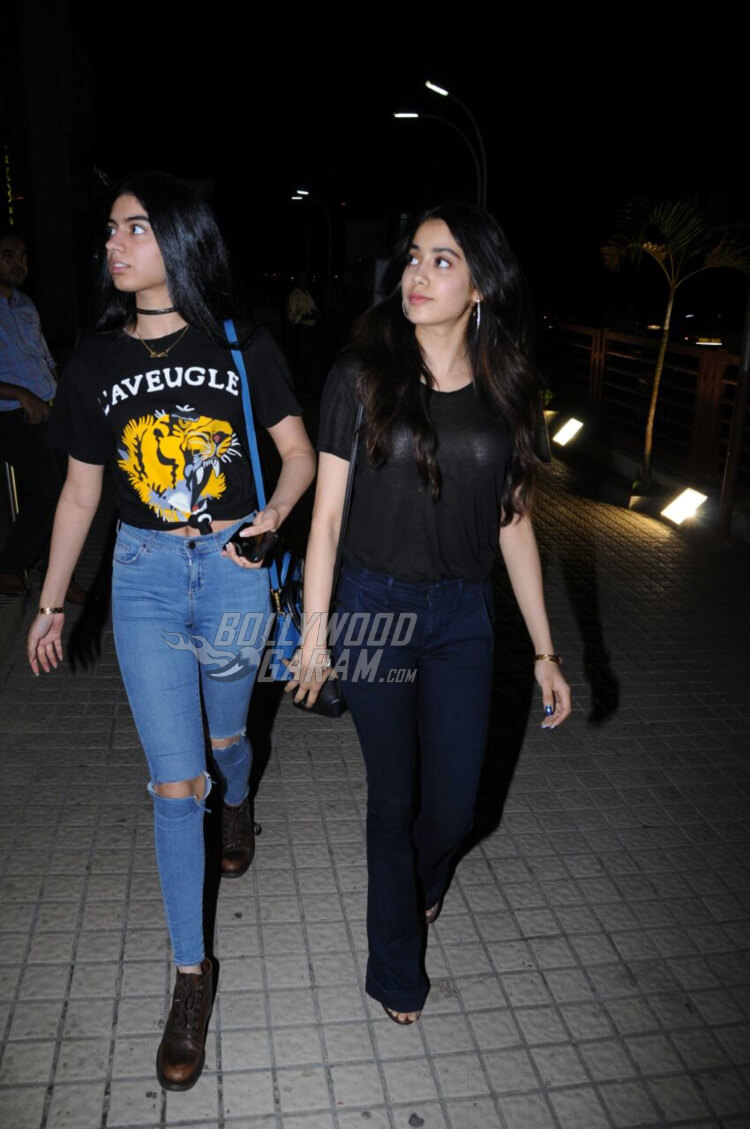 The two were one their way to the special screening of Badrinath Ki Dulhania.
See entire gallery from special screening of Badrinath Ki Dulhania
Last week we caught up with Jhanvi Kapoor at Mehboob studios too! Was she shooting there? Sadly not. Looks like she stopped by along with mother Sridevi to pay dad Boney Kapoor a quick visit at work.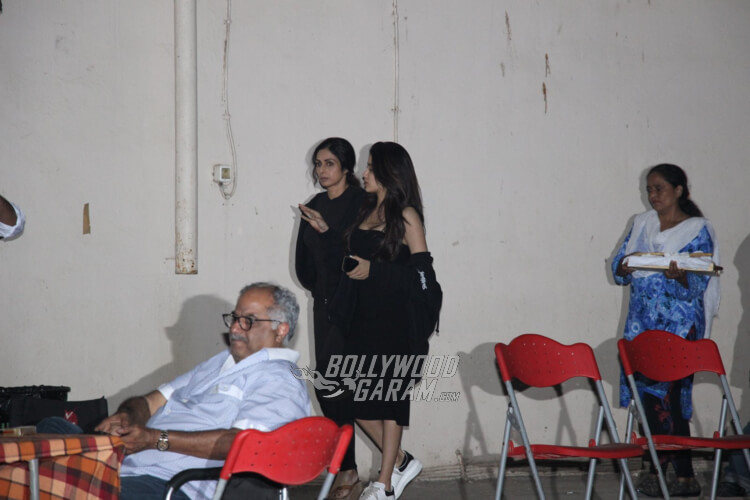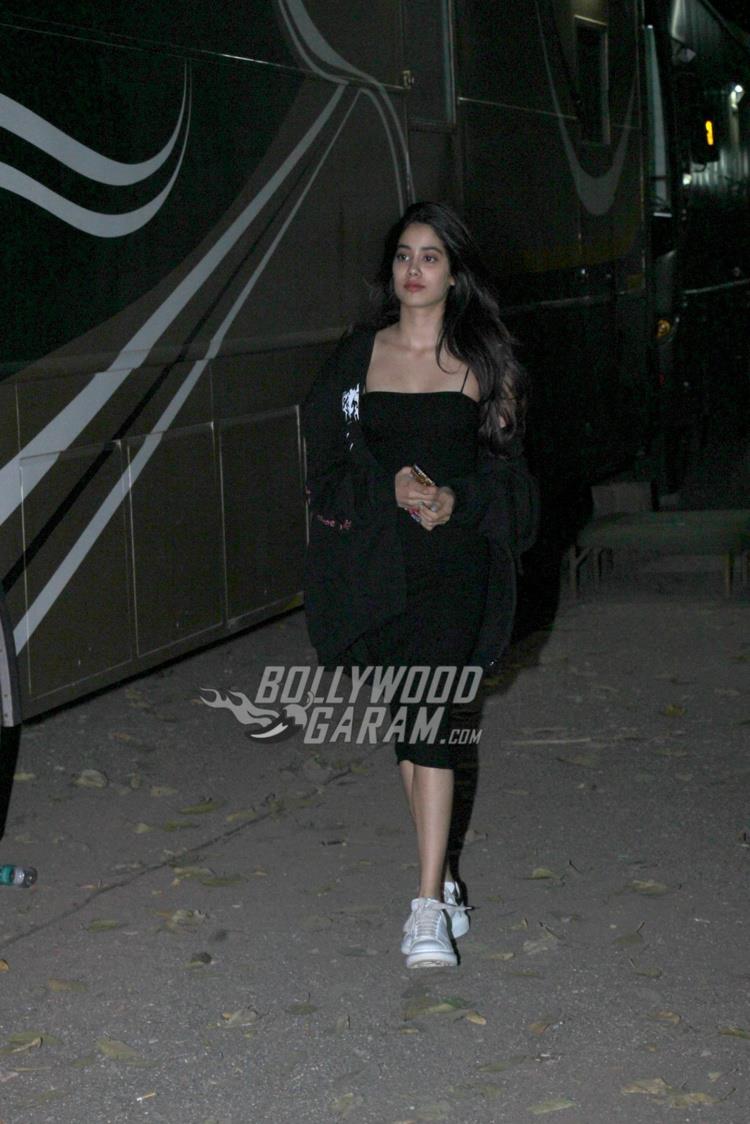 She later headed over to Olive Restaurant, Bandra for a party with friends –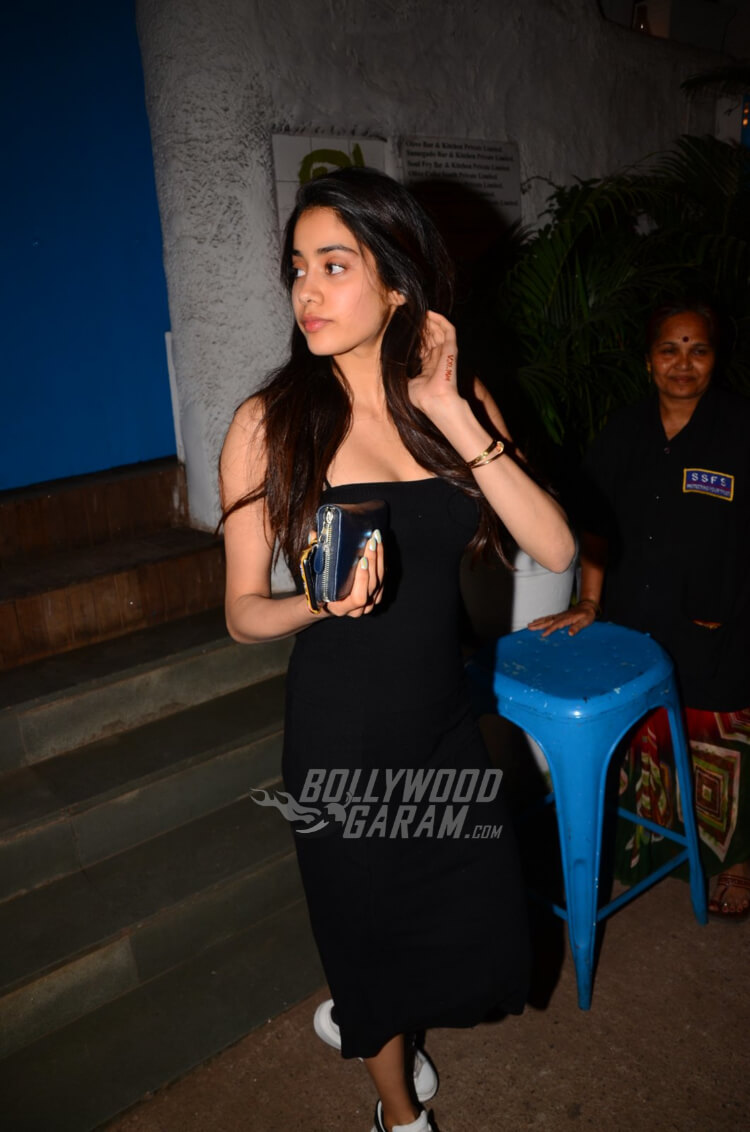 For this outing she chose to wear a sizzling black midi dress and paired it with classic white sneakers. With no accessories, minimal make-up and free flowing tresses, she looked every bit the diva that she is!
Anybody notice that tattoo on the side of her left hand?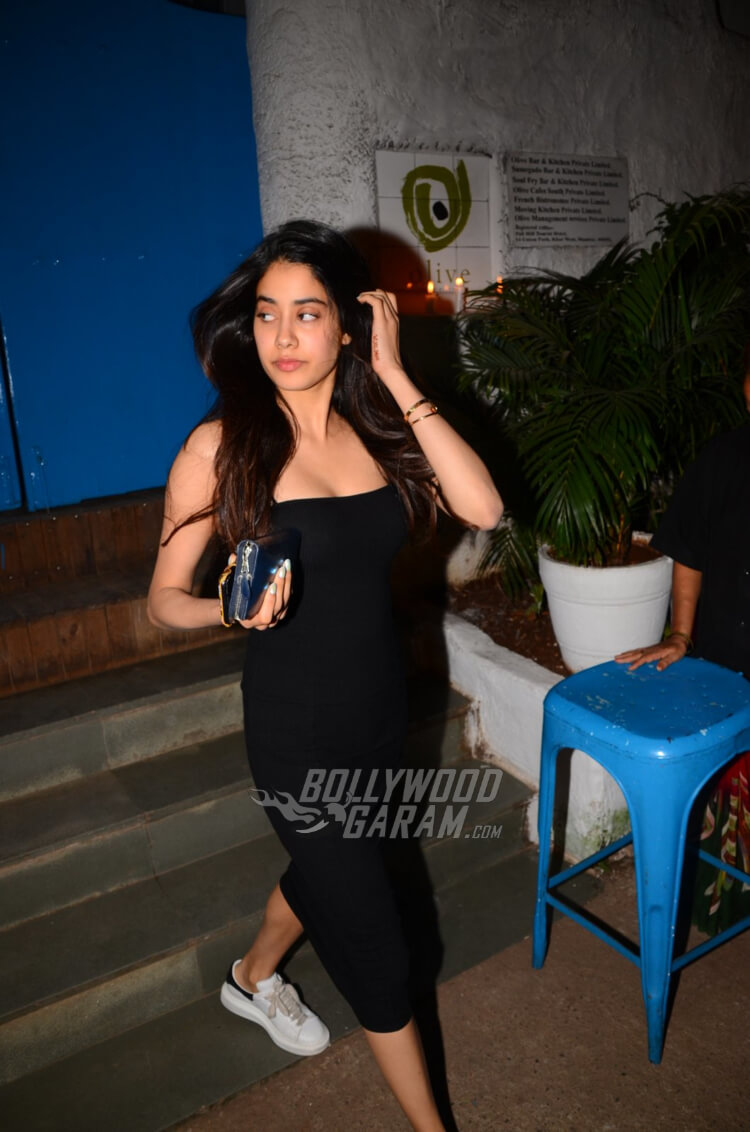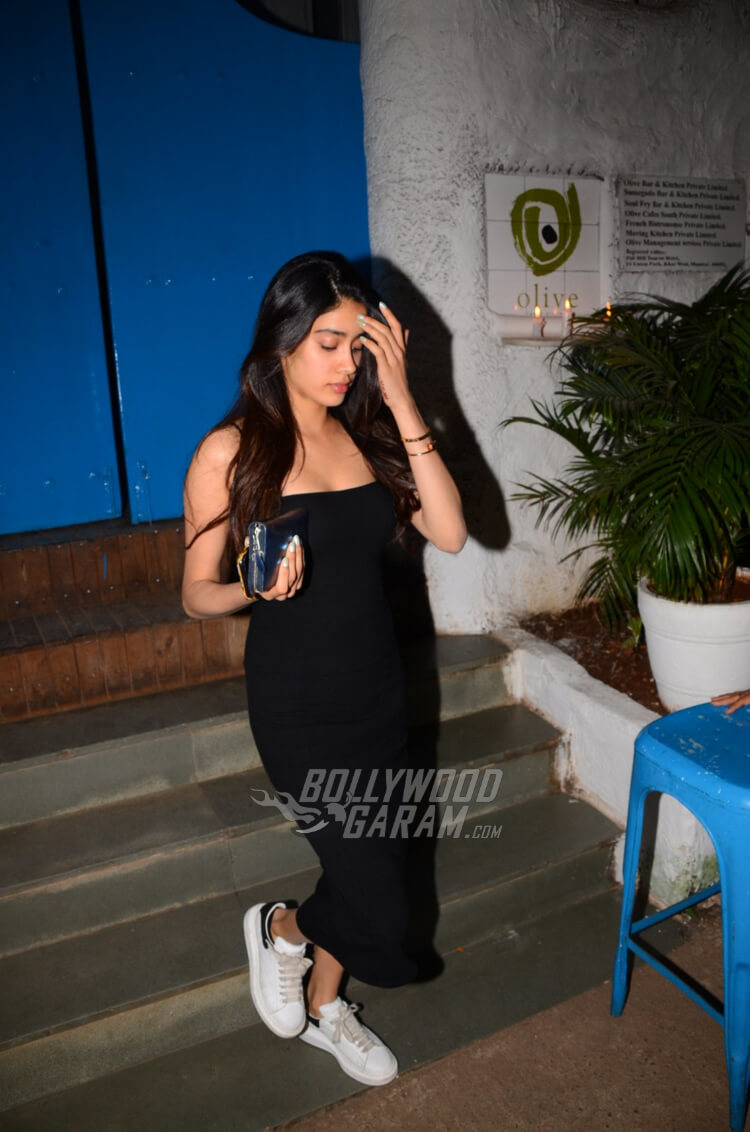 For those who have been following this star in the making, would know that she's ace fashion designer Manish Malhotra's muse and is often seen modeling for his creations, sometimes alongside mother and mentor Sridevi. We dug up a few gorgeous clicks of Jhanvi from her Instagram feed –
Birthday outfit by #manishmalhotra ???? . . . . . . . . . . #teal #lengha #jhanvi #jhanvikapoor #dad #jhanvikapoor #happybirthday #janhvi #janhvikapoor #fashion #fashionista #diva #bollywoodfashion #indian #bollywood
There's some serious airport fashion going on between the three Kapoors!
Love #highwaistedpants ?❤ . . . . . . #squadgoals #familysquad #jhanvi #jhanvikapoor #janhvi #janhvikapoor #sridevi #sridevikapoor #khushi #khushikapoor #bollywood #bollyfamous #bollyfamous #airportlife #fashionsquad #sisterlylove #divas #fashionista #bollywoodfashion #bollywoodstyle
And this mother daughter click is from a family get-together –
Amazing dresses by the talented #manishmalhotra ❤❤❤❤ . . . . . . . . #momanddaughter #sridevi #feathers #sridevikapoor #fashionistas #jhanvi #fashiondiaries #janhvi #whitedress #jhanvikapoor #lavender #janhvikapoor #bollywood #bollyfashion #bollywoodstyle #dresses #photoshoot #model
Jhanvi Kapoor in another gorgeous Manish Malhotra creation –
Another #gorgeous #dress by #manishmalhotra . . . . . . #reddress #jhanvi #?? #dancing #janhvi #lengha #jhanvikapoor #fashionista #janhvikapoor #eastmeetswest #cocktaildress #ladyinred #letsparty #party #partytime #flawless #bollywood #dancing #bollyfashion #fashion #bollywoodstyle #style #mystyle #elegant
And that's Jhanvi Kapoor belting out thumkas like there's no tomorrow! The video also features her rumored boyfriend Shikar Sariya.
Live to #dance . . . . . . #janhvikapoor #jhanvikapoor #janhvi #jhanvi #bollywoodstyle #bollywoodfashion #bollywood #bollywooddance #fashionista #ladyinred #dancing #reddress #red
And here's Jhanvi doing what she does best – being a diva!
What do you guys think of the #glittery #gold #dress ?? . . . . . . #jhanvi #jhanvikapoor #janhvikapoor #bigcloset #allthatglitters #fashionista #selfietime #closet #clothes #makeup #glamorous #fashion #bollywood #makeover #bollywoodfashion #bollywoodactress #bollywoodstyle
What do you think about Jhanvi Kapoor? Let us know in the comments below!
Image Credits – Viral Bhayani