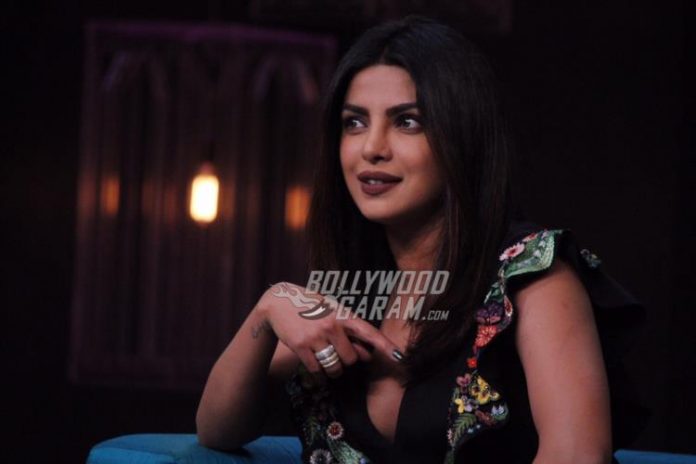 Priyanka Chopra gives Jimmy Fallon a Holi experience
Desi girl, Priyanka Chopra celebrated the colorful festival of Holi in the United States with new BFF and talk show host, Jimmy Fallon. The Quantico actress made an appearance on The Tonight Show With Jimmy Fallon for the third time, and smeared the funny host with Holi colors on March 13, 2017.
The self-acclaimed "world traveler" and winner of this year's People's Choice Award, the actress spends most of her time abroad, due to work commitments and for Holi, she didn't want to feel home-sick, so she roped in the famous host to celebrate the festival on his show.
Priyanka Chopra made sure that she infected everyone on set with the spirit of Holi. Later taking to Instagram, she wrote: "And a happy Holi to u too @jimmyfallon I'm a little less homesick now! I got u good…again!!" (sic) In the image, Jimmy Fallon can be seen with blue, green, pink and yellow colors smeared on his grinning face.
Watch the video of Priyanka and Jimmy Fallon playing Holi right here!
The Baywatch actress also shared a selfie with colors on her face and captioned the image: "Happy Holi with @jimmyfallon tonight!! U should see what he looks like! Lol, Tune in tonight at 11:35 EST." (sic)
Priyanka looked pretty with her colors on her face, celebrating the Indian harvest festival even while overseas. She has managed to become a global icon in the short time that she has made a firm footing in Hollywood. Since her stint on Quantico as the lead character, Alex Parrish, she has made it to international shows, including now being a regular on The Tonight Show With Jimmy Fallon, The Ellen DeGeneres Show in which she happily downed tequila shots with the beloved Ellen DeGeneres and Jimmy Kimmel Live! with Oscars 2017 host, Jimmy Kimmel.
Jimmy Fallon and Priyanka Chopra even played a game of Tandem Sculptionary, watch here!
Despite her international fame and recognition, she is still committed to Bollywood, the industry that is responsible for her initial success. She was last seen in 2016's Jai Gangaajal and is currently producing a comedy Marathi film called Ventilator which is being made under her banner, Purple Pebble Pictures. Priyanka Chopra will also be seen next on the big screen in Baywatch that also stars Dwayne Johnson and Zac Efron.
While she celebrated Holi on stage with Jimmy Fallon, locally, a number of Bollywood stars celebrated the festival of colors. Varun Dhawan, Alia Bhatt, Sidharth Malhotra and others had a blast for Holi. You can see the evidence on each star's respective social media!
Photo Credits: Viral Bhayani