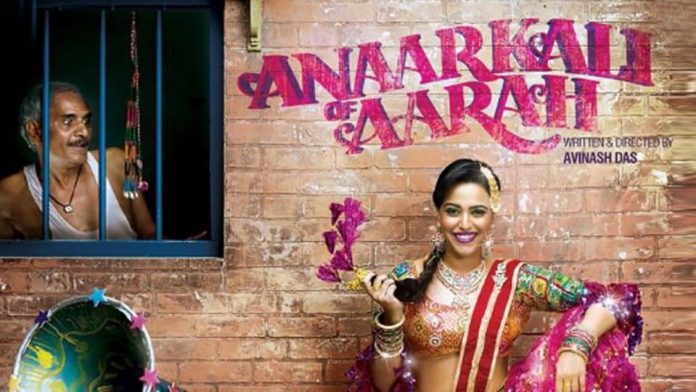 It's the story of a strong woman, determined to fight for her place in society
Movie name – Anarkali of Aarah
Cast – Swara Bhaskar, Pankaj Tripathi, Sanjay Mishra, Ishtiyak Khan
Director – Avinash Das
Genre – 
Run time –
Bollywood Garam rating – 4/5
After much controversy around leaked videos from the movie, Swara Bhaskar's much awaited movie finally released on March 24, 2017.
If you thought Amitabh Bachchan's Pink was great, you should consider watching Anarkali Of Aarah. The film featuring Swara Bhaskar as Anarkali – a singing dancing girl. The star actress, breathes life into the movie making the plot intriguing, even for critics.
Written by Priya and Sandiip Kapur and directed by Avinash Das, the film stirs up a debate around how our society still perceives women through an age old glass. It forces viewers to confront pertinent issues related to how men feel threatened by strong independent women, and it's important to respect each's profession and individual rights.
The movie tells the story of a dancer who hails from Arrah, Bihar and is known for her erotic songs. Born to an orchestra singer mother, the movie tell a tale of what happens when a sexually liberated woman finds herself in trapped in a land where misogyny and lawlessness are at their peak. Anar (as she is lovingly called) is the star of the dancing troupe and has hearts of men in her palms. But her life is thrown into chaos when she is confronted by powerful forces in the region.
Initially, Anarkali the dancer walked the streets proudly, just like a queen bee. Unfortunately, the town is governed by unwritten rules where men, especially those in position of authority can get away with almost anything. While the actress has many die-hard fans and admirers who follow her around, none of these men have the guts to stand up for her in the hour of need.
Recalling a recent incident about a dancing girl who was shot accidentally during a performance, Anarkali of Aarah takes a stand for young women who sing at local and rural events which are usually organized by influential people.
Even when her mother is killed in a similar fashion, Anarkali of Aarah actress, Swara Bhaskar does not falter in her pursuit of justice and dignity for fellow performers. Things take a turn for the worse when Sanjay Mishra, a college Vice Chancellor challenge her modesty in public. Anarkali reciprocates by humiliating the chancellor publicly.
The VC decides to make it his goal to chase the actress. Mishra is so determined that he is willing to misuse his immense influence to pursue Anarkali. Soon enough, the local forces begin to close in on the actress. She is forced to run away in order to hide from her enemies.
However, the actress is no pushover. She does not hide for long. Instead, she decides to fight back rather than keep on the run. In her fights, the actress seeks to show that though she is not a virgin, she still respects herself and does not think twice about turning down sexual advances.
The movie sums up various themes including women's rights tightly and neat. It delivers a powerful message to the audience without being preachy at all. Instead, it seeks to depict Anarkali as a woman who understands her position in society and is not ashamed of what she does to earn a living. It also seeks to send a strong message to people with chauvinistic minds that even in a local, dusty town, a woman's right to say 'No' should be respected.
Ultimately, Swara Bhaskar's acting and the entire cast's command over colloquial bhojpuri steal the show. Swara Bhaskar not only holds the story together, but blows life into the otherwise mundane story. And Director Avinash Das is definitely a director to watch out for!
See the entire gallery from Anarkali of Aarah's special movie screening a day before it's release