Riteish Deshmukh and Vivek Oberoi starrer Bank Chor motion poster reveals Vivek's comic detective character
The thriteen second character video introduces Vivek Oberoi's character, Amjad Khan as a hot headed CBI Officer who is geared up to fight crime, especially bank robbers. The officer goes by the mantra – pehle goli,  phir sawal. 
Bank Chor is an upcoming comedy which stars Vivek Oberoi, Riteish Deshmukh, Rhea Chakraborty in lead roles along with Vikram Thapa and Bhuvan Arora in supporting roles. The movie revolves around the story of three characters who plan to rob a bank, but decide to do so on the worst day possible! The minute the execute the plan, everything goes haywire and comical situations follow. The story's timeline spans across just one day and is set in Mumbai.  Maharashtrian boy, Champak Chandrakant Chiplunkar played by Riteish Deshmukh decides to loot a bank with his friends and are faced by ace CBI officer Amjad Khan (Vivek Oberoi) who especially hates bank robbers.
Makers of the film released few stills from Bank Chor which show the main character, Champak Chandrakant Chiplunkar under a panicked state amidst the robbery and is then faced by Amjad Khan. But the most hilarious part is the movie's poster which goes by the tag line – A hathi, a ghoda and a baba walk into a bank…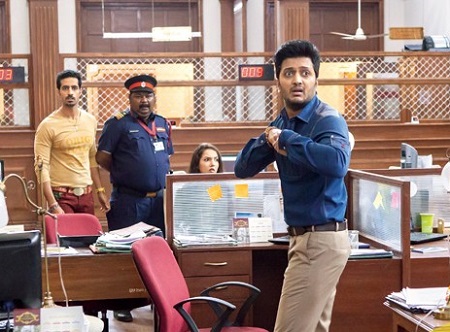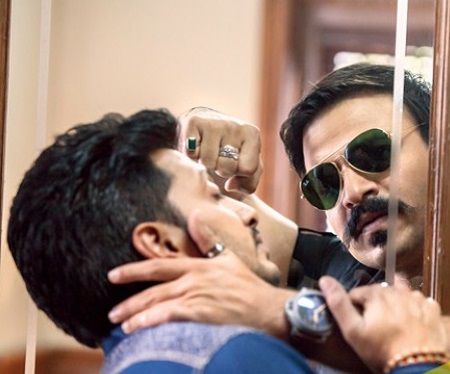 Watch Bank Chor's motion poster right here –
Directed by Bumpy and produced by Ashish Patil under the banner of Y Films, Bank Chor is slated to release worldwide on June 16, 2017. Stay tuned for an honest movie review of Bank Chor exclusively on Bollywood Garam.
Photo credits – Y Films