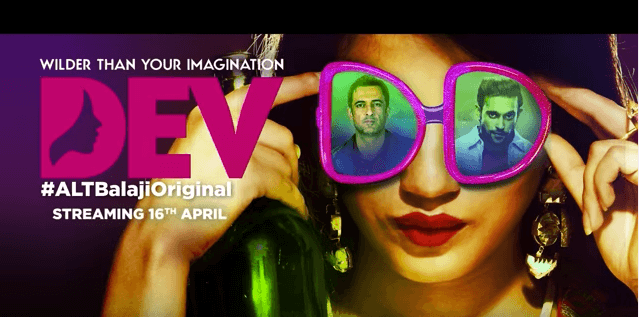 Dev DD is the most bold series you need to watch on Ekta Kapoor's ALT Balaji
Down the history of Indian cinema, a number of depictions of the melancholy tale of Devdas by Chandra Chattopadhyay have been adapted. From the original version starring Dilip Kumar, to the Shah Rukh Khan-Aishwarya Rai-Madhuri Dixit magnum opus, to Anurag Kashyap's more psychedelic take in Dev D, the story never gets old. The latest remake of the tragic tale called Dev DD is however, taking a completely different twist.
Dev DD by Ken Ghosh re-tells the tale of Devdas, but with a female protagonist, who will play the tragic character. Devika Dharam Dwivedi is a modern girl from a town in Jaipur. Her rebellious lifestyle, coupled with her brazen attitude earns her the ire of society. But she is unapologetic in her approach to life, and indulges herself in all possible carnal pleasures. Her way of living makes her turn her back on traditions women like her are subjected to live.
This will, however, not be your typical Bollywood film for the big screen. It is actually a series that will air on Ekta Kapoor's ALT Balaji. The online portal will be going live from April 16, and will showcase a number of original content through web series. Actress Aasheema Vardhan will play the title character for Dev DD and stars a number of recognizable faces from the industry. Sanjay Suri plays Anurag, Akhil Kapoor plays Parth, Deepika Deshpande plays Devika's mother while Suneel Sinha plays her father. Komal and Namit will play the role of the parents of Parth.
The two minute trailer has already attracted thousands of views. The characters complement each other and Dev DD is really a sign of the times that Indian audiences are finally opening up to more bolder shows and movies and are ready to embrace topics that were previously considered taboo.
Check out the official trailer for upcoming web series Dev DD that will air on ALT Balaji –