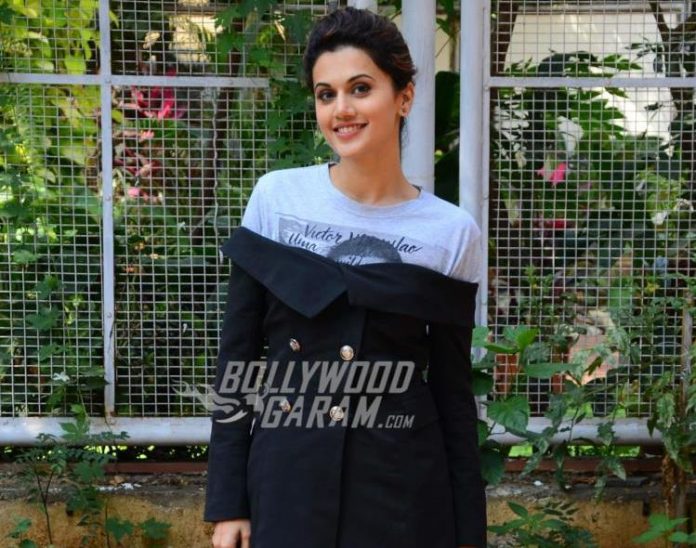 Varun Dhawan and Taapsee Pannu are working hard for their next film together, Judwaa 2
She still considers herself as a "newcomer" in Bollywood, but Taapsee Pannu is already killin' it. She has already starred alongside two heavyweight actors – Amitabh Bachchan (Pink) and Akshay Kumar (Baby) – and shouldered an entire film, Naam Shabana. Her latest flick has already become a hit and she has earned some serious accolades for her performance in Naam Shabana. So what comes next?
Taapsee Pannu is now gearing up to star in Judwaa 2. She is being paired opposite another hardworking actor, Varun Dhawan. The film is being created by David Dhawan, and shooting already began back in February of this year. The cast will now be on a gruelling schedule this entire summer in London on a 40 day schedule. Varun Dhawan already spoke about how hard he is working for the film. So much so, that he decided to quit Twitter for a while so that he can concentrate on Judwaa 2.
And for Taapsee Pannu, she says that she's working even harder for the upcoming flick, more harder in fact, than she did for Naam Shabana. Now, we already know how she had to learn mixed martial arts and Judo for her role, so just imagine what's about to come! The co-stars posted a video to Varun Dhawan's Facebook account, where they spoke to fans. Varun, of course, is singing praises of Taapsee. He said in the video, "She has trained hard for the movie and will be seen performing some stunts."
The acting journey of Taapsee Pannu and Varun Dhawan started long ago. According to them, they met way back, on the sets of Chashme Buddoor. However, this is the first time that they will be seen together on the big screen. And it's also great to see Varun act in a more serious role. His past few movies have been romantic comedies, so it'll be good to see him in the action scene soon!
Judwaa 2 shows Varun Dhawan playing a double role as twins. The film also stars Jacqueline Fernandez and is tentatively being released on September 29, 2017.
LIVE from the sets of #Judwaa2 with Taapsee Pannu… LET'S GO!

Posted by Varun Dhawan on Tuesday, April 11, 2017
Image Credit: Viral Bhayani