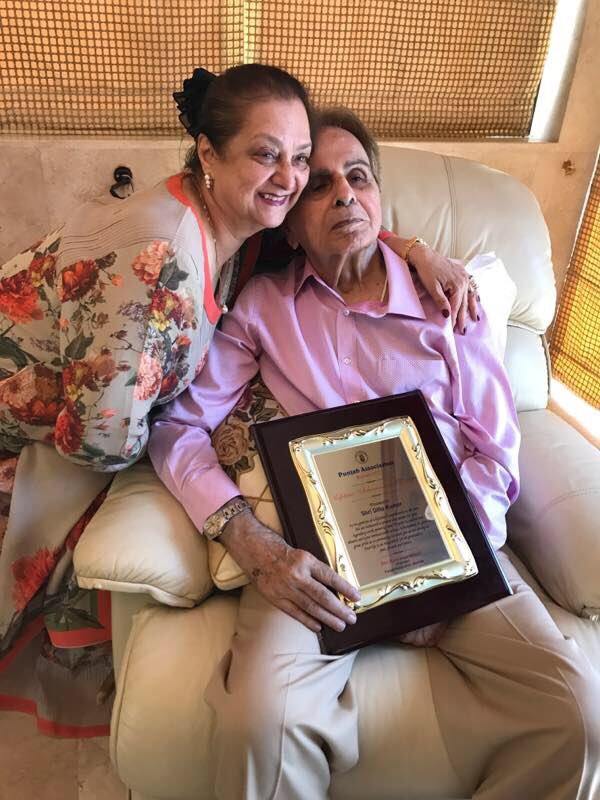 Dilip Kumar honored by Punjab Association with Living Legend Lifetime Award
The Punjab Association honored veteran actor Dilip Kumar with the Living Legend Lifetime Award on April 11, 2017. The legendary actor took his twitter account to announce the honour that he received and thanked fans for the same.
The Saudagar actor said that he was humbled at receiving the honor and also shared a few pictures with the award. Dilip Kumar Tweeted, "Mr. Ranbir Singh Chandokand Mr. Anand of the Punjab Association visited me today." And the other Tweet read, "God is kind. Humbled at receiving the Living Legend Lifetime Award from Punjab Association this afternoon."
Dilip Kumar is 94 years old and has been active in Bollywood during the 40s, 50s and so on. The actor was last seen in the movie Quila in the year 1998 and made his debut with the movie Jwar Bhata in 1944. Kumar has also worked in some of the remarkable movies like Andaz, Babul, Mughal-E-Azam, Naya Daur, Kranti, Duniya, Mashaal, Kanoon Apna Apna and more.
In related news, Dilip ji also acknowledged the wall mural of him made by artist Asif Farooqui, displayed on the Hill Road Bandra, Mumbai. The actor wrote, "So much love from Asif Farooqui. Thank you for this beautiful wall mural on Hill Road in Bandra. God bless you."
God is kind. Humbled at receiving the Living Legend Lifetime Award from Punjab Association this afternoon. pic.twitter.com/3wO7VDmWue

— Dilip Kumar (@TheDilipKumar) April 11, 2017
So much love from Asif Farooqui. Thank you for this beautiful wall mural on Hill Road in Bandra. God bless you. pic.twitter.com/Xfdd7JSH89

— Dilip Kumar (@TheDilipKumar) April 11, 2017
Photo Credits: Dilip Kumar's official Twitter account