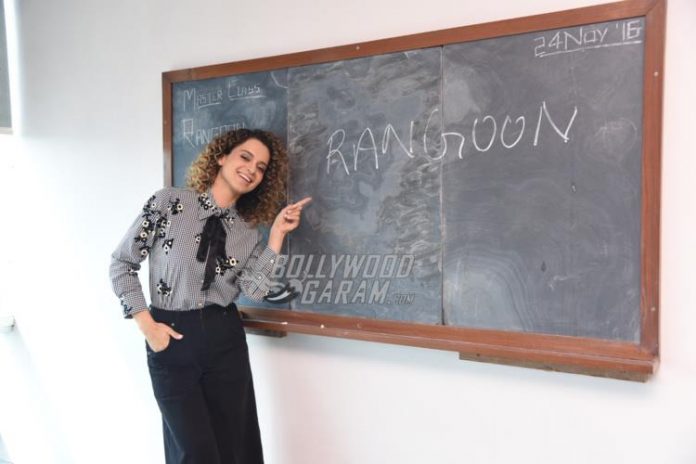 Kangana Ranaut talks about the controversy that surrounded her at the time of Rangoon's release
For any actor, the success of their movie lies in the numbers at the box office. And whether you're single-handedly taking on a movie or are part of an ensemble cast, it still weighs heavily on your shoulders when the movie doesn't do as expected. Ask Kangana Ranaut. She has had a slew of hits – from Queen to Tanu Weds Manu and has even won the National Film Awards thrice in her career.
Yet, when Rangoon didn't manage to make much dough at the box office, she felt the pressure. "I, for one, thought the film had all the ingredients to be a profitable business proposition. [The film's failure] was heartbreaking. Before this film, every time people asked me if failure throws me back, I knew the answer was 'no'. Do I go into a low zone? Well, this time around I was affected. Maybe when you are bigger and grow more, both success and failure become more of your responsibility."
She spoke to a popular daily about the 'difficult' time she was facing in her life. Her appearance on Koffee With Karan caused a scandal when she openly accused the producer-director and host of 'nepotism'. After swords were crossed, they went back and forth in a spat that entertained the media for quite sometime. And it didn't end well for Kangana Ranaut, as Rangoon was just releasing at the time. "I felt Rangoon failure was targeted at me. Various people used that time of my life to direct their anger at me. I felt it was unnecessary that when I was dealing with a vulnerable phase in my career, they were hitting out at me. Rangoon was mounted on a humongous budget and publicised around my character. When something like this doesn't fare well, you do feel like sh*t."
We understand Kangana's predicament, but as they say on the school playground, "she started it!" When it comes to controversies in Bollywood, the focus is laid on the woman. Take note, Kangana Ranaut!
Image Credits -Viral Bhayani