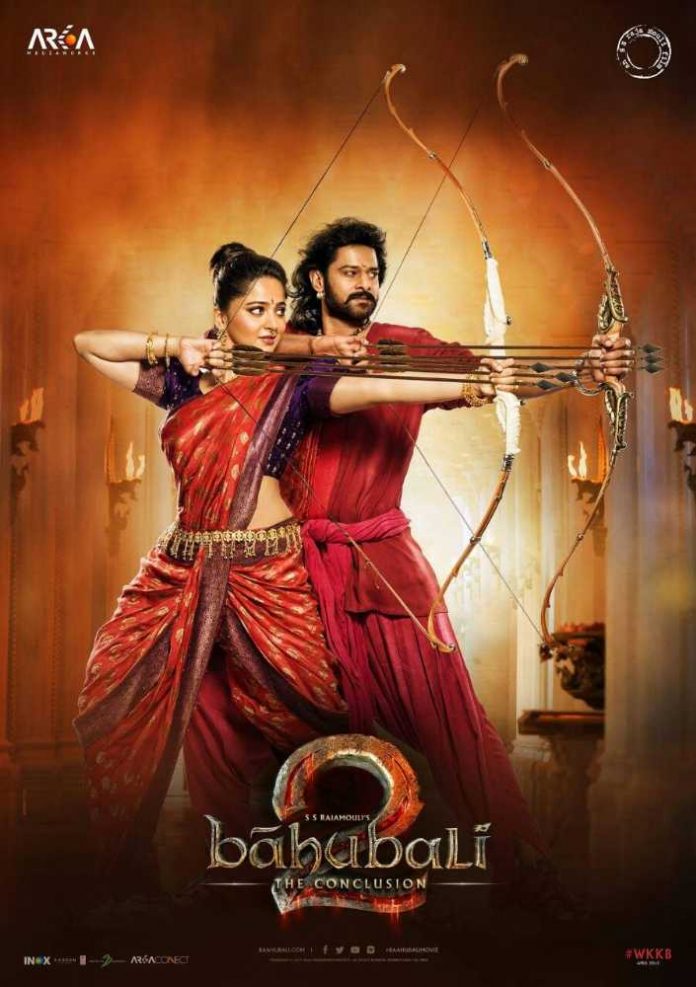 Trade analysts project that Baahubali 2 – The Conclusion has all the possibilities of becoming the first Indian film to rake in Rs. 1000 crores through worldwide box office collection
Just two days to go for the release of director SS Rajamouli's magnum opus Baahubali 2 – The Conclusion, and expectations from his epic sequel are sky high! Here are 6 reasons why the movie has the potential to become the first Indian film cross a box office collection of Rs. 1000 crores –
1. Huge Pre-Release Deals
Baahubali 2 has reportedly already done staggering pre-release business in deals for its satellite and distribution rights, estimated at over Rs. 500 crore. The multilingual film has earned a reported Rs. 40 crore from the Tamil Nadu market and Rs. 10 crore from Kerala, while the Andhra Pradesh and Telangana rights have sold for a massive Rs. 130 crore. Pro-Kannada groups in Karnataka had threatened to ban the film in the state over actor Sathyaraj's comments made 9 years ago during the Cauvery water dispute, but they have been appeased after he made a recent public apology. Baahubali 2's Karnataka release will be in Hindi, Tamil and Telugu, with the rights there having been secured for Rs. 45 crore.
2. Baahubali 2 Will be Shown on a Record Number of 9000 Screens Across India!
In 2015, Baahubali: The Beginning was released on over 4,000 screens and went on to shatter Indian box office records, earning over Rs. 650 crore. Baahubali 2, which opens in a record 9,000 screens across the globe, is set to surpass those lofty achievements.
In addition to the 6,500 screens all over India, the film will get the biggest launch for an Indian film in the United States, on an estimated 1,100 screens. It is also set for wide releases in places like Canada, New Zealand, Australia, the Fiji Islands and Malaysia.
3. Satellite Television Rights for Baahubali Sold at a Record Price
Baahubali producers Arka Mediaworks are trying to surpass the huge numbers of superstar Rajnikanth's next film, '2.0', which sold its Tamil, Hindi and Telugu satellite rights for Rs. 110 crore to Zee Television. While Baahubali: The Beginning only earned Rs. 45 crore from satellite deals, the sequel is expected to fare much better. Sony TV is said to have paid Rs. 51 crore for the Hindi satellite rights, while Star TV has acquired rights for the Malayalam, Telugu and Tamil versions for an undisclosed sum which could be in the region of Rs. 80 crore.
4. Extensive Marketing Strategies
Baahubali 2's marketing team have outdone themselves when it comes to promoting the film across numerous channels. Much like for superstar Rajinikanth's 'Kabali' last year, marketing strategists have devised new and innovative ways to draw a large audience to the film. Many contests have been launched as part of its promotions, and 'The Rise of Sivagami' book launch in Delhi recently was successful in bringing in a number of fans and media. The filmmakers are also launching 'The Sword of Baahubali' along with the movie, which is a virtual reality experience that will further engage fans of the franchise.
5. Interesting Characters
While the story of Baahubali is certainly reminiscent of Mahabharat, with a besieged kingdom, mythological royalty, envious family and epic war scenes, the film's characters have a unique and engaging quality to them. The actors have transformed themselves to create their memorable characters, so their actions don't seem superficial on screen. Like when Bhallala Deva smashed a wild animal with his bare hands, Rana Daggubati's muscular frame made the sequence believable. Fans of the first part will be flocking to see their favourite characters return to the big screen.
6. Director SS Rajamouli's Brand
Most films are led by their lead actors' popularity, but director SS Rajamouli is often the star attraction in his productions. For example, in his 2012 film Eega, the on-screen protagonist is simply a fly. Rajamouli has shown that he is an expert in creating multilayered plots and using mythological references to relate to the masses. While he himself says that he is not a 'great' filmmaker, he is surely one of the best storytellers in cinema today. One can legitimately compare his work to that of Tamil filmmaker Shankar in terms of the grand scale of their productions, but Rajamouli is a superior storyteller in many ways.
The Baahubali film franchise, starring actor Prabhas, is produced on a massive cumulative budget of Rs. 400-450 crores, and producer Shobu Yarlagadda said that they didn't make any money with the first part. However, seems like Baahubali 2 – The Conclusion will turn things around for them by becoming the biggest blockbuster in Indian cinema's history!
Baahubali 2 – The Conclusion releases on April 28 and stars Prabhas, Anushka Shetty, Tammanah Bhatia and Rana Daggubati in lead roles. Stay tuned for more updates on the film exclusively on Bollywood Garam.