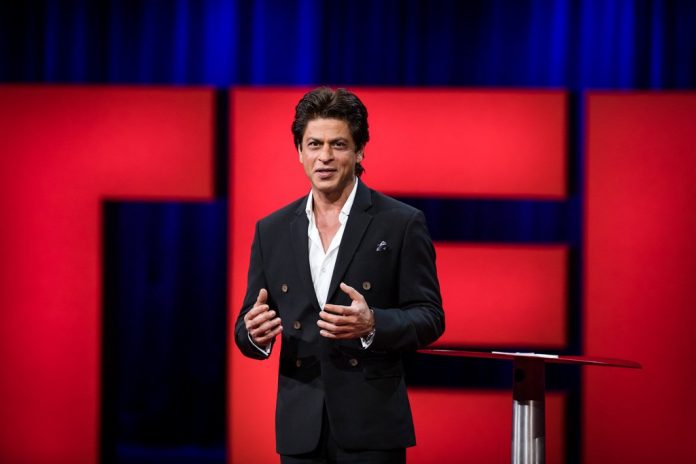 Shah Rukh Khan shares about his life and career to a captivated audience at TED Talks
Shah Rukh Khan has been known to be the quintessential charmer, and he kept up to this reputation at the TED Talks Conference on April 27. He spoke with a passion about what it's like being an ageing movie star in an evolving and growing industry like Bollywood. He also peppered his talk with his signature punchlines and jokes that have people touting him as the funniest TED talker ever.
Bollywood Garam had caught Shah Rukh Khan at the airport, leaving for Vancouver, Canada where he was set to give his talk. He graced the stage in front of hundreds of conference attendees and an even wider global audience who are awaiting the video upload of his talk. This was a completely different side of Shah Rukh Khan that we have ever seen. We are used to the big screen stuttering hero who can woo any temperament of woman with his romantic antics. What we witnessed on the TED stage was a man who has collected enough wisdom from his life to dole out to the next generations.
Minus any movie scripts, producers and directors telling him how he should emote himself, there was the true badshah talking from the heart. One the video is released that showcases the expanse of his talk, Shah Rukh Khan's TED Talk is going to go viral. Introduced by Chris Anderson as the "renaissance man", Shah Rukh then took the stage for a flawless 18 minutes of riveting anecdotes, he perfectly conceptualized the theme for the evening: The Future You.
Of course, he couldn't keep his super stardom back home. Hundreds of fans thronged the venue to catch a glimpse of the man himself. His fans on Twitter went wild, trying to get this event to trend with the hashtag #SRKLiveAtTEDTalks.
This was somewhat an introduction to the upcoming Hindi version show Shah Rukh Khan will be hosting called TED Talks India: Nayi Soch that will be broadcast on Star India.
Photo Credit: Twitter