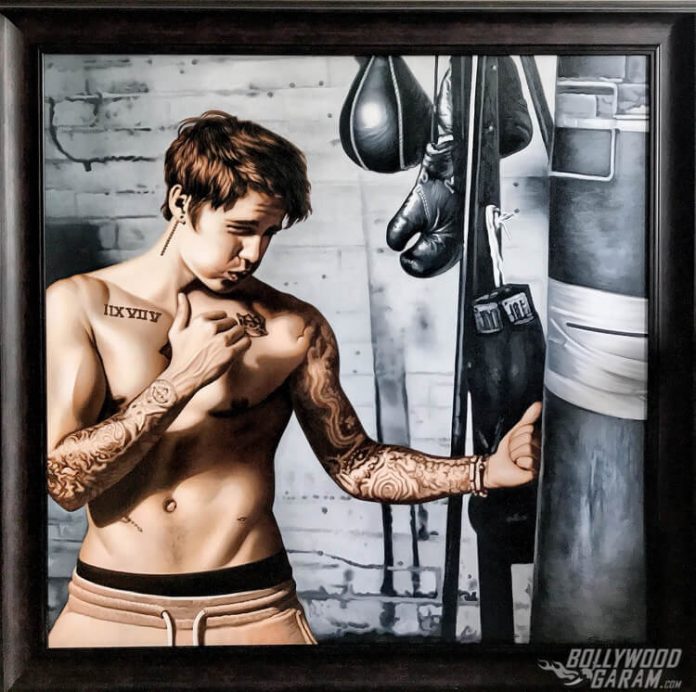 "Justin is really fond of Boxing and this portrait is dedicated to his love for the sport", says Suvigya
Suvigya Sharma
 (painter and fashion designer) is famous for his
miniature paintings, Tanjore paintings
and
potraits
. He also does
fresco work
. He has restored fresco paintings at City Palace, Jama Masjid and Singapore Art Museum. Recently, he has created a life-sized portrait of international pop star,
Justin Bieber, who
 landed in Mumbai last night at 1:30am for his live concert on May 10.
See exclusive photos of Justin Bieber from Mumbai Airport
It is a life-size painting, oil on canvas potrait in Bieber's hyper- realistic genre. It is a portrait done in montones, a mix of black and white and colour. Justin Bieber loved the painting and is really happy to see it.
"It is really an honor to be working for and presenting my art to a global personality like Justin. I'm sure that this artwork will be loved by all the Justin fans worldwide and will truly be a masterpiece in itself. Justin is really fond of Boxing and this portrait is dedicated to his love for the sport.", says Suvigya Sharma.
In the portrait, we can see Justin's bare upper body with all his tattoos engraved on his arms and chest and he is practicing his hits on the punching bag. In the background, there are boxing equipments like gloves and pads which is painted in black and white.
In February 2016, Mr. Sharma's art work in Timeless Miniature Art was showcased at Make In India event. There was a live demonstration of Miniature painting technologies in the event. He has received Asia Book of Records and India Book of Records for creating World's first life-size Siddhi Vinayak painting with 4D effect.
Justin Bieber's concert will start at 4pm on May 10, 2017 at D.Y. Patil Stadium at Nerul in Navi Mumbai.