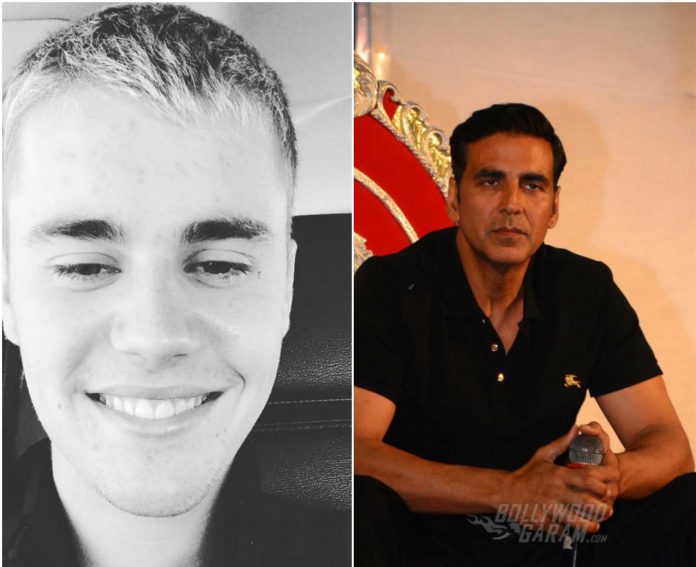 Akshay Kumar arrived back from Delhi to Mumbai and was greeted by Justin Bieber fans at airport
In a hilarious case of mistaken identity, fans thought that a celebrity convoy was actually international pop sensation Justin Bieber, instead of action man, Akshay Kumar. The incident took place yesterday afternoon, when the National Award winner was arriving back from Delhi. The Rustom star was in the country's capital to meet with Prime Minister, Narendra Modi. Justin Bieber wasn't supposed to arrive in Mumbai until the wee hours of the morning, but fans lost it when they saw a major convoy at the city's airport. It turned out to belong to Akshay Kumar.
Justin Bieber fans had been camping at Mumbai airport for hours on end, waiting for the pop star to descend. Since they didn't know exactly what time he would be arriving, they waited, trying to catch a glimpse of any semblance of him. Justin Bieber did land, however, at 1.30am at the airport, and Beliebers were ecstatic as if this was the climax of their lives. The star is here as par of his Purpose World Tour that has taken him all across the globe. This is the first time that he is visiting India, and he's probably one of the biggest pop stars ever to touch Indian soil.
See exclusive gallery of Justin Bieber at Mumbai Airport
Jio Justin Bieber Purpose World Tour will take place on May 10 at DY Patil Stadium in Nerul, Mumbai. Organizers are pulling all the stops to make sure that his brief stay in the city goes without a hitch. A number of Bollywood stars, totally unrelated to pop music or music in general, will be front and centre at the concert. Sri Lankan star Jacqueline Fernandez will be hosting an exclusive party backstage as 'Da Biebz' performs.
As part of his tour in India, Justin Bieber has been provided with a chopper to take him from one location to the next. He also gets the privilege of having Salman Khan's bodyguard, Shera escort him everywhere he goes.
Image Credit: Viral Bhayani